Here is a roundup of 30 super-easy, low-carb, keto meal prep ideas so that you spend the LEAST amount of time in kitchen and still lose weight!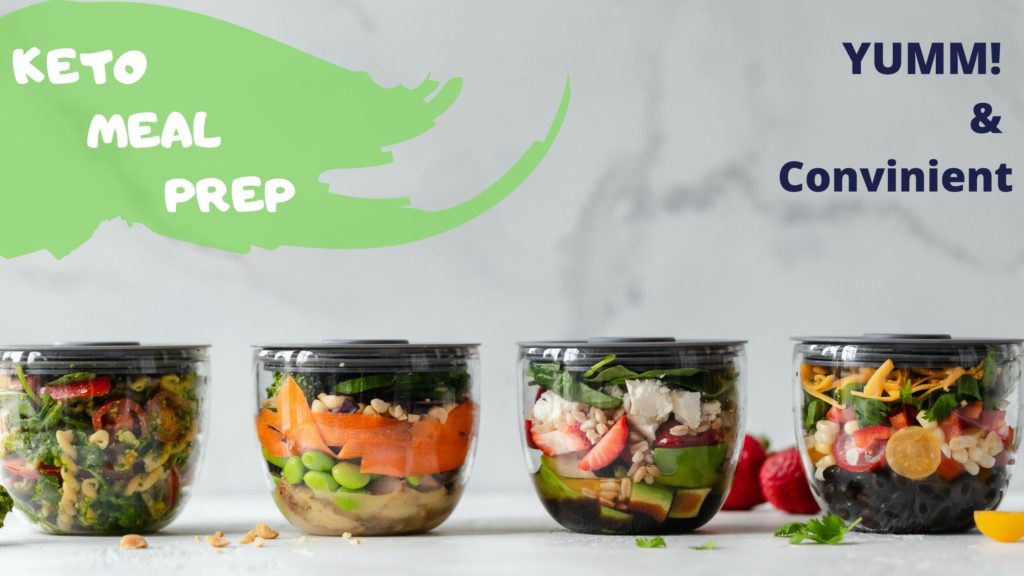 Tired of searching whether certain foods are keto? Download my keto cheat sheet with 210+ keto-friendly foods!
Sticking to the keto diet plan can be very difficult at first.
(Suggested: Keto Diet for Beginners)
But if your dreams are bigger than the obstacles, the universe will bend down to your desires!
When I first started my keto journey, I had a day job in a corporate. I was already busy juggling between my work and personal life, and now I had to cater to my new diet as well.
By the time I got home from work, made dinner, cleaned up, it felt like it was already time to go to bed!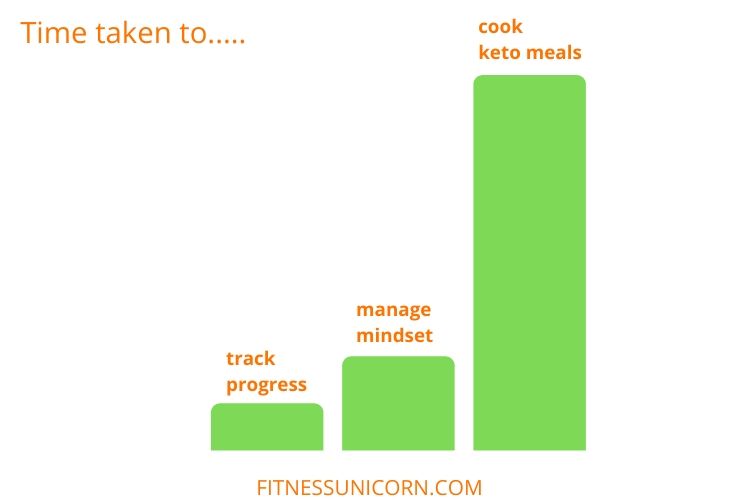 This really took a toll on my pre-occupied life, and I even started questioning whether the keto way of life is right for me.
So how did I manage to conquer my fitness goals in such a busy life? The answer is Meal Prepping
Meal prepping is the art of preparing meals ahead of time.
I personally like to prep my dinners for the next 4 days in advance so that when I come back from work, I can enjoy time with family without compromising on my goals. You can also prep for 5 days.
While meal prepping, you have to be very cautious because even a slight increase in your net carbs can kick you out of ketosis. And then you will have to go through the same cycle of carb cravings, keto-flu, exhaustion – you know it all.
We recommend that you read the whole article. But if you want to jump to a particular section, use this to navigate:
---
This post may contain affiliate links, which help keep this content free. (Full disclosure)
Keto Meal Prep Benefits
Keto meal prep has saved me a lot of time and money since I'm buying and preparing home-cooked meals ahead of time.
Everyone has different routine. Many people meal prep by cooking on the weekends, while some can manage it in the weekdays.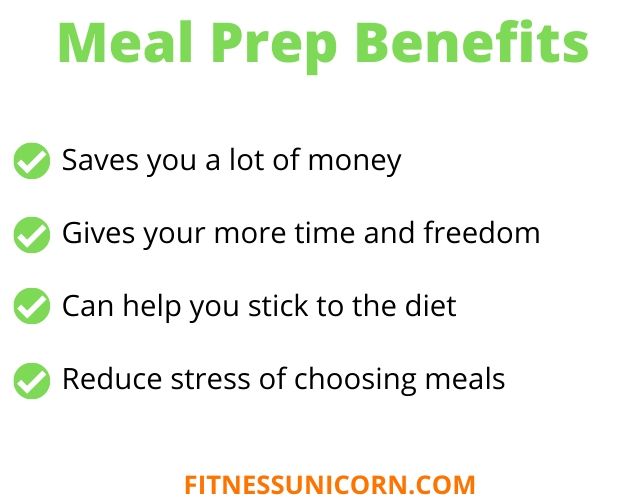 One of the major benefits of keto meal prep is that it increases your chances of succeeding in keto. If you know that you have access to your keto-fat-loss meal, as soon as you get home, then you are less likely to cheat.
TRENDING: Why am I feeling EXHAUSTED on keto?
---
My Personal Tips for Meal Prepping
I'll quickly share with you my beginner friendly keto meal prep tips to help you master the art of meal prepping.
Each recipe has different techniques but here are the general guidelines:
1. Cook a big batch ahead and portion it out for the week. You can freeze the left overs for future consumption.
2. Portion out the meals into glass meal prep containers. Check individual recipe directions to find out whether sauces/dressings can be added immediately or during final consumption.
3. If you are making salads in a jar, then make sure that the dressings go first at the bottom of the jar, and put the more delicate ingredients as you go higher up the jar. Finally during consumption, put out the salad into a clean bowl so that the dressing comes on top and covers the food evenly.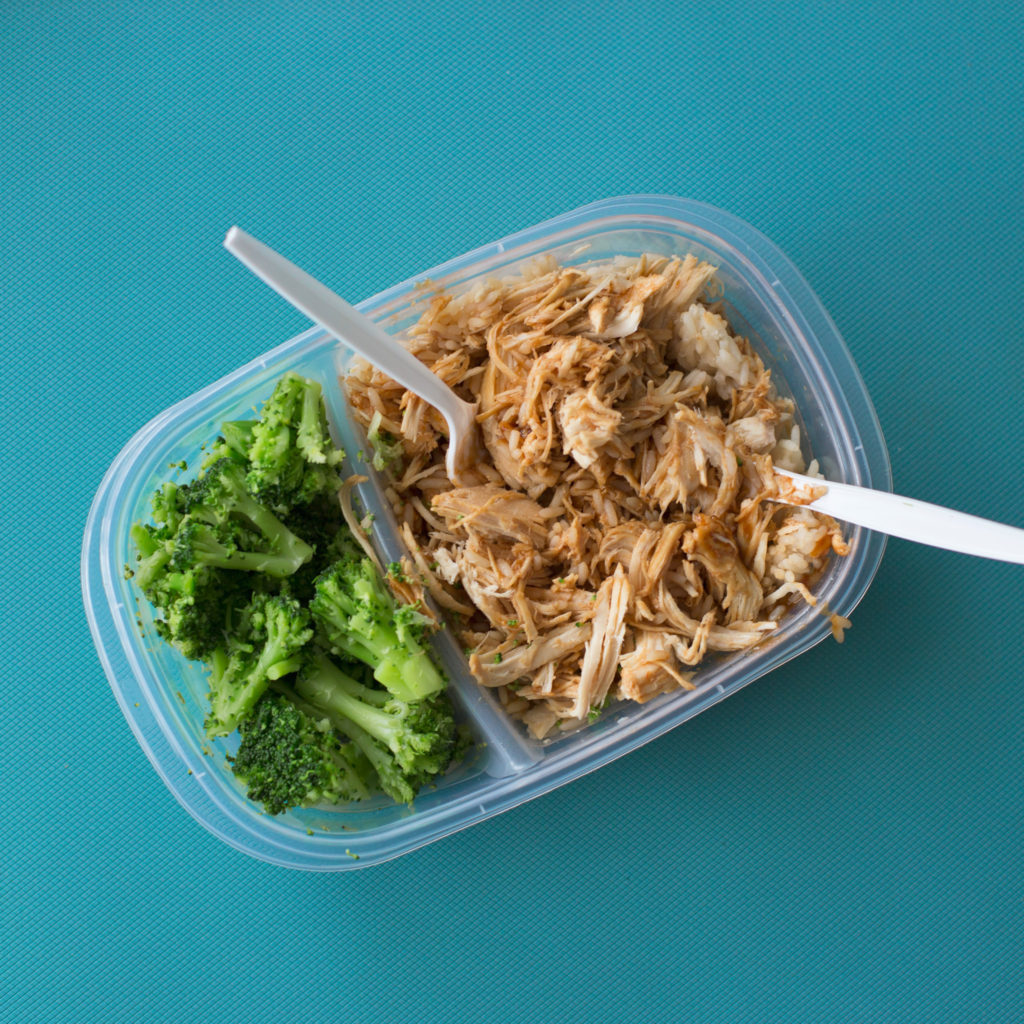 4. For meal prep containers, mix up the food with the dressings and enjoy. I personally like to keep the crispy food ingredients and avocados in a separate container for a crunchier taste.
5. Wraps – There are some amazing Keto friendly wraps  which contain as low as 1 gram of net carbs. Make the fillings ahead and store separately from the tortillas until just before consumption.
6. Soups – During those cold winter nights and sometimes even in the summer, soups are my go to meals for lunch! They are greatly satisfying and filled with minerals and vitamins. Cook a big batch of soup and spread it out through the week. Leftovers can often be frozen for future consumption.
MORE: Using Exogenous Ketones After Cheat meal
---
30 Mouth Watering Keto Meal Prep Ideas
These are my handpicked recipe ideas that will ease up your keto journey between the busy lifestyle.
You can bookmark or share this page on social media. Just come back here whenever you need ideas for keto meal prep and save a lot of time.
1. Blackberry-filled Almond Flour Muffins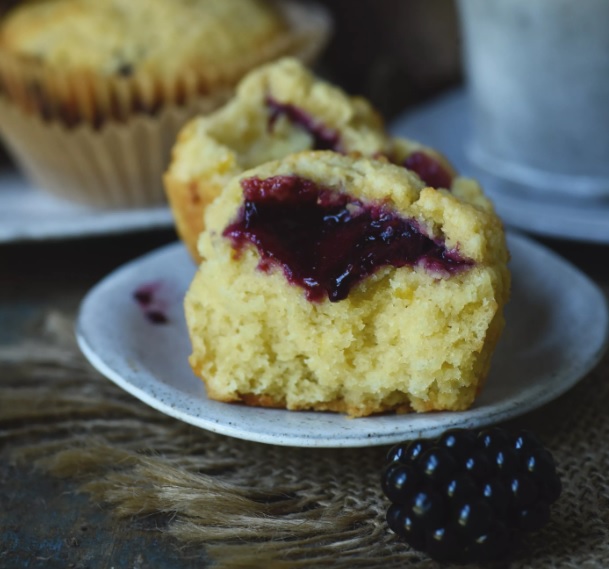 Made with almond flour, these almost-carb-free muffins have a heavenly blackberry filling with a dash of lemon. Muffins have been my favorite breakfast staple for a long time. Before reading this recipe I used to think that muffin is a strictly no-no for keto. But now they have become one of my favorites.These muffins are freezer friendly as well.
Each serving: 199 calories, 17 g fat, 1 g net carbs, 7 g protein
Get the recipe at SimplySoHealthy
---
2. Instant Pot Salsa Chicken Soup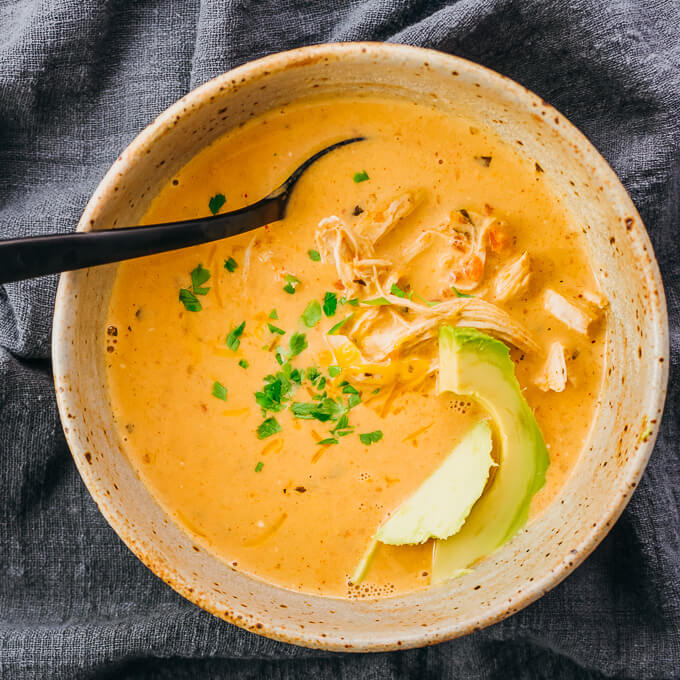 This salsa chicken soup is super easy to make and yet so lip-smacking that you'll relish its taste throughout the day. This soup is so flavorful it really gets to my soul. It is incredibly easy to make with simple ingredients like chicken and salsa. The creamy richness is brought by adding cream cheese. Yumm!
Each serving: 290 calories, 19 g fat, 6 g net carbs, 21 g protein.
Get the recipe from Savory Tooth
---
3. Buffalo Chicken Chopped Salad for Keto Meal Prep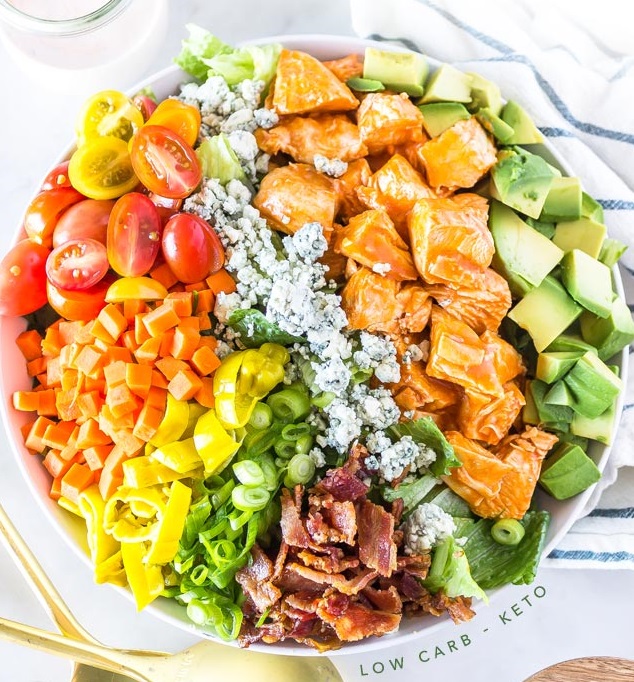 This salad makes for a deadly combo of bacon, blue cheese and buffalo sauce. It is full of nutrients and takes less than 20 minutes of prep time. Your system will get plenty of fiber, potassium, and protein. Just be cautious of the brand of sauce you use — many packaged sauces contain added sugars which will increase your net carbs of the day.
Each serving: 642 calories, 46 g fat, 9 g net carbs, 42 g protein
Get the recipe from Keto Diet App
---
4. Cauliflower Hummus with Harissa Crackers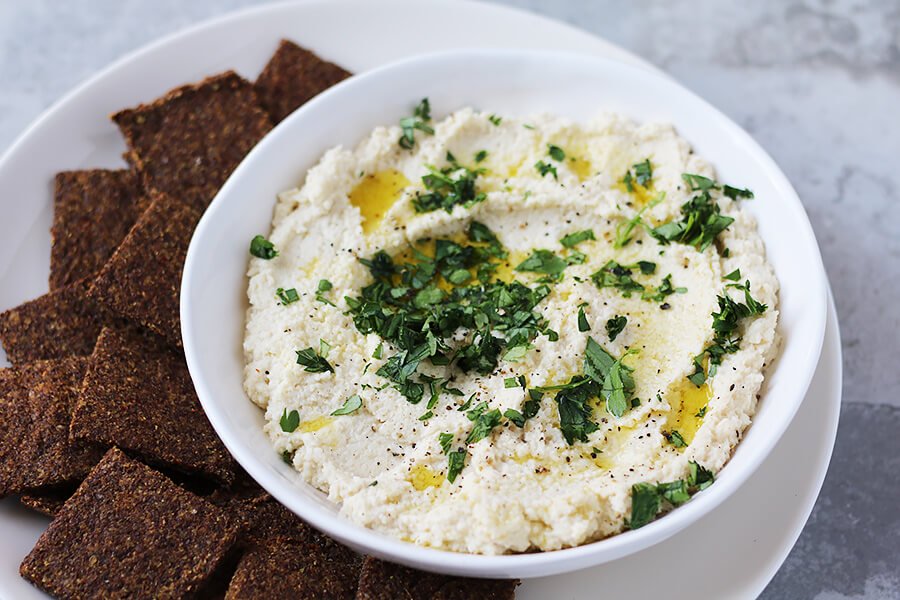 Sometimes in the evening my stomach groans with hunger. This keto-friendly snack quickly satisfy those mid-day cravings. The regular hummus is strictly prohibited on keto due to high carbs from chickpeas. But this alternative made of cauliflower is just as tasty with 18.33 g total carbs and 4.96 g net carbs. To further boost the taste, pair it with these easy-to-make Harissa crackers also included in the recipe.
One serving: 190 calories, 19 g fat, 3.5 g net carbs, 1.8 g protein
---
5. Sloppy Joe Skiller Dinner for Keto Meal Prep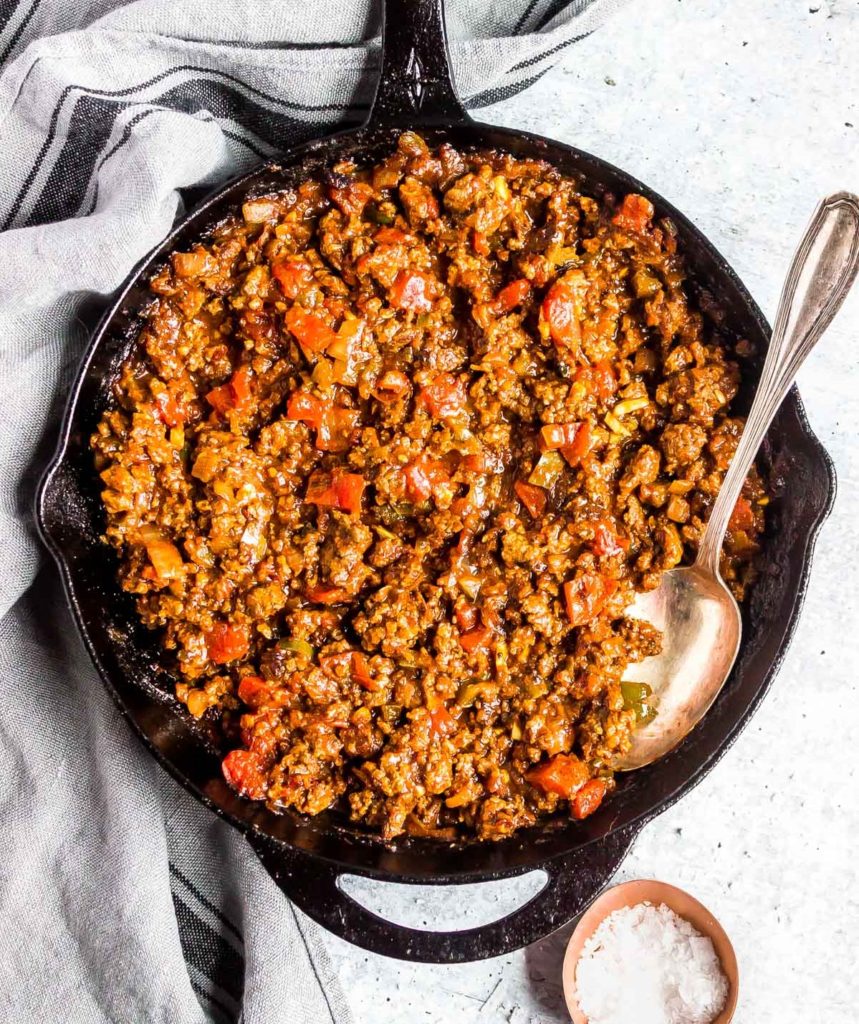 These Keto Sloppy Joes in the form of a Skillet Dinner makes for a great keto-friendly and gluten-free meal perfect for the whole family. You can pair it with lettuce cups to add a crunchy element, or enjoy it with a serving of mashed cauliflower. The best part about this sloppy joe meal? It has only 5.1 g of net carbs. So you can satisfy your taste buds and still not worry about getting out of ketosis. This one gets a sweet spot in my meal prep list due to its awesomeness and simplicity.
One serving: 510 calories, 40 g fat, 5 g net carbs, 31 g protein
Get the recipe from Cast Iron Keto
---
6. Keto Sweet Chilli Pork Chops
Pork chops is my go to dinner meal prep choice when I want to have a juicy and satisfying treat. It is easy to make, high in fat and a good protein source. They make for great lunch leftovers as well. The sweet chilly sauce used in this recipe makes it all the more ravishing. I personally like to pair it with some cauliflower rice to make a filling and yet healthy meal. (3 g net carbs)
One serving: 348 calories, 24 g fat, 3 g net carbs, 32 g protein
Get the recipe from IBreatheImHungry
---
7. Keto Swedish Meatballs for Keto Meal Prep
Did someone say meatballs? That too keto-friendly ones? I'm in!
This one is my family favorite and you can have it ready in less than 30 minutes. The rich creamy sauce paired with mashed cauliflower sends my taste buds into a frenzy. Three meatballs contain around 1 g of net carbs which makes them so much more appealing to a ketoer. Additionally, if you are going through keto-flu, then this sodium-rich meal will boost your electrolyte balance and relieve some of the symptoms.
One serving: 544 calories, 46 g fat, 1 g net carbs, 28 g protein
---
8. Low Carb Keto Oatmeal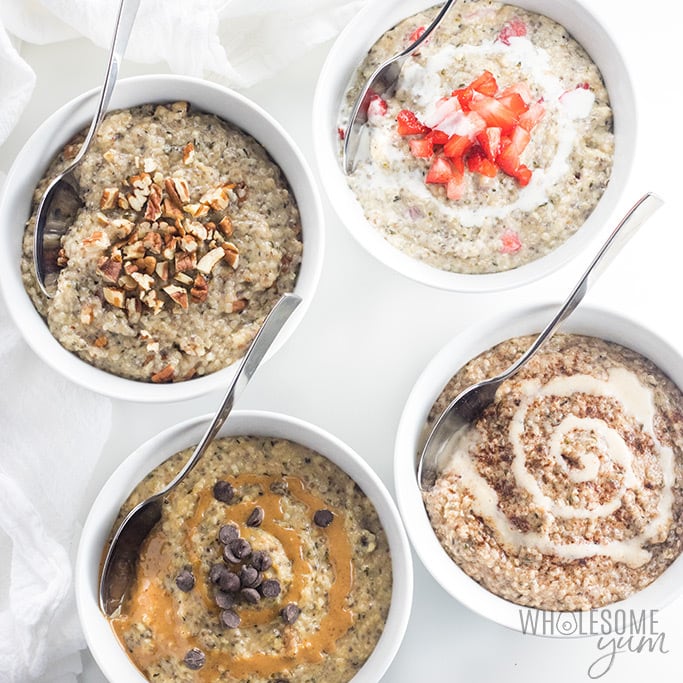 Missing the carb-rich taste of a fruity oatmeal? This keto-friendly alternative combines seeds and collagen peptides with coconut milk to give a similar taste. You can switch the toppings to generate more variety in the same meal.
One serving: 592 calories, 47 g fat, 9 g carbohydrates, 31 g protein
Get the recipe from Wholesome Yum
---
9. Veggie Ham and Cheese Breakfast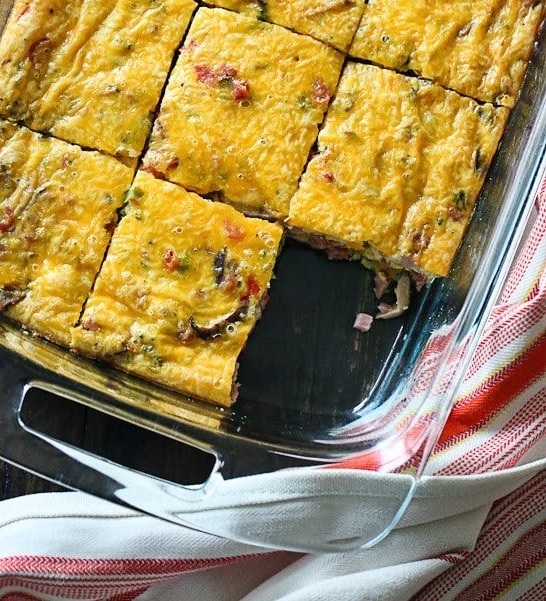 What would be a better combo than ham and cheese? Ham and cheese loaded with crunchy veggies!
A single serving of 1 square gives you 152 calories and just 4g net carbs. The fusion of egg, scallions, mushrooms, red pepper and cheese bring out the best of both worlds. You get a fat-rich meal along with the wholesomeness of eggs and veggies.
One serving: 152 calories, 8 g fat, 5 g carbohydrates, 1 g fiber, 14 g protein.
Get the recipe from Skinny Taste
---
10. Peanut & Ginger Vegan Cold Keto Salad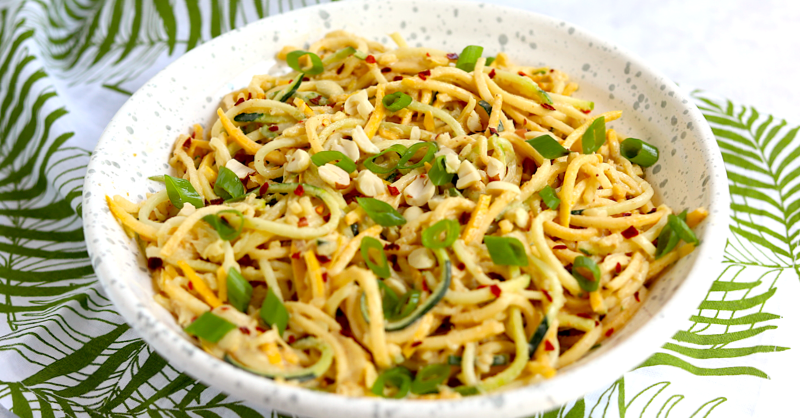 Salads are a god-send for the days when you don't have time to cook. This ginger vegan noodle salad is perfect for those lazy days where you don't feel like turning up the gas stove. This delight takes only five minuted and has 7.5 g of net carbs per serving. You can replace peanut butter with any other keto-friendly nut butter of your preference. Tip: Use coconut aminos in place of tamari if you want the soy-free alternative.
One serving: 214 calories, 4 g fat, 7.5 g net carbs, 10 g protein
Get the recipe from Meat Free Keto
(Don't forget to check out my recipe for Low Carb Peanut Butter Cookies!)
---
11. Cream of Asparagus Keto Friendly Soup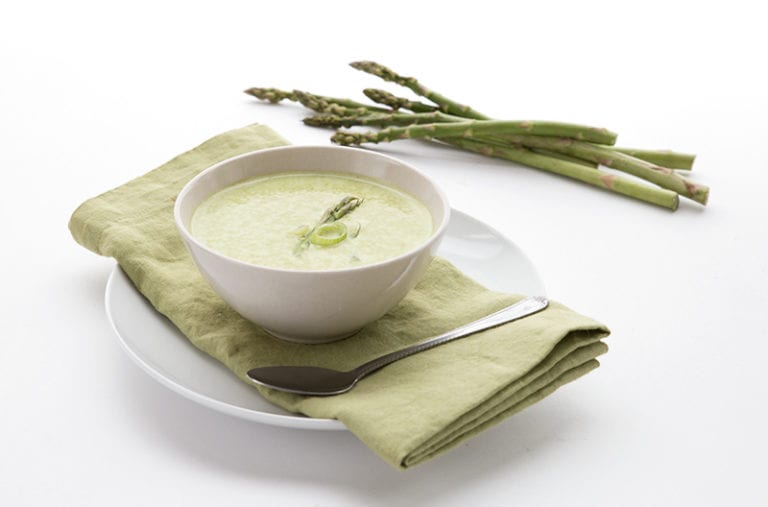 Cream of asparagus is a keto-friendly soup that uses coconut milk to create a rich and creamy texture. This dish makes your keto meal prep a breeze with its simplicity. The soup contains 5.2 g carbs and 3.7 g net carbs, along with some healthy fiber. You can also enjoy it as a cold refreshment. Throw some crushed bacon on top and you are great to go!
One serving: 124 calories, 12 g fat, 3.7 net carbs, 4 g protein
Get the recipe from All Day I Dream About Food
---
12. Keto Meal Prep Corn Bread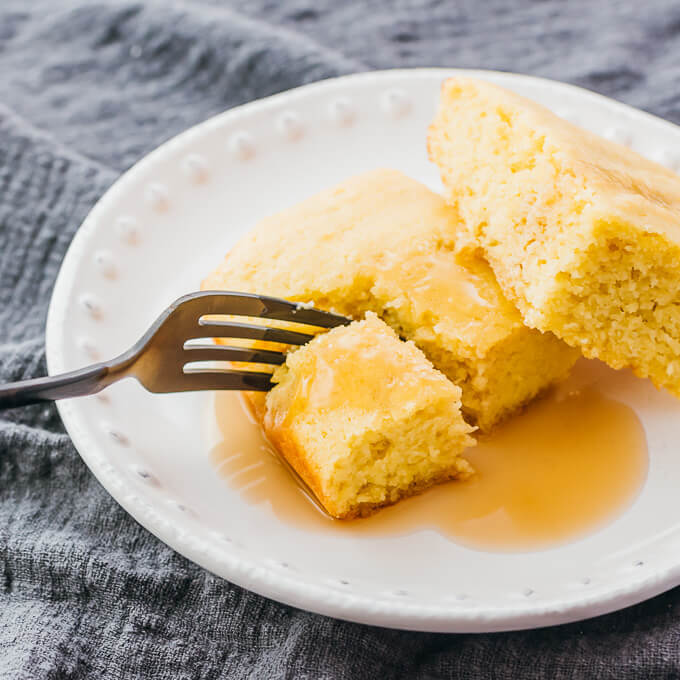 Who would have thought that you can have a "bread" on keto? Luckily, this "corn bread" recipe is actually without any corn. Having basic ingredients like almond flour and keto-friendly sweetener, this keto corn bread is soft and melts in your mouth like a smooth delight. One serving has a total of 3.5 g and only 1.5 g net carbs. I pair it with some flavorsome saucy dishes such as ribs.
One serving: 200 calories, 18 g fat, 1.5 g net carbs, 7 g protein
Get the recipe from Savory Tooth
---
13. Keto Taco Cheese Burgers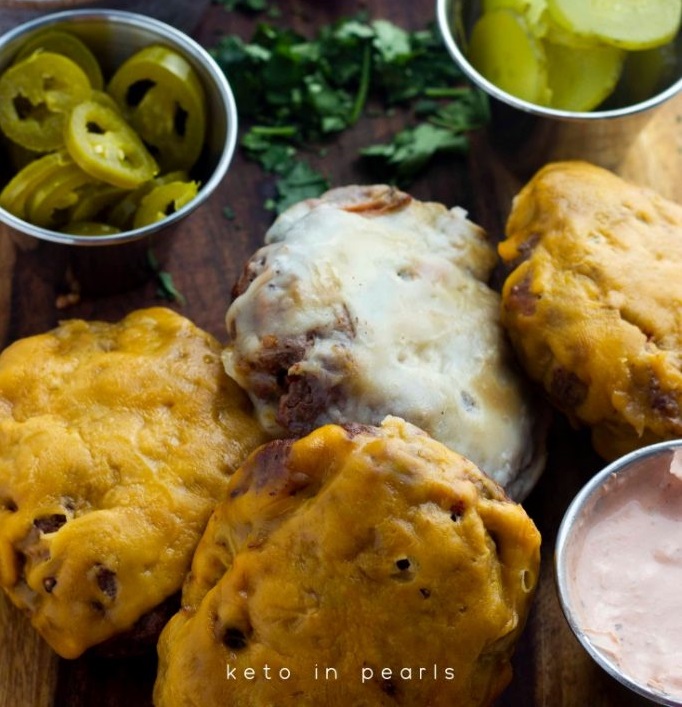 How about a mouth watering combination of tacos and burger? This awesome grilling recipe is great for a mid day meal. The burgers are quick and easy to make and won't create a mess in the kitchen. They can be served with low carb veggies or a low-carb bun, or eaten as a lettuce wrap. You can rest assured that it is for ketoers because it has a mere 2.3 g carbs and 1.6 g net carbs.
One serving: 313 calories, 22 g fat, 1.6 g net carbs, 27 g protein
Get the recipe from Keto in Pearls
---
14. Keto Korean Beef Bowls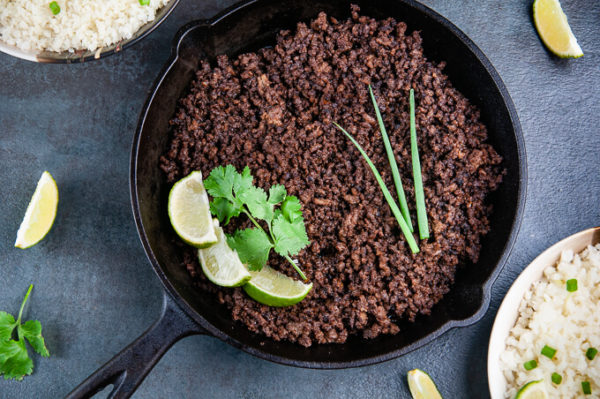 Brown and crisp beef makes my tongue rolling in no time! It also has a caramelized texture which is heavenly. These Keto Korean beef bowls are so easy to make! Sizzling Korean beef hot bowls of goodness served over cauli rice can light up your mood after a bad day at work! If you like Asian cuisine, this keto meal prep recipe will have you waiting for the dinner all day long.
One serving: 462 calories, 25 g fat, 7 g carbohydrates, 3 g fiber, 49 g protein
Get the recipe from Low Carb Maven
ALSO READ: Is Beef Jerky Keto?
---
15. Avocado Chicken Salad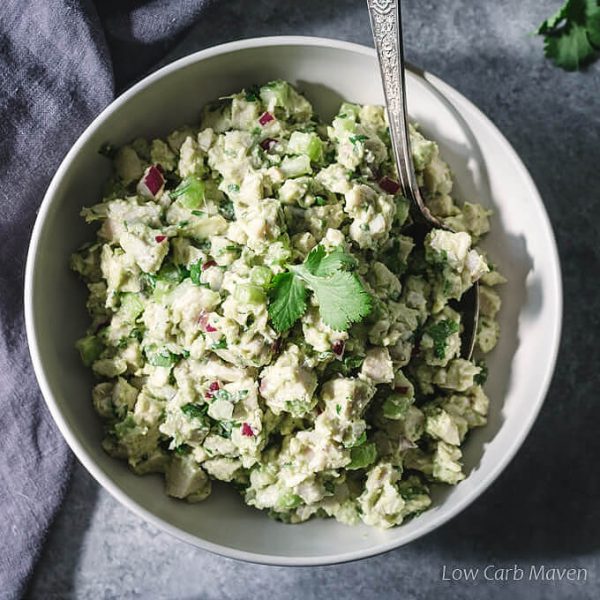 You can't miss this super low carb and creamy chicken salad when going for a keto meal prep! The creamy  texture of avocados replaces your regular mayo in this chicken delight. Add some lemon juice into the crushed avocado to maintain the rich green look.
One serving: 267 calories, 20 g fat, 4 g carbohydrates, 19 g protein
Get the recipe from Low Carb Maven
---
16. Keto Friendly Cauliflower Risotto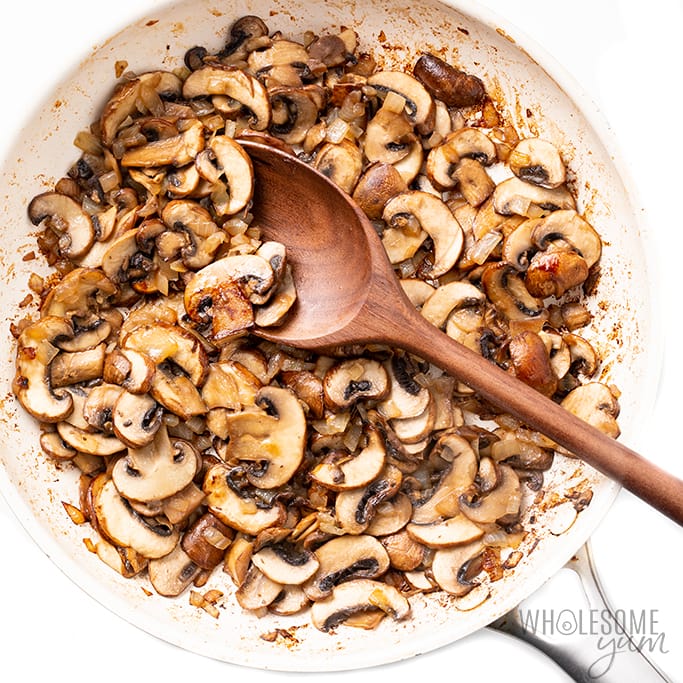 Risotto is another dish you can't image with the keto lifestyle due to their carbs. Let me present to you this awesome keto-friendly, low carb cauliflower risotto which will sweep you off your feet. It is made of cauliflower rice but has a creamy and cheesy element to tingle your taste buds!
One serving: 200 calories, 16 g fat, 6 g net carbs, 6 g protein
Get the recipe from Wholesome Yum
---
17. Cranberry Walnut Bars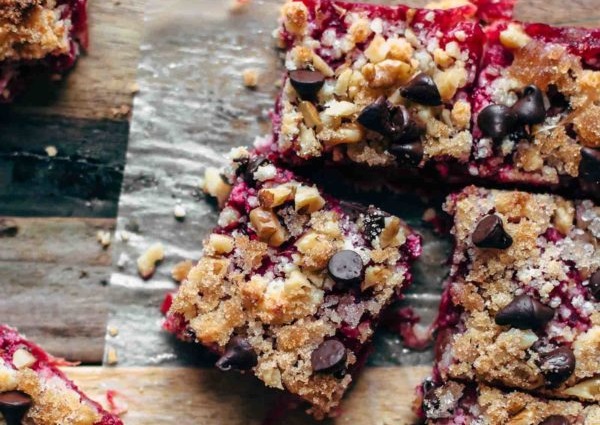 Sometimes I get crazy cravings for sweet. And instead of cheating on my diet, I make this super easy recipe for my meal prep. Use fresh or frozen cranberries in these keto cranberry bars. These freshly baked snacks with layers of tart cranberries and chocolate are more like keto meal prep desserts which is awesome!
One serving: 196 calories, 14 g fat, 8 g carbohydrates, 3 g fiber, 4 g protein
Get the recipe from Low Carb Maven
---
18. Keto Meal Prep Pancakes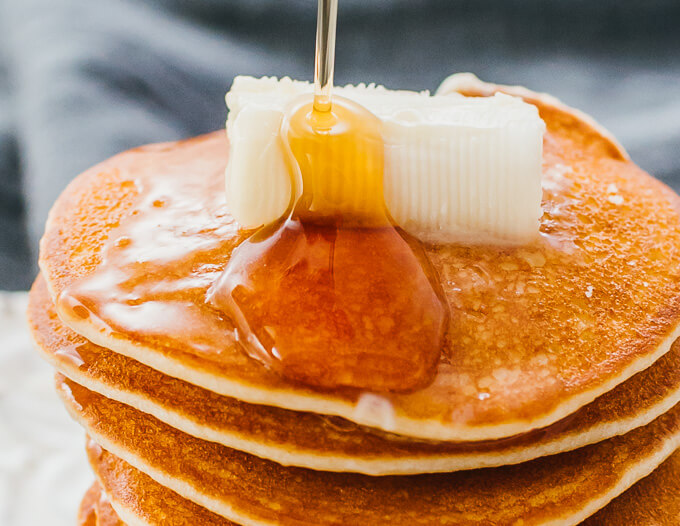 These cute little pancakes made of almond flour are a treat to your eyes as well as taste buds! I can literally enjoy them every day for breakfast. They use sugar-free syrup to satisfy your sweet tooth in a keto-friendly style. These pancakes make it to my top 30 keto meal prep list because they only require 5 ingredients!
One serving: 280 calories, 26 g fat, 6 g carbohydrates, 10 g protein
Get the recipe from Savory Tooth
---
19. Keto Crustless Quiche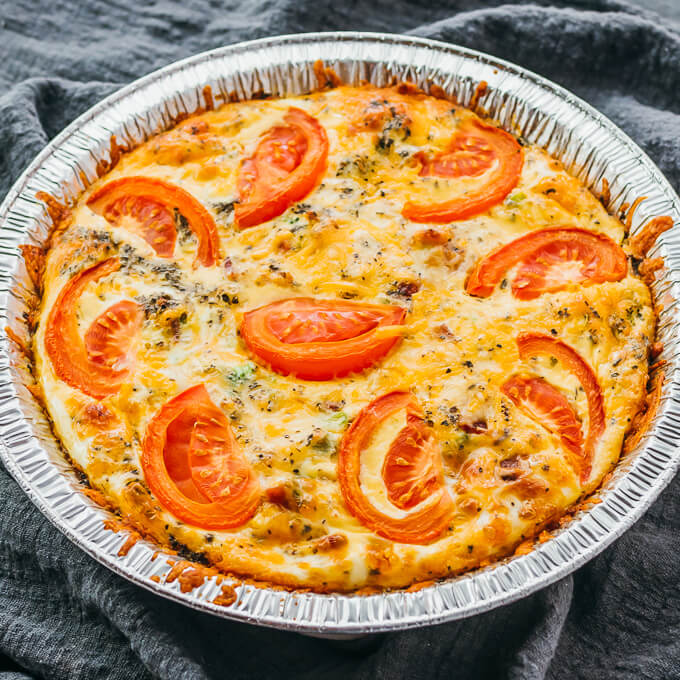 This crustless quiche is loaded with veggies, cheese and bacon which makes it a tempting delight. I prefer this for a morning breakfast as it makes my keto meal prep very feel like a breeze. It is a low calorie, low carb, and keto-friendly so you can enjoy it without having to worry about carbs.
One serving: 350 calories, 25 g fat, 6 g net carbs, 24 g protein.
Get the recipe from Savory Tooth
---
20. Keto Taco Casserole Keto Meal Prep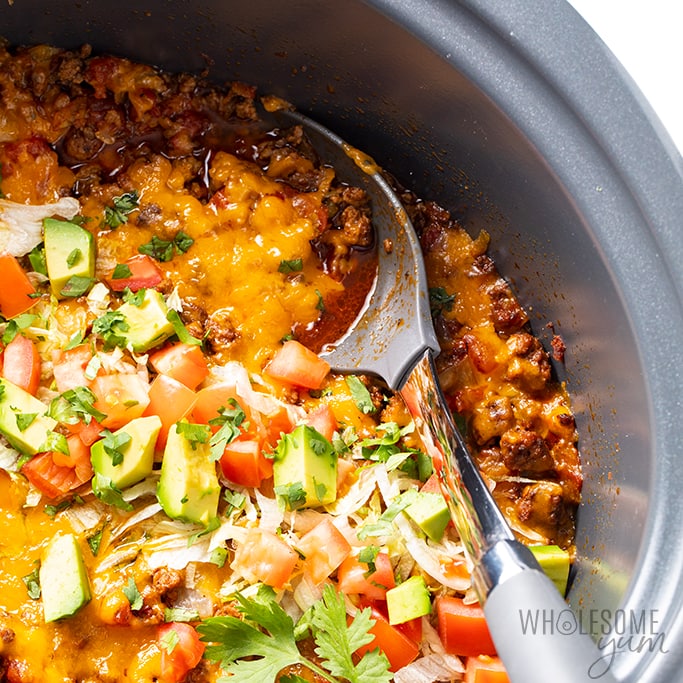 This easy low carb keto taco casserole recipe has just 4 grams net carbs! It is filled with ground beef, cheese, peppers, and diced tomatoes. You can top it up with some keto-friendly sour cream, your favorite greens, and avocado. The meal prep time is under 10 minutes which makes it a great choice when you are running short of time.
One serving: 612 calories, 43 g fat, 4 g net carbs, 48 g protein
Get the recipe from Wholesome Yum
---
21. Instant Pot Chicken Parmesan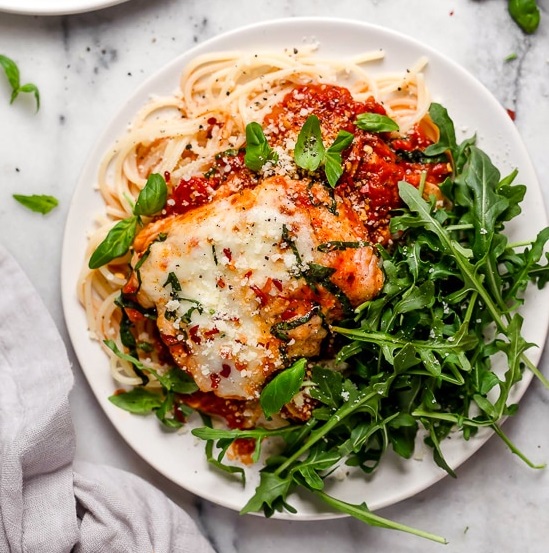 This chicken Parmesan takes almost no time and some basic ingredients to cook in an Instant Pot. Serve them over zoodles for a super low-carb, keto-friendly meal. You can add chopped olives, anchovies or capers with the sauce to enhance taste.
This recipe redefines keto meal prep. It can be ready within a minutes.
One  serving: 248 calories, 11 g fat, 8 g carbohydrates, 2 g fiber, 29 g protein
Get the recipe from Skinny Taste
---
22. Keto Zucchini Lasagna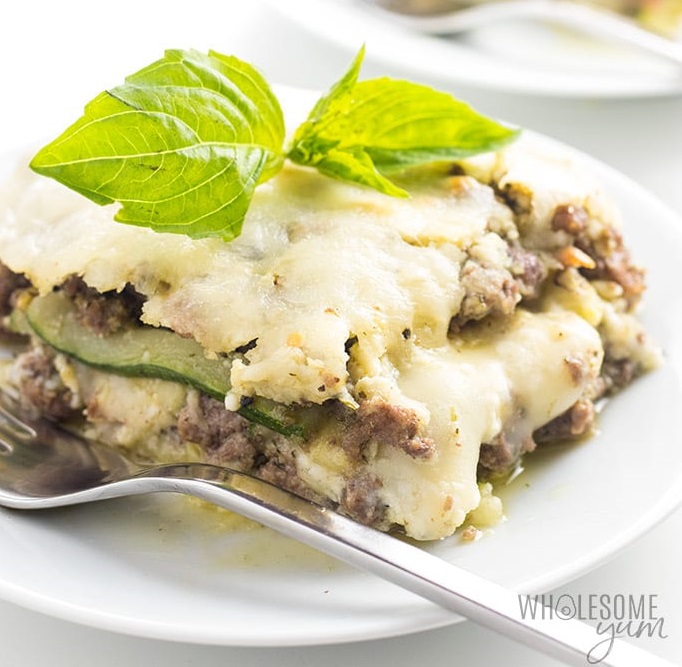 We proudly present to you the ultimate keto-friendly lasagna. Basil pesto brings out a magnificent bold flavor. You can try your own combination of low carbs sauces to enhance the flavors.
One serving: 650 calories, 53 g fat, 6 g carbohydrates, 39 g protein
Get the recipe from Wholesome Yum
---
23. Chewy Keto Bagels Keto Meal Prep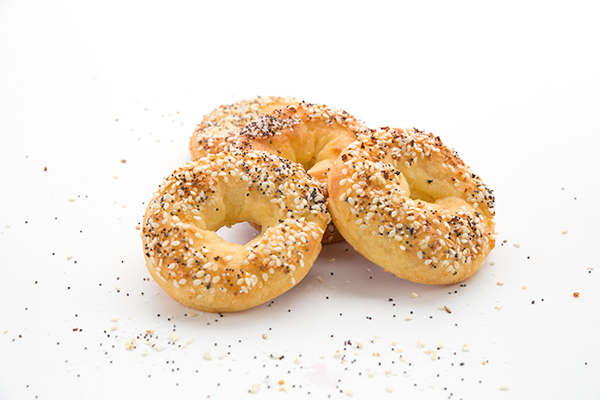 These coconut flour bagels are your best friend when you wake up in some mornings. Bagels and Keto are two different words that we can't imagine together. But rest assured, these chewy bagels will light up your day while still keeping you in ketosis. Smear them with cream cheese for best taste.
One serving: 190 calories, 12.3 g fat, 5.5 g carbohydrates, 12.1 g protein
Get the recipe from All Day I Dream About Food
---
24. Crack Slaw Egg Roll Keto Meal Prep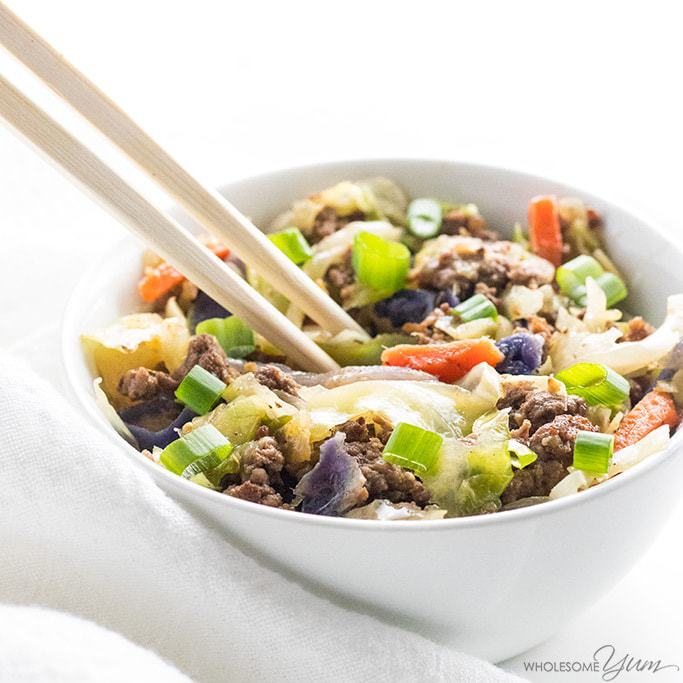 You can make this fast and easy keto meal prep within 15 minutes! This egg roll will feel like almost a cheat meal but it really isn't. With 4 g of net carbs, you can relish the taste throughout the week. Yumm!
Per serving: 231 calories, 15 g fat, 8 g carbohydrates, 15 g protein.
Get the recipe from Wholesome Yum
MORE: Ketogenic Diet Plan for Beginners
---
25. Broccoli Cheese Soup for Keto Meal Prep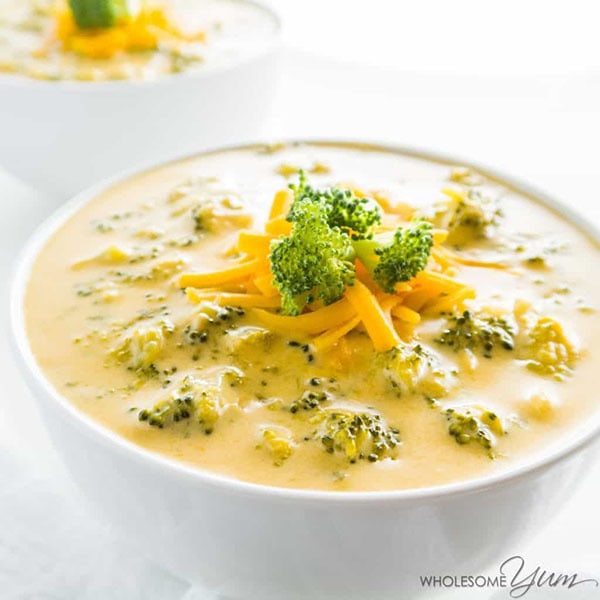 Keto meal prep is all about low carb meals with least kitchen time. How about this creamy and cheesy soup that just uses 5 ingredients? The gluten-free broccoli cheddar soup will surely make its way to your keto meal prep list.
One serving: 291 calories, 25 g fat, 5 g carbs, 1 g sugar, 1 g fiber, 13 g protein
Get the recipe from Wholesum Yum
---
26. Homemade Keto Friendly Protein Bars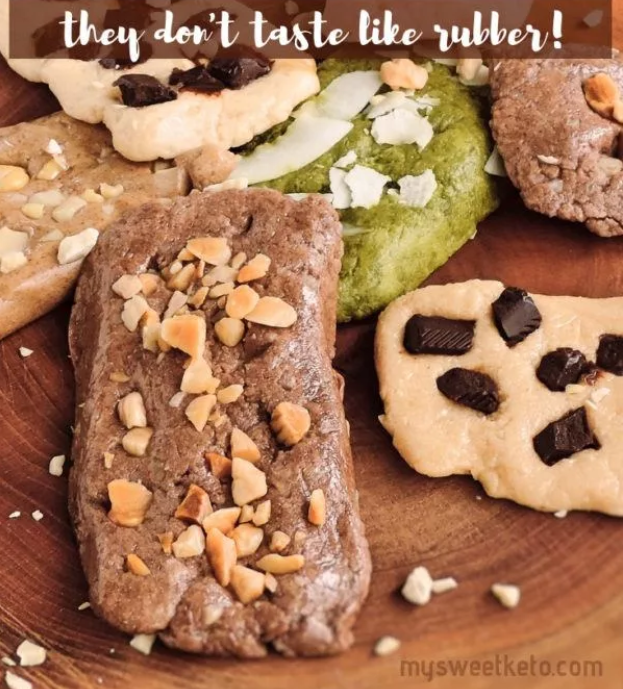 Do you struggle to keep up your protein intake? In our keto lifestyle, the chase for high fat foods sometimes leave us behind in other macros and nutrients. One such macro is protein. These keto-friendly protein bars are so convenient and filling that you'll come back to this recipe over and over. This recipe doesn't specifically mention keto, but we checked the ingredients and you can trust our word that it is keto friendly.
One serving: 147 calories, 11 g fat, 2 g net carbs, 7 g protein
Get the recipe from My Sweet Keto
---
27. Greek Mason Jar Salad with Chicken Keto Meal Prep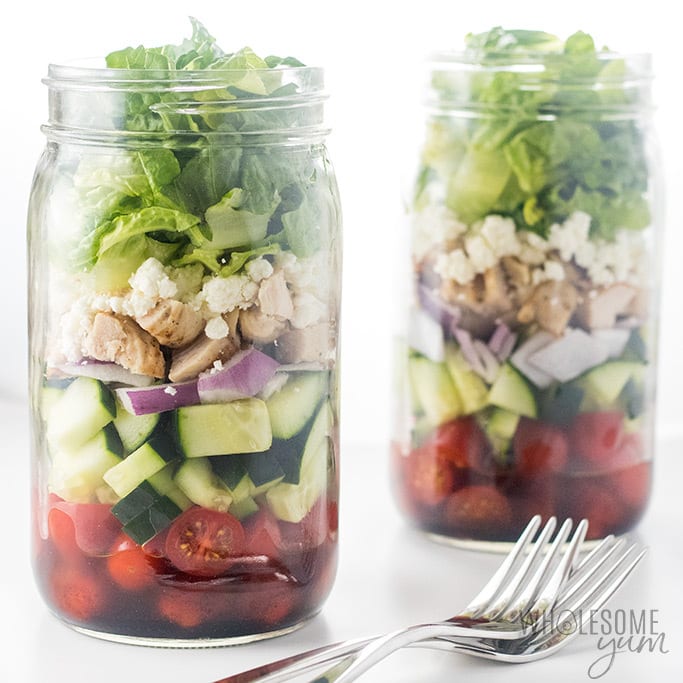 This mason jar salad is a super easy and very convenient keto meal prep. A Mason jar salad is any salad that you can make in a large glass jar in advance. I usually make this recipe when I want to have something light yet appetizing.
You can also make your own dressings by combining your favorite veggies, proteins, seeds, and leafy greens.
Per serving: 627 calories, 52 g fat, 13 g carbohydrates, 25 g protein.
Get the recipe from Wholesome Yum
---
28. Pulled Pork Stuffed Avocado Boats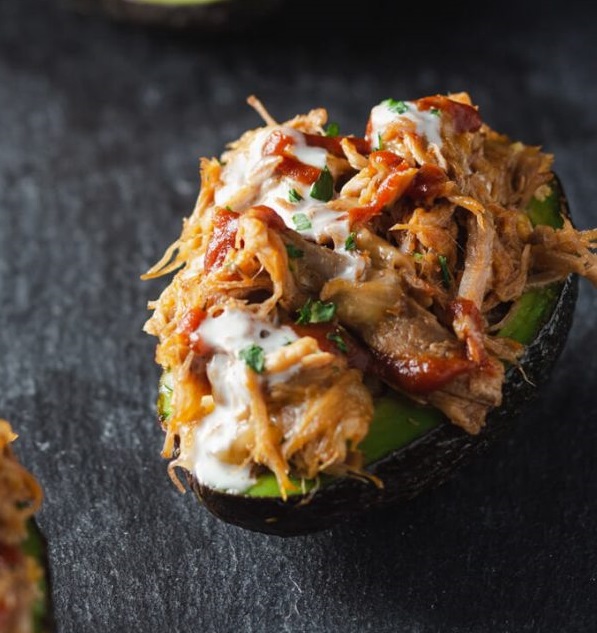 This stuffed avocado is ripe and creamy to tantalize your taste buds! It is stuffed with pulled pork and topped with BBQ sauce and ranch dressing. The stuffed avocado is super easy to make and very keto-friendly. You can relish this dish both hot and cold.
Per serving: 423 calories, 34 g fat, 9 g carbohydrates, 23.5 g protein
Get the recipe from Low Carb Maven
---
29. Spinach and Salmon Bugers for Keto Meal Prep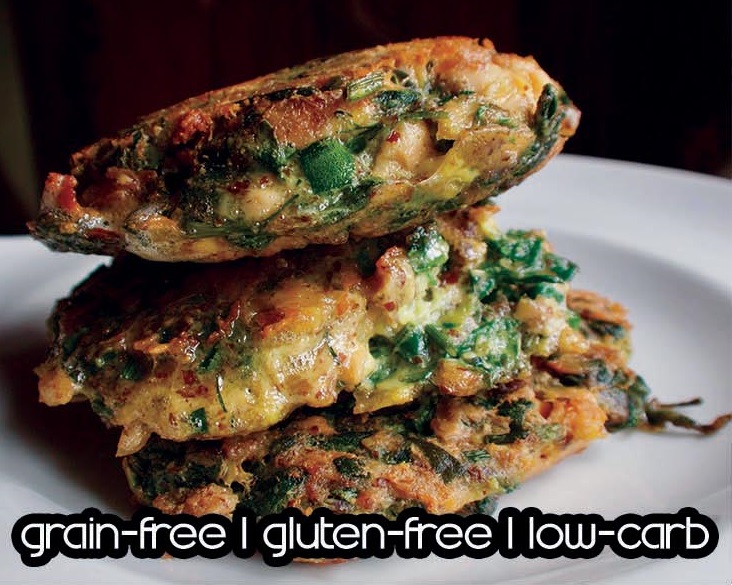 These crispy salmon burgers can be enjoyed by not only yourself but the whole family. The best part about them? They have a mere 0.3 g of net carbs which makes it every ketoer's dream! It is topped with homemade mayo to take you on a heavenly ride.
One serving: 124 calories, 9 g fat, 1 g net carbs, 8 g protein
Get the recipe from Primal Edge Health
---
30. Chicken and Arugula salad with Watermelon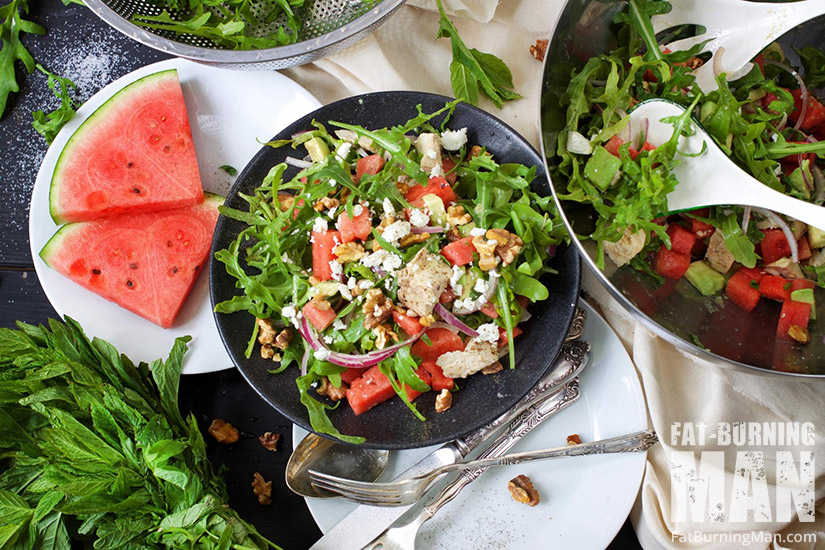 This combination of chicken and watermelon might sound strange at first, but it will be equally tempting when you make it. If you are running short of time, this is the best recipe to pick which can also utilize some leftover chicken. It is loaded with refreshing ingredients such as walnuts, avocado, olive oil, and feta cheese to up the fat content. The recipe doesn't mention keto but rest assured that all the items are keto meal prep friendly.
Get the recipe from Fat Burning Man
Keto Meal Prep Shortcuts
I have been doing Keto for years now and through my experience I try to give you life-saving tips to ease up your weight loss journey!

So I have got these amazing shortcuts for your keto meal prep sessions:
Use pre-cut & washed veggies

– meal prepping will become very smooth
Use ready-made dressings and dips –further reduce your meal time
Simply mix stuff – when I'm in hurry I toss up my favorite meats, cheese, veggies and dip into bento-style boxes and call it a day
Use your appliances–Meal prep using your appliances to quicken the process.
Use 'no cook' recipes when busy– such as salads
Adding Variety to Your Meal Prep
Just imagine how easy your keto life will be once you start meal prepping.
But then the inevitable may hit you – "Do you really eat the same thing four days in a row?"

If the boredom kicks in, then use my three life saviors for a sustainable keto meal prep routine:
Overlapping:
You can prep the overlapping ingredients or the cooking methods to create new flavors with the same amount of work and time. For example: Make one stir fry and split it by adding different dressings.
Double the Dinner portions:
Sometimes we don't have time to meal prep for each and every meal of the day.
So what's the solution? Simply double up your dinners! You just need some little extra planning and you will have leftovers to enjoy for the next few days.
Load up your Freezer:
When you prep a meal including stir fry, curry or pot of soup, consider doubling the portion. Use one half for this time and freeze the second half. We recommend investing in quality meal prep containers which can withstand both freezing and thawing.
This freezer stash will help you add variety to your future meals and keep your taste buds tingling!
PS: If you ever wonder whether you can have a keto cheat day without ruining your progress, then visit here.
Create Your Own Meal Preps
When you get so many options, sometimes it becomes difficult to figure out what to prepare.
But don't you worry; we have a solution to every problem because we are a family of people who do Keto the SMART way.
This method of 4-2-1 would lead to more "Eureka" moments in your kitchen because you can create your own meal preps when you feel like experimenting.
Here is how it goes:
Pick four ingredients (one from each protein, carb, vegetable and fats)
Make two different recipes from the same ingredients.
Whole preparation should take less than one hour.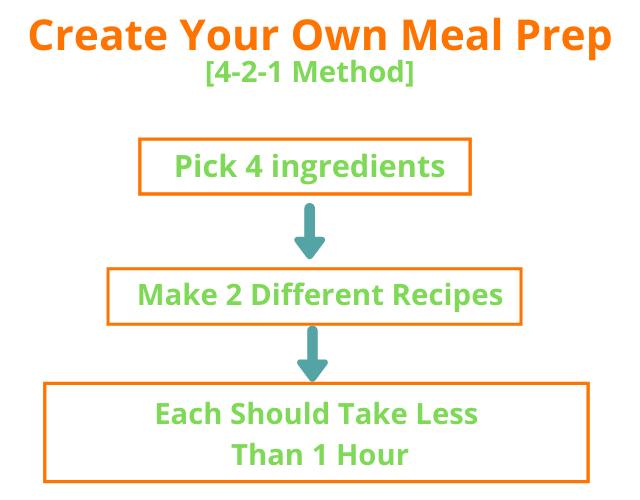 Keto Meal Prep FAQ
Q. How do I meal prep for my whole family including those who aren't on keto?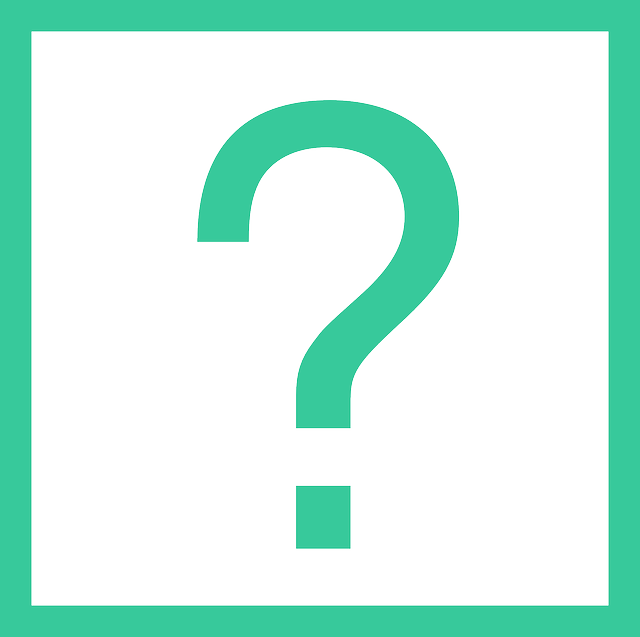 A. The best way to sync your keto routine with the family members is by adding whole grain sides and fruits for those not on the keto diet.
Q. Which meal prep containers should I use?
A. We recommend glass bento box style meal prep containers.
Q. How many days can I meal prep for? 
A. Most ingredients will stay good in the fridge for up to 4 days. Freezer-friendly meals will last longer.
Conclusion
Keto meal prep has numerous benefits but it doesn't have to be as time-sensitive as you may think. An essential element of successful keto meal prep is not overdoing it.
Apply the KISS formula – Keep it Super Simple for keto meal prepping.
If you make more food than you eat, you'll simply be wasting your time, energy, money and the FOOD itself.