Meijer is one of the most visited supermarket chains in America. If you live in the Midwest, chances are you do your grocery shopping at Meijer. Based on 2020 revenue, Meijer is the 21st-largest food retailer in the United States.
With so many homemade quality food brands and influential companies hosting their products here, Meijer is your best bet for getting the quality keto items you need for your keto friendly pantry when next you go grocery shopping.
Everything has a keto-friendly option at Meijer. From regular keto items like meats, seafood and low-carb veggies to pleasant alternatives for high-carb foods like rice, bread, pastries, ice cream and cookies.
With so many options from so many food vendors and brands, it can be difficult to find the best option that not only features low carbs but also has the proper nutrients that your body needs to function properly.
Finding these items and placing them in your basket can be a significant challenge.
Remember that developing lifelong nutritional habits is just as important as cutting down on carbs. While on keto, you run the risk of developing health issues if you don't pay attention to your nutrition.
Even while low-carb and nutritious products are widely available, you still need to comb through many shelves, check the nutritional information, study the ingredients list, and ask the staff about products that aren't prominently labeled.
It can quickly turn into a time-consuming and exhausting process.
How can you be certain the products you purchase are appropriate for a ketogenic diet? What products can you confidently add to your shopping cart without spending the time to review the net carb information? I'm not here to spend too much time since nobody loves to do that.
I'm here to provide you with the specific information you need to visit any Meijer location and fill your fridge without having to spend the entire day doing it!
This website serves as a comprehensive one-stop shop for Meijer low carb shopping experience.
In the words that follow, you'll learn exactly which keto-friendly items to buy as well as some helpful tips for maintaining a low-carb diet at all times.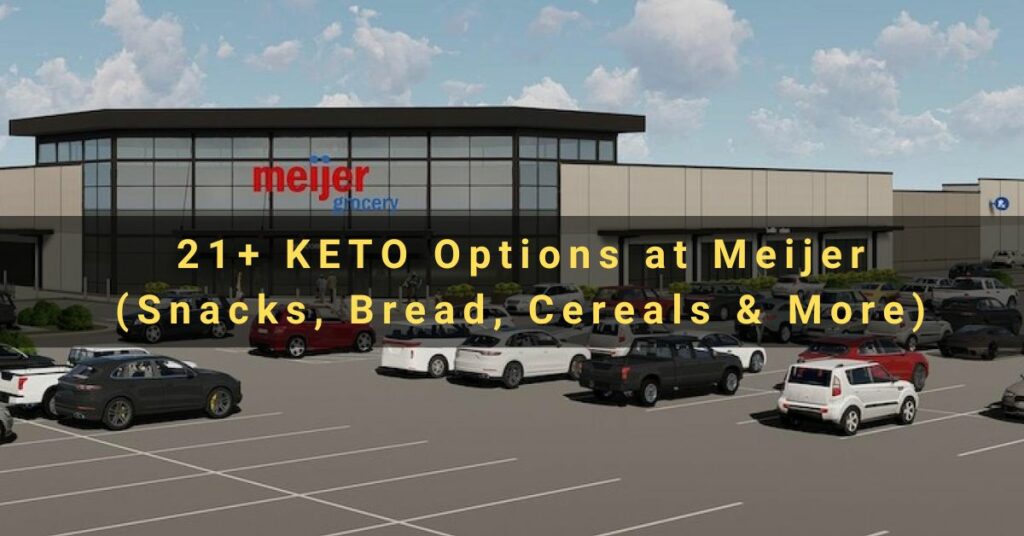 Tired of searching whether certain foods are keto? Download my keto cheat sheet with 210+ keto-friendly foods!
This post may contain affiliate links, which help keep this content free. (Full disclosure)
How To Shop Keto and Low-Carb at Meijer
It can be really challenging to shop for your keto meals. I had a really hard time with shopping in my early days keto dieting that I almost gave up.
Years later, I've developed methods that I use to food shop swiftly and conveniently wherever I am!
Meijer is one of my favorite grocery stores to visit.
I'm able to easily navigate through shelves and find everything I need to make entire meals, including low carb breads, sauces, creamers and fillings, quick microwaveable lunches and dinners, meat options, pasta substitutes, snacks, low-carb baking flours, and replacements for everything high-carb.
Additionally, it is surprisingly simple to buy at Meijer when on a ketogenic diet when you know what you're doing. You can learn my method for selecting the tastiest keto-friendly foods at any Meijer location by reading this short guide.
You should ideally compile a list of all the keto-friendly and low-carb foods you require after reading this guide, and if possible, pick the brands I've specified here.
By doing this, you can keep your attention on the task at hand and avoid forgetting anything.
Check the labels on it if you find something you like that is not listed in this guide when you are shopping.
Be mindful of the serving size, the amount of carbohydrates contained in each serving, and whether the product contains any sugar alcohols or other compounds that can upset your stomach and cause you to enter or exit ketosis.
Keto-Friendly Items at Meijer
Note: The items available may vary from store to store. But this idea will give you a fair idea of what to buy when next you're in Meijer.
1. Sweet Strawberry Jam by Good Good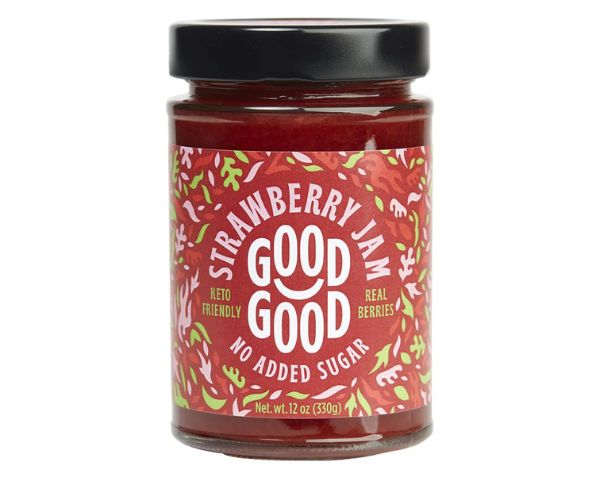 This delicious low-calorie jam is made with no sugars and contains only Strawberries (58%), water, sweetener (erythritol, steviol glycosides), gelling agent (pectins), concentrate (carrot, blackcurrant), acid (citric acid), preservatives (potassium sorbate), and Anti-oxidant (ascorbic acid).
Not only is Good Good Strawberry jam good for keto and low-carb dieters, it is also made for vegans, celiacs and diabetics. I'm a sucker for peanut butter and jelly sandwiches, and I use this jam whenever I want to make it.
Also, one serving contains just 4g of net carbs, so be sure to grab one, two, or maybe three or more jars when next you're at Meijer.
2. BANZA Shells and White Cheddar Cheese
This is hands down my favorite keto friendly mac and cheese substitute. I love the chewy texture of the chickpeas coupled with the delicious cheddar cheese sauce.
It's also really quick to prepare and contains no extra preservatives. Just Chickpeas, Pea Starch, Tapioca, Xanthan Gum, and Cheddar Cheese. One serving of Banza shells contains 23g of protein and about 10g of net carbs (25% fewer carbs than wheat pasta It's also gluten free.)
RECOMMENDED: BEST Keto & Low-Carb Bakeries in Atlanta, GA
3. ParmCrisps Snack Mix – Variety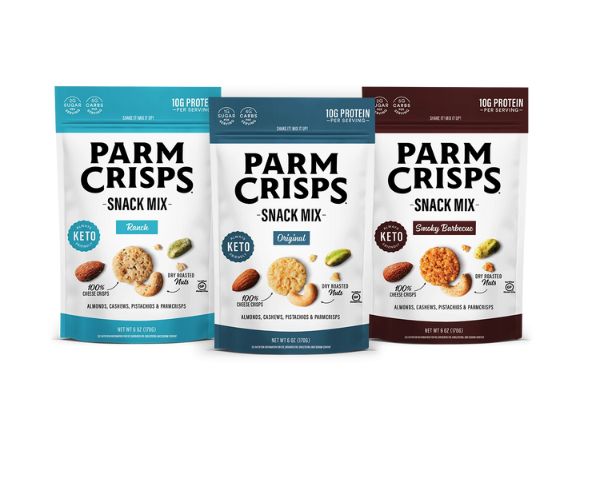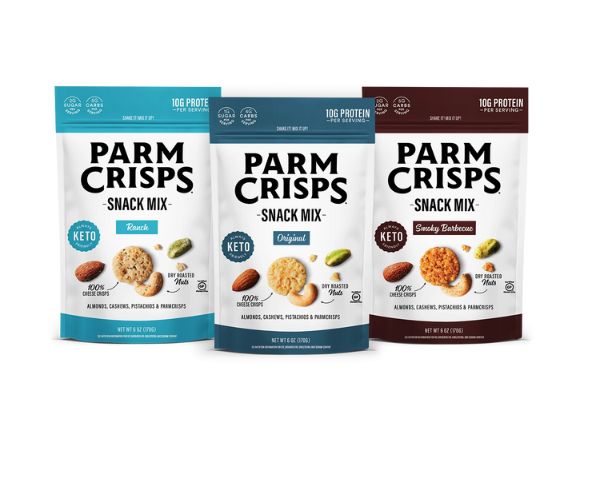 Parmcrips keto snack mix is one of the best snacks you can eat on a keto diet. It is delicious, high in fiber and has really few carbs. I grab a dozen bags whenever I'm stocking up at Meijer. It can be found in the snack section.
There are three flavors of this delightful snack: The original which tastes nutty and milky, the smokey barbeque flavor which has a delicious firey kick to it and the Ranch flavor which tastes like, well, ranch.
All flavors contain almonds, pistachio nuts, cashews and parm crisps.
The original flavor has 4g net carbs per serving, while the barbeque and ranch have 5g net carbs respectively.
4. Duncan Hines Keto Friendly Classic Yellow Cake Mix
This is a delicious Keto friendly and gluten free cake that actually tastes like cake. With less added sugars, you will be sure to eat an adequate size without breaking your diet.
The ingredients include Erythritol, Almond Flour, Coconut Flour, Allulose, Chicory Root Fiber (Inulin), and 2% of leaving (Cream Of Tartar, Baking Soda), Modified Tapioca Starch, Salt, Xanthan Gum, Stevia Sweetener (Steviol Glycosides).
Duncan Hines Keto Friendly Classic Yellow Cake Mix contains only 4g of net carbs per serving! I personally love having it whenever I'm craving a snack. Absolutely delicious and keeps ketosis running!
5. Ratio KETO Friendly Granola Pouch, Toasted Almond
My go-to breakfast, Ratio's Keto Friendly Granola is easy on the tastebuds and stomach. It's the perfect breakfast to keep you going till lunch time.
Inside one pack of this keto friendly granola, there are Almonds, Soy Protein Isolate, Erythritol, Coconut Oil, Whey Protein Isolate, Sunflower Seeds, Pumpkin Seeds, Inulin, Cinnamon, Sea Salt, Stevia Extract, Vanilla Extract, Almond Extract, Natural Flavor, Salt.
When next You're at Meijer, be sure to grab a couple of these. It's delicious, nutritious, filling and only contains 2g of net carbs per serving.
FIND MORE: BEST Keto & Low-Carb Bakeries in Houston, TX
7. Highkey Sugar Free Cookies Chocolate Chip
Highkey's Sugar free delicious chocolate chip cookies! If you're a keto dieter like me that loves snacking, this delicious low carb and gluten free cookie is perfect for you.
Made from Almond Flour, Erythritol, Monk Fruit Extract, Stevia Extract (Steviol Glycosides), Chocolate Chips (Unsweetened Chocolate, Erythritol, Cocoa Butter, Stevia Extract, Sunflower Lecithin), Coconut Oil, Butter [Cream (Milk), Salt], Dried Eggs, Natural Vanilla Flavor, Baking Powder, Hydrolyzed Collagen, Guar Gum, Sea Salt, and Xanthan Gum.
It is an excellent source of protein and dietary fiber.
One serving contains 1g of net carbs! So What are you waiting for? If you love cookies like I do, run to your local Meijer and grab one, two or ten boxes of these cookies. Your taste buds will thank you!
7. Kettle and Fire Broccoli Cheddar Keto Soup
This is my favorite soup period. Slow-simmered, collagen-rich, chicken bone broth is used as the soup base, combined with fat from cream and salted butter, plus organic vegetables and cheddar cheese. You can't go wrong with this one.
It's very convenient and quick to prepare. All you need is a microwave to warm this soup up! Best part? Only less than 3g of net carbs per serving.
I love to pair it up with some cauliflower rice. Match made in heaven for real! Take it from me and grab some packs for Kettle and Fire Broccoli Cheddar Keto Soup when next you'll at Meijer.
8. Catalina Crunch Chocolate Peanut Butter Keto Cereal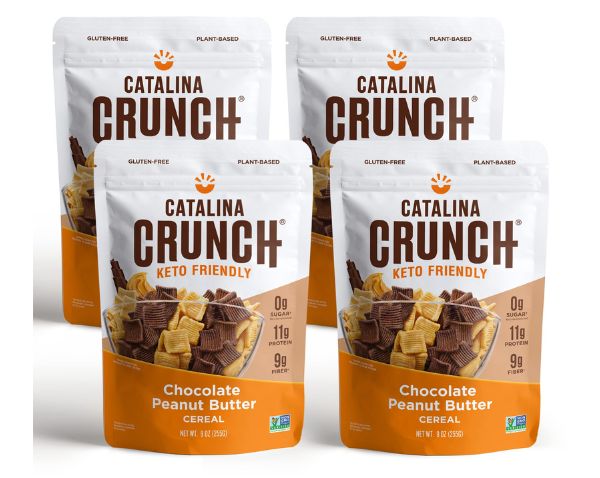 I love this chocolate peanut butter because of how much protein it packs. As we all know, protein is a Leto dieter's best friend. It keeps us going and helps us stay full for a long time.
There's no better way to start your day than a plate of protein rich cereals.
The ingredients in this one include Catalina Flour (Pea Protein, Potato Fiber, non-GMO Corn Fiber, Chicory Root Fiber, Guar Gum), Tapioca Flour, Peanut Oil, High Oleic Sunflower Oil, Cocoa Powder, Peanuts, Baking Powder, Natural Flavors, Sea Salt, Calcium Carbonate, Stevia Extract, and Monk Fruit Extract.
One serving contains 14g net carbs, so make sure you have only one serving which is half a cup! You don't want to start your day off ketosis.
Try them out when next you're at Meijer and let me know what you think.
9. SlimFast Keto Fat Bomb Snack Cup
SlimFast Keto Fat Bomb Snack Cups are the perfect keto diet friendly snack.
Each snack clup is packed with 8g of Fat to maintain your Keto status and keep you full for hours with layers of rich and refreshing lemony flavor coated in indulgent white chocolate Icing to satisfy your sugar cravings.
With just 2g of Net Carbs , 0g of Sugar, and Zero Added Sugar, these snack cups are made without the unwanted sugars and carbs found in regular sweets making them the perfect, nourishing snack for ketogenic and low carb dieters, as well as anyone seeking an alternative to traditional sweets and snacks.
So, what are you waiting for, you've got to grab some cups of SlimFast Keto Fat Bomb Snack Cup when next you visits Meijer.
10. Blue Diamond Almond Flour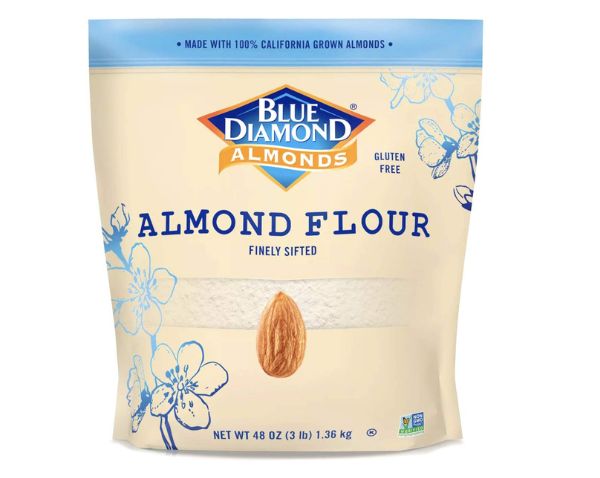 Almond flour is one of the best keto friendly substitutes for regular wheat flour. It is versatile and can work for preparing several keto friendly pastries and dishes.
Blue Diamond's Almond Flour is one of the best Almond Flours out there! They developed their almond flour to be the highest quality for baking and cooking.
With the finest grind and best California grown almonds, it is easy to use in your favorite recipes while adding the nutritional benefits that come in this little nut.
Blue Diamond Almond Flour is also a pantry staple for paleo, Keto, low carb, and plant based diets or if you are just trying to eat a little bit healthier. And it is absolutely delicious!
Don't worry about carbs, there are only 5g net carbs per serving in this one.
Try it out when next you're at Meijer. I f you love baking, Blue Diamond's Almond Flour will make your life more fun and easy.
11. Liviva Organic Penne Shirataki Pasta With Oat Fiber
The perfect keto friendly pasta. This Organic pasta is made with Water, organic konica flour, oat fiver, and citric acid. A serving contains 4g net carbs and 3g of dietary fiber. It is delicious and nutritious too!
When next you're at Meijer, you can't afford to skip this. If you love pasta like me, you will most likely love this one too.
12. Mission Whole Wheat Carb Balance Street Tacos Tortillas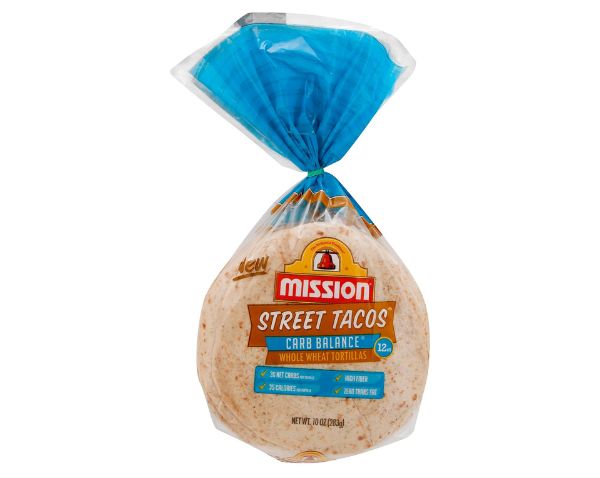 With only 4g of net carbs per serving, Mission Street Tacos Carb Balance Whole Wheat Tortillas offer you a whole new way to experience low carb.
Small in size but big on authentic flavor, our street tacos are a wholesome and delicious addition to any recipe. And with 15g of dietary fiber and only 35 calories per serving, you'll want to pair them with all of your favorite low carb meals.
Though they taste great with any filling, I love loading them with avocado, bacon, and ranch for a crowd-pleasing snack.
The Ingredients include Water, Modified Wheat Starch, Whole Wheat Flour, Wheat Gluten, Vegetable Shortening (Interesterified and Hydrogenated Soybean Oils), and Wheat Gluten Isolate in case you have any allergies.
So when next you're at Meijer, be sure to stock up on Misson Whole Wheat Carb Balance Street Tacos Tortillas. Your tastebuds will thank you!
13. Sola Low Carb & Keto Friendly Golden Wheat Hamburger Buns
Keto have to be boring. I love telling my audience this! We can have all the meals we usually did before starting keto, just with different ingredients. Sola's Low Carb Hambuger Buns prove my point right.
Each bun contains 14g of protein and 11g of fiber
Sola Golden Wheat Hamburger Buns also contain only 6g of net carbs.
I tried it a couple of times and loved every bite. It tastes just like regular buns if not better. I'll definitely be getting more on my next Meijer haul and you should too.
14. G Hughes Sugar Free BBQ Variety Pack Original
Perfect sugar free BBQ sauce for keto dieters. We don't want any extra carbs! With just 2g of net carbs per serving, G Hughes is perfect for all your BBQ needs.
G Hughes BBQ Variety Pack is made with Vine-Ripened Crushed Tomatoes (Water, Crushed Tomatoes), Cider Vinegar, Modified Cornstarch, White Vinegar, Salt, Lemon Juice Concentrate, Spices, Dehydrated Onion, Caramel Color, Hickory Smoke, Garlic Powder, Xanthan Gum, and Sucralose.
I love having mine with everything, not just BBQ. It's a great sauce for your chips, chicken and turkey roast, steak and fried rice.
15. Cali'flour Foods Chicken Enchilada Bake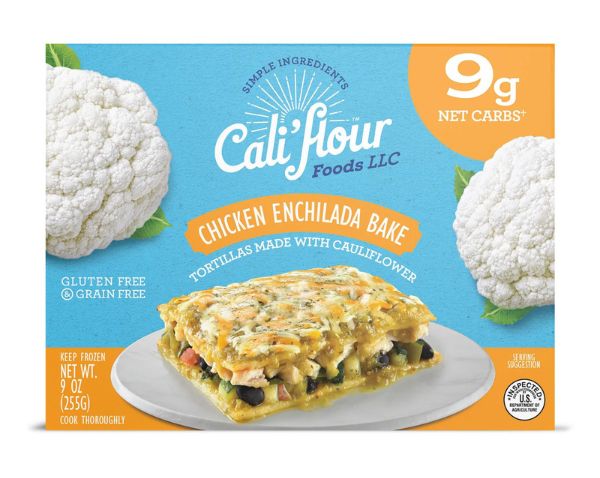 Talk about my favorite thing in the world: convenience. This Chicken Enchilada Bake is convenient, delicious, nutritious and meets all my keto diet requirements.
Just pop it in the microwave and you've got yourself a whole meal.
Also, with delicious layers of cauliflower tortillas, tomatillo sauce, Monterey Jack, cilantro, antibiotic-free chicken, and more, this enchilada bake is naturally gluten and grain free.
With 17g of protein and 10 grams of net carbs per serving, you are sure to get a great chunk of protein without compromising your ketosis with this one.
It's a must grab, trust me. Stock up on this Chicken Enchilada bake when next you're visiting Meijer. Everyone loves it.
16. Philadelphia Chive Whipped Cream Cheese Spread
Looking for the perfect keto friendly filling for your keto Bagels, toast, or English muffins? Look no further than Philadelphia Chive Whipped Cream Cheese Spread.
Aside from the fact that it contains only 2g net carbs per serving, it is delicious and packed with proteins and health fats to keep you going throughout the day.
Remember, it's not just about avoiding carbs, but also getting the proper nutrients your body needs to function well.
Try it out when next you visit Meijer. Your body will be pleased.
17. Meijer Low Sodium Bacon
One thing that motivates me to continue following the keto diet strictly is bacon. Keto dieters can eat as much bacon as we want without breaking ketosis. (This isn't me encouraging overeating).
But think about it, what's better than crunchy fried bacon coupled with cheesy scrambled eggs in the morning. That's a whole 0 carb meal.
Meijer's Low Sodium Bacon contains 0g of net carbs per serving. You can find it at the meat section at any Meijer branch in the country. Make sure you grab as much as you need! Free tip: You need a lot.
18. Folios 100% All Natural Cheese Wraps Cheddar
Folios Cheese wraps are high in protein and low in carbs. Because each serving has at least 11 grams of protein and only 1 gram of net carbs, it is a healthier, more nutritious bread alternative.
Folios wraps are also excellent for maintaining a successful keto diet.
19. Fresh from Meijer Original Sausage Roll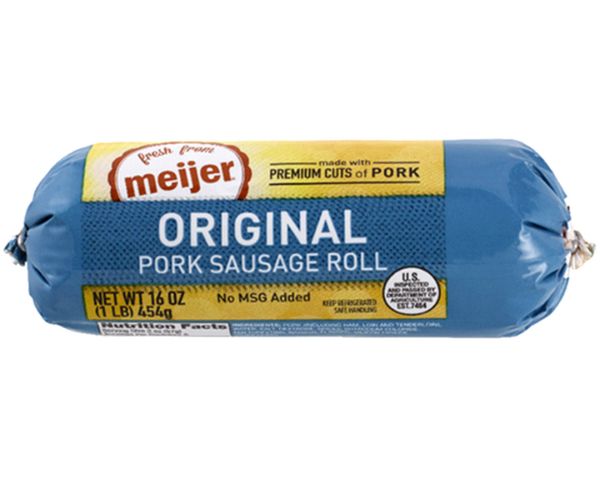 Another gem from Meijer's meat section. This careless sausage tastes great with everything. I love to have it for breakfast, dinner or a quick snack.
Make sure to grab a few when next you're visiting Meijer.
It's 0g net carbs per serving!
20. National Beef 81/19 Ground Beef
I've tried a lot of ground beef and this is my favorite one yet. There are no added preservatives or artificial flavorings that ruin the fresh taste of ground beef.
Be sure to prepare this along all your favorite keto friendly meals for an added boost of protein.
It contains 0g of net carbs per serving.
21. Meijer 100% All Natural Boneless Skinless Chicken Breasts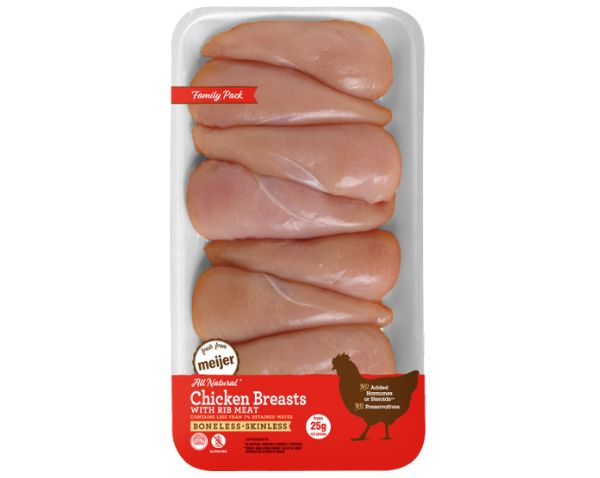 Boneless chicken breasts are perfect for keto. I mean, you can conveniently toss it in the pan along with low carb veggies and you have yourself a full meal. I love how versatile it is.
If I have chicken breasts, I never have to worry about what my next mean would be.
It contains 0g net carbs per serving, so that's an added bonus.