Safeway was started in 1915 as a tiny grocery store in the town Idaho of American Falls. The company has grown many folds over the decades and now they are present in more than 900 locations!
If you are on the keto diet, grocery shopping is the ultimate test of your self-control. All those shiny products on the shelves are craving your attention. And you also got to be careful about seemingly keto-friendly products (like Russell's Stover Sugar-Free)
Did you know? Safeway has its own private label for dairy products i.e. Lucerne (which has some promising keto-friendly cheeses!)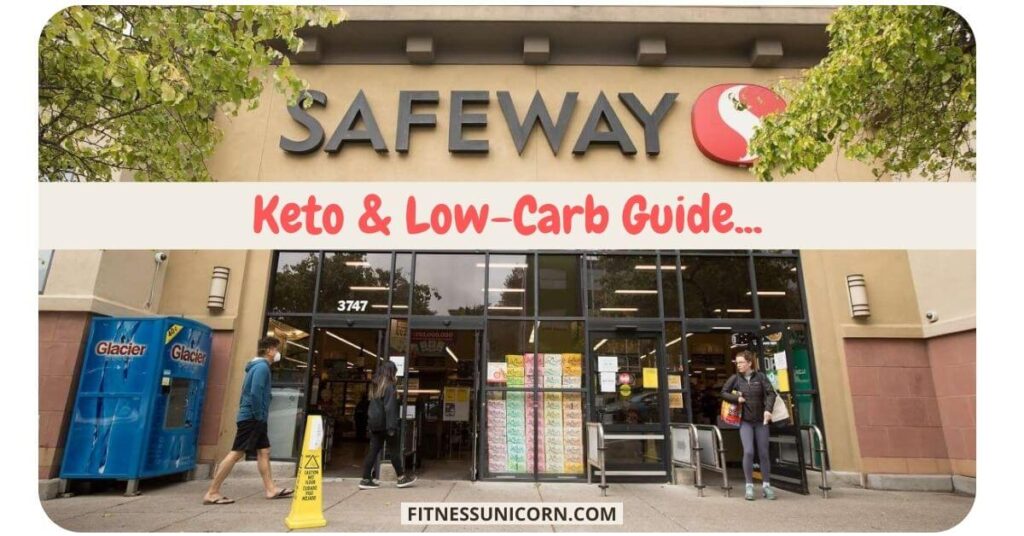 Tired of searching whether certain foods are keto? Download my keto cheat sheet with 210+ keto-friendly foods!
I won't be going over the basic keto groceries in this article (check them out here). But instead, we'll look at some of the most keto-friendly packaged foods available at Safeway.
Here's an overview of what you'll find in this article:
Keto Snacks at Safeway
Safeway Keto Crackers
Keto-Friendly Cereals at Safeway
Low-Carb Desserts & Cookies at your Nearest Safeway
And other keto-approved options
Note: The availability of products will vary across the locations. But after reading this article, you'll be much more confident while shopping low-carb at Safeway!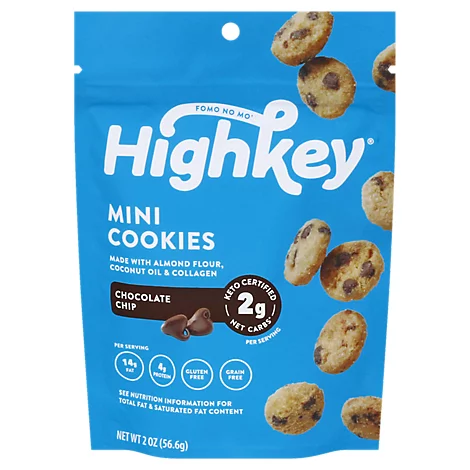 This post may contain affiliate links, which help keep this content free. (Full disclosure)
#1 High Key Keto Cookies
1g net carbs per serving of 7 cookies (28g)
I'm yet to find a better keto cookie than this one! High Key Keto cookies have the perfect combination of taste and texture and they are far better than those gooey cookies you are accustomed to on the keto diet.
They are sweetened with Erythritol which is one of the safest keto-friendly sweeteners. Each serving gets your 13g of fats and 1g of net carbs (an excellent fat to carb ratio!).
Their main ingredients include almond flour, coconut oil, and collagen.
---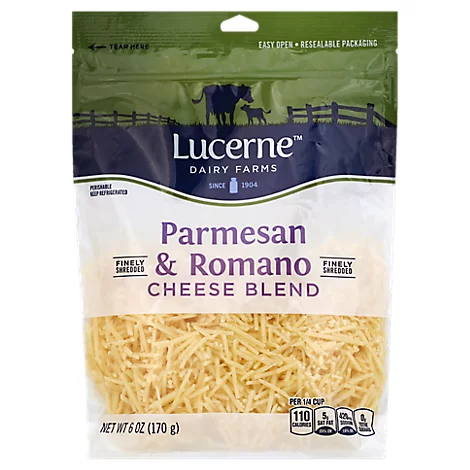 #2 Lucerne Cheeses
Lucerne is Safeway's own private label and they have a huge variety of cheeses. Here are all the options along with their respective net carbs:
Lucerne Cheese Slices Medium Cheddar: 0g per slice
Lucerne Cheese Cream: 2g per oz
Lucerne Cheese Finely Shredded Triple Cheddar: 1g per 0.25 cup
Lucerne Cheese Finely Shredded Mexican Style 4 Cheese Blend: 1g per 0.25 cup
Lucerne Cheese Finely Shredded Parmesan: 1g per 0.25 cup
Lucerne Cheese Shredded Low-Moisture Part-Skim Mozzarella: 2g per 0.25 cup
Lucerne Cheese Slices Colby Jack: 0g per slice
Lucerne Cheese Slices Pepper Jack: <1g per slice
Lucerne Cheese Slices Sharp Cheddar: <1g per slice
Lucerne Cheese Slices Swiss: 0g per slice
Lucerne Cheese Slices Muenster: 0g per slice
Lucerne Cheese Finely Shredded Italian Style 6 Cheese Blend: 1g per 0.25 cup
Lucerne Cheese Extra Sharp Cheddar: 0g per oz
Lucerne Cheese Sharp Cheddar: <1g per oz
Lucerne Cheese Finely Shredded Cheddar Jack: 1g per 0.25 cup
Lucerne Cheese Monterey Jack: 0g per oz
Lucerne Cheese Neufchatel: 2g per oz
---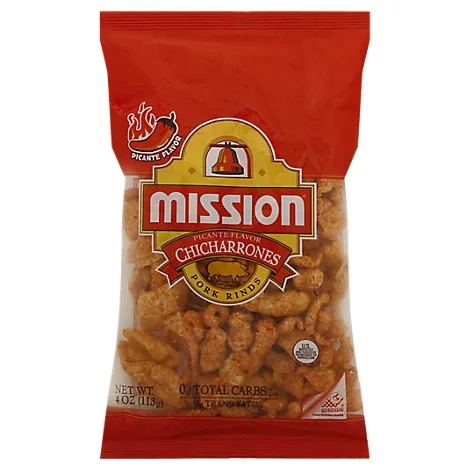 #3 Mission Pork Rinds
Mission's pork rinds are my go-to snacks to satisfy those crunch cravings on Keto! They have exactly zero carbs and zero trans fat, which means you can binge on them guilt-free.
Pork rinds are crisp pieces of pig skin that are either fried or roasted. Mission fries their pork rinds and then sprinkles them with a spicy blend for that extra kick! And you are not just limited to one flavor. Mission has two variants of their pork rinds – Picante Chicharrones and the regular Chicharrones (I'd pick the former!)
Are you missing those breaded chicken wings on the keto diet? I surely do! Here's a sneaky Keto secret: Crush these pork rinds and use them like breadcrumbs in your recipes!
---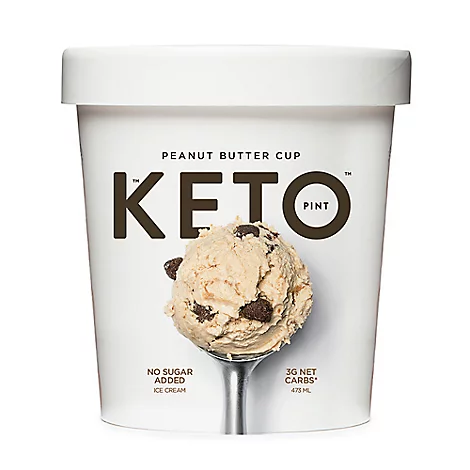 #4 Keto Pint Ice Cream (Best KETO Dessert at Safeway)
3g net carbs per serving of 2/3 cup (or 100gm)
While scanning through the Safeway desserts section, I spotted this beauty, and my eyes immediately went to the "3g net carbs" label. But after close examination, I realized that it's 3g carbs per serving of 100g. However, It's still worth every single gram of carb!
Keto Pint ice cream is my only fix when it comes to those sugary cravings! One could argue that there are many alternatives with an even lower carb count (e.g. Enlightened). But let me remind you that no other brand uses whole milk as Keto Pint does (and the taste is really poles apart!)
Keto Pint's best-sellers include Peanut Butte Cup Bites, Chocolate Ice Cream Bars, and Chocolate Chip Cookie Dough. If you want more variety than what Safeway stocks, head over to the company's website and you can also avail of free shipping for a certain amount of minimum order value.
---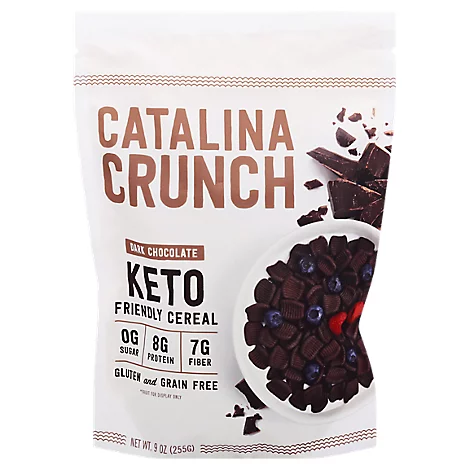 #5 Catalina Crunch Keto Cereal
5g net carbs per serving of half-cup (or 36g)
Catalina Crunch offers gluten and grain-free cereal that is tailor-made for the keto community. It is sweetened with stevia, which is a 100% keto-friendly (and natural) sweetener.
If you are a vegan pursuing the keto diet, having enough protein is always a struggle! The good news is that Catalina Crunch packs a blend of plant proteins that will keep you full for longer and prevent those untimely cravings.
The best part about the cereal is that it comes in a resealable pouch. It really comes in handy during those sudden road trips and outings!
---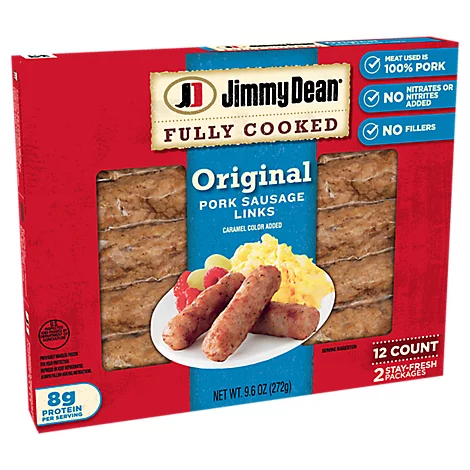 #6 Jimmy Dean Pork Sausage Links
1g net carbs per serving of 3 links
It's safe to say that most deli meats are keto-friendly right off the bat. Think of bologna, bacon, sausages, liver meat, and organ meat. The major problem with this industry is that lunch meats are usually stuffed with fillers and nitrates. Luckily, Jimmy Dean's links are free from both the evils.
Deli meats are meant to be sugar-free. If the nutrition label says otherwise, you better move on to the next counter!
Related: Can I eat Hot Dogs on Keto?
---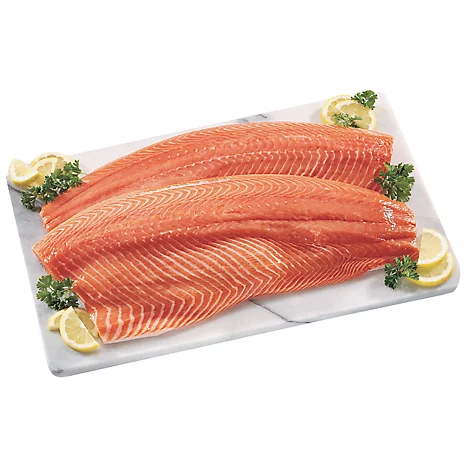 #7 Seafood
The majority of the seafood has zero carbs which is why it's highly keto-friendly. At Safeway, you can buy their own packaged seafood (which is always fresh!) or opt for the branded packages.
Salmon Atlantic Fillet: 0g
Open Nature Salmon Alaskan Sockeye Skin On Fillet Wild Caught: 0g
Open Nature Salmon Sockeye Fillet Wild Caught: 0g
Waterfront BISTRO Salmon Fillets Wild Alaskin Pink Boneless & Skin On: 0g
LASCCO Salmon Nova Sliced & Smoked: 2g per 2oz
LASCCO Salmon Nova Wild Caught: 2g per 2oz
---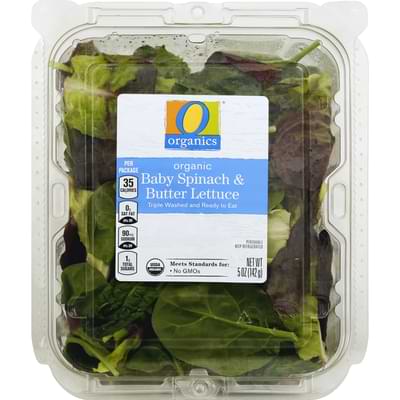 #8 O Organics Baby Spinach & Butter Lettuce
1g net carbs per serving of 2 cups
O Organics is Safeway's private label that offers organically grown products. This leafy green combination is as fresh as it gets! The box contains actual living spinach and lettuce that is full of life. It means you get all the trapped nutrients and minerals which are usually lost during transportation and storage. And it's super cheap too!
Lettuce is the ultimate keto-friendly veggie that is highly versatile. You can use it as a replacement for tortilla wraps, or as a base for your salads. Heck, you can even wrap them around cheese and patty and call it a bun-less burger!
Note: I know we ketoers are really obsessed with lettuce and spinach. But keep in mind that each gram of carb matters (even if it's a small number!).
---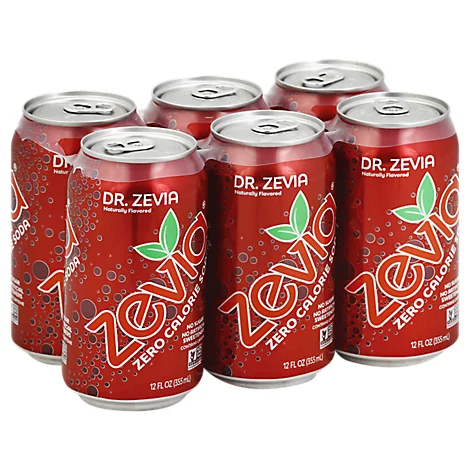 #9 Zevia Soda
Zevia is a zero-calorie and zero-carb diet soda that is sweetened with Stevia (hence the name!). Stevia is a completely natural keto-friendly sweetener that is way better than the Aspartame present in most diet beverages (think Diet Pepsi or Diet Coke).
Zevia has a huge range of flavors including unique ones like cream soda, ginger ale, and black cherry. If you don't get your desired flavor at Safeway, you can always order online via Amazon.
All of the Zevia products are Non-GMO verified which means they do not use any genetically modified or bioengineered ingredients. Oh, and they are also certified Kosher by the Orthodox Union.
---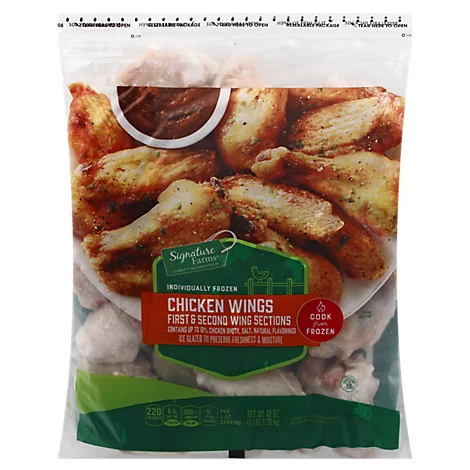 #10 Signature Farms Frozen Chicken Wings
Chicken is poultry meat that has exactly zero carbs. Don't confuse it with the breaded chicken wings you get at most fast-food restaurants (e.g. Bojangles).
Signature Farms chicken wings contain salt and natural flavorings which makes sure they don't have extra carbs/calories. They are ice glazed to preserve freshness and moisture. Did you know? Signature Farms is Safeway's own private label for freshly sourced natural produce.
If you want to add sauces or dressings, stick to low-carb ones like vinaigrette, mayo, hollandaise, ranch, or mustard.
---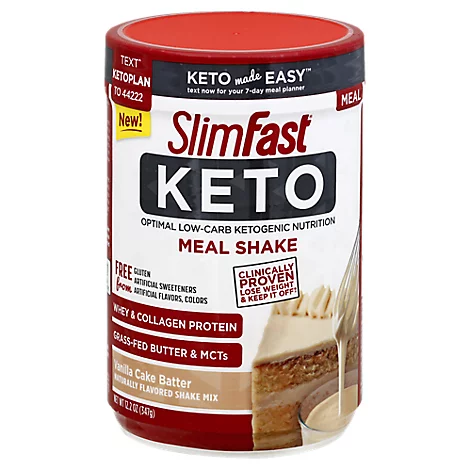 #11 SlimFast
5g carb per serving of 2 scoops
The keto diet recommends eating under 20g of net carbs per day. That's why these replacement shakes come in so handy! They are not only low-carb but super-high in fat as well.
Each serving of 2 scoops provides you with 15g of fat from MCT-rich coconut oil and grass-fed butter. For the uninitiated, MCT refers to medium-chain triglycerides that are easily broken down into ketones by your body. It can send you into a much deeper state of ketosis (which means more fat-burn!)
Dreading cooking your next keto meal? Just add 2 scoops of the mixture to 8 oz of cold water in a shaker cup or blender and enjoy.
It is completely free from gluten, artificial sweeteners, artificial flavors, and coloring.
---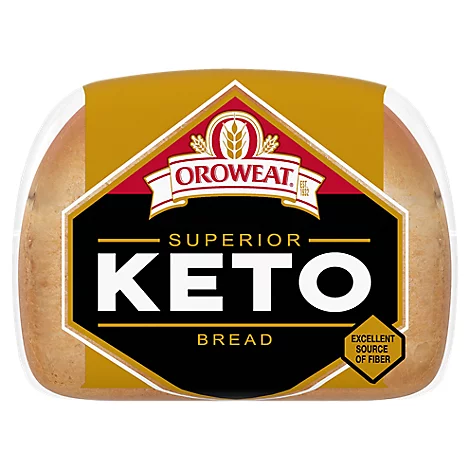 #12 Oroweat Keto Bread at Safeway
Aren't you tired of substituting lettuce for every recipe that calls for bread? If that's the case, then I have good news for you! Safeway's keto bread is a staple for me on the ketogenic diet.
Oroweat keto bread is majorly made of fiber and hence it has much lower net carbs than the real thing! Each slice contains 2g fat, 4g protein, and 3g of net carbs.
Note: We subtract fiber content from total carbs to calculate the net carbs on keto. However, keto bread contains ingredients like soluble corn fiber and modified wheat starch that act like carbs for some people. Try a smaller quantity first and see if it causes any cramps or bloating. That's a sign that this is not for you.
Related: Franz Keto Bread Review
---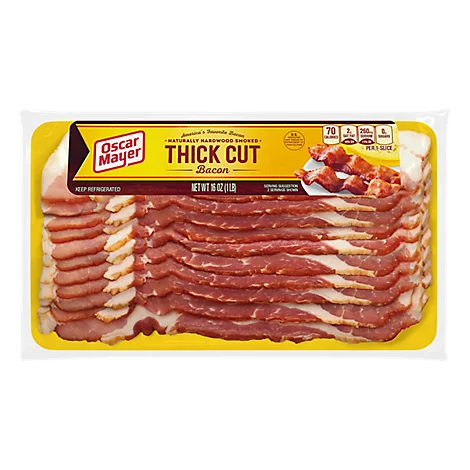 #13 Meat & Poultry
All meats have ZERO carbs
Most diets prohibit fatty steaks and pork and encourage leaner options like chicken breast. However, the Keto diet is really poles apart when it comes to macros and you can have as many fats as you want.
Safeway has a lot of freshly sourced meat options that are extremely keto-friendly:
Signature Farms Bonesless Chicken Breast
Ground Beef 80% Lean 20% Fat
O Organics Organic Eggs Large (Brown)
Open Nature 100% Natural Grass Fed Angus Ground Beef 85% Lean 15% Fat
Signature Farms Boneless Skinless Chicken Thighs
Oscar Mayer Center Cut Bacon Original
Beef Top Loin Sirloin Steak Boneless
Signature Farms Boneless Chicken Breast
Beef Filet Mignon Steak Tenderloin
Hormel Black Label Bacon Original
Oscar Mayer Hardwood Smoked Bacon
Beef Ribeye Steak Boneless
Signature SELECT Bacon Hickory Smoked Thick Cut
New York Bone In Steak
---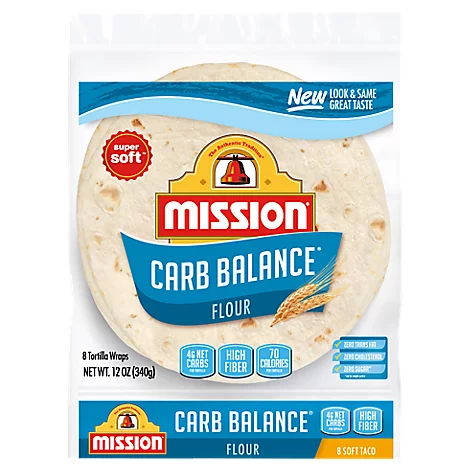 #14 Mission Carb Balance Wraps
4g net carbs per tortilla
Mission Carb Balance wraps are very high in fiber and super low in net carbs. It means you can now actually enjoy tacos and burritos on keto without having to use a lettuce wrap (which tastes so boring!)
I have tried plenty of low-carb wraps in the market but Mission foods have the perfect combination of taste, texture, and carbs (they aren't paper-thin like other competitors!). You can get their whole wheat fajitas for as low as 2g net carbs per wrap.
Wondering how they manage to be so low-carb? Well, the answer is modified wheat starch. It's a processed form of wheat that acts like fiber and is not absorbed by your body. Hence, they are not considered as "net carbs" on the keto diet.
Check out keto-friendly snacks at 7-Eleven stores.
---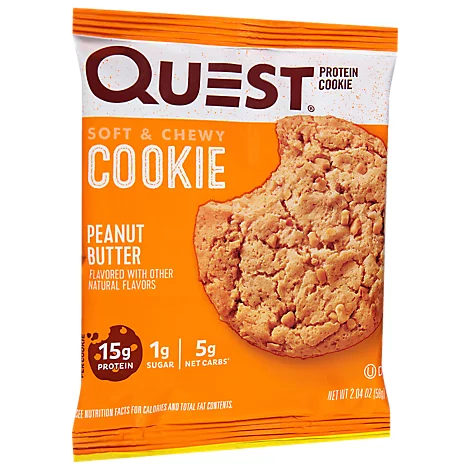 #15 Quest Keto Cookies
Quest cookies are one of my favorite Safeway keto snacks. They are majorly made of fiber in order to minimize your carb intake. If you are on a vegetarian keto diet, you'll be happy to know that this baddy comes with 15g protein (per cookie). Quest Cookies are sweetened with Erythritol and Stevia – both of which are the most preferred keto-friendly sweeteners out there.
Note: Each cookie weighs around 60g and with all that fiber content, it can be a really filling dessert sometimes.
There are 5 variants of Quest Protein Cookies that you can choose from:
Chocolate Chip: 4g net carbs
Double Chocolate Chip: 5g net carbs
Peanut Butter: 5g net carbs
Peanut Butter & Chocolate: 5g net carbs
Snickerdoodle: 4g net carbs
If you don't find your favorite flavor at Safeway, you can always order online via Amazon or their own website.