In the mood for anything Mexican today? If you are, then you should try considering Cafe Rio for your next flavorful Mexican Meal. Cafe Rio boasts its great menu of quesadilla, nachos, burritos, steak, tacos… and more! (We could go on)
Does Cafe Rio have anything gluten-free to offer, though?
Although only a few gluten-free options are available, Cafe Rio still guarantees something for you. Enjoy nachos with a selection of Chile Roast Beef, Fire-Grilled Chicken, or Carne Asada.
There are also beans and rice selections like the Black Beans and Cilantro Lime Rice. Finish this with a sweet Horchata.
However, due to the nature of the food at Cafe Rio's, the risk of cross-contamination is inevitably high. When all food is prepped in the same area, gluten particles from flour-rich food can freely transfer to gluten-free food.
Cafe Rio does not claim to be a gluten-free restaurant. They state that there is no guarantee for cross-contact to be entirely avoided. So, anyone with gluten sensitivity or celiac disease may want to stay away from Cafe Rio.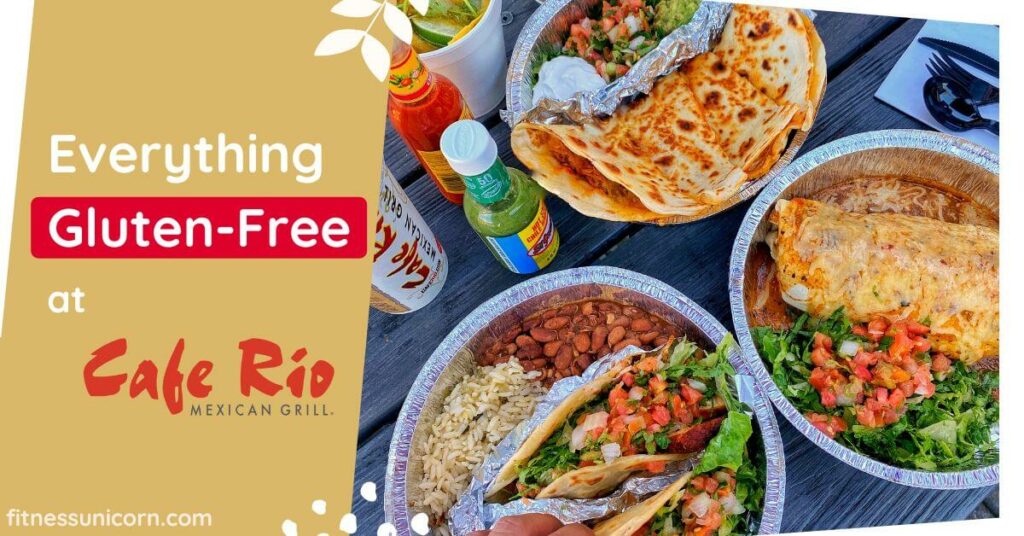 This post may contain affiliate links, which help keep this content free. (Full disclosure)
Cafe Rio Gluten-Free Options
In the little town of St. George, Utah, couple Steve and Patricia Stanley built a restaurant called Cafe Rio Mexican Grill in 1997. The place served authentic and fresh dishes inspired by traditional Mexican recipes.
Of course, people couldn't get enough of it. From one restaurant, Cafe Rio grew to six little more places. Later in 2004, Bob Nilsen purchased Cafe Rio from the Stanley couple.
To this day, he kept Cafe Rio's promise "fresh food, made fresh" Nothing pre-made, no microwaves or freezers. All food is made fresh to order.
Cafe Rio ensures that gluten-sensitive diners can still enjoy their time while dining despite the limited options.
To know what you can expect from the menu, here are some of the ideal gluten-free ingredients used for the menu that you can mix and twist.
(Note that this information is from Cafe Rio's online Nutritional & Allergen Information. Some items labeled 'gluten-friendly' (GF) contain no gluten, but are not certified gluten-free and may be manufactured in an area with gluten ingredients)
*(GF) – gluten-friendly
Tortillas
Tortilla Chips (GF)
Tortilla Strips (GF)
Tostada Shell (GF)
Beans & Rice
Black Beans (GF)
Cilantro Lime Rice (GF)
Pinto Beans (GF)
Meats
Carne Asada (GF)
Chile Roast Beef (GF)
Fire Grilled Steak (GF)
Fire Grilled Chicken (GF)
Shredded Chicken Breast
Sauces and Dressings
Cilantro Lime Dressing (GF)
Creamy Tomatillo Dressing (GF)
Green Chile Sauce (GF)
Habanero (GF)
Tomatillo Sauce (GF)
Toppings and Specials
Cabbage (GF)
Cheddar Jack Blend (GF)
Cilantro (GF)
Cotija Cheese (GF)
Guacamole (GF)
Lettuce  (GF)
Lime Wedge (GF)
Pico de Gallo (GF)
Salsa Fresca (GF)
Shredded Jack Cheese (GF)
Sour Cream (GF)
RECOMMENDED: Are There Gluten-Free Options at Torchy's?
Desserts and Drinks
Horchata (GF)
Mint Limeade (GF)
Tips For A Gluten-Free Meal at Cafe Rio
Keep It Simple
Ordering more stuff for your meal translates to a higher risk of cross-contact between ingredients. Especially for Cafe Rio's nature, gluten particles from flour-rich items could be all over the place. Take our advice and try to keep your meal simple.
For instance, order one of their salads without the tortilla. Although a tasty dressing can help enhance your meal, try not to decorate your salad with too much of it.
Some visitors at Cafe Rio reported unpleasant experiences with Cafe Rio's sauces, despite the gluten-friendly claims.
Watch Out For The Sauces
Most sauces are processed with wheat flour, so they'd naturally contain gluten. You can try bringing your own gluten-free sauce to be extra safe.
ALSO READ: Gluten-Free Options at Outback Steakhouse
Talk To The Staff Nicely
Nothing beats talking to the kitchen staff nicely before ordering your meal. Regardless of Cafe Rio's nature, try to politely tell the supervisor or cook about your condition.
Explain how important a safe, gluten-free meal preparation is for your health.
But, if the place fails to compromise or if the staff is unknowledgeable, you may opt to go to another place instead.
Dodge The Rice and Beans
Yes, we said that the rice and beans are gluten-friendly. But, most unsatisfied visitors recommend getting the salad without them as they contain gluten.
Rice is often processed with chicken stock or other flavorings that might contain wheat. So, take our word for it– resist the urge to add it to your meal.
Cross Contamination Risk
One of the hardest things about going gluten-free is the lurking risk of cross-contamination. Gluten can hide in tons of places. In your kitchen, on utensils, and on kitchen surfaces. But, how does this affect gluten intolerant people?
Cross-contact happens when gluten-free food is exposed to anything with gluten. Let's say your corn tortilla is stored in the same area as a flour tortilla. Such a lousy practice can cause the flour to transfer to the gluten-free corn tortilla.
This scenario makes the supposedly safe, gluten-free food unsafe for people with gluten sensitivity or celiac disease.
Cross-contact is especially risky in the food industry since contamination can occur even before the meal is prepared, such as in manufacturing plants. Thus, strict protocols must be observed in the restaurant to alleviate this risk.
However, due to the nature of most restaurants like Cafe Rio, completely eliminating cross-contamination seems like a dream.
With all flour particles possibly floating around the kitchen, the risk seems inevitable despite the gluten-friendly options they have to offer.
So, if you're thinking of getting a hearty salad at Cafe Rio, try to be as safe as you can. Do the safest measures which you think can curb the risk of feeling sick.
Talk to the staff, bring your own gluten-free sauce or dressing, or go somewhere else if worse comes to worst. Here are some insightful reviews from past visitors at Cafe Rio to help you decide if it's worth taking a shot.
What People Are Saying
Cafe Rio is indeed a well-loved Mexican destination. To help you weigh things, we summarized the most relevant insights from reviews and personal interviews online.
Frankly, most visitors are highly unsatisfied with how the staff handles gluten-free meal preparation. The staff is either unaware or rude.
There's also a common complaint of not having enough gluten-free options at Cafe Rio. The ones on the menu are reportedly gluten-rich, too.
One celiac visitor said that the manager mocked their partner after explaining what celiac disease is. The manager laughed hard and told them that they were in the wrong place if they can't eat flour. Obviously, this is a totally bad experience.
One visitor gives the place zero stars. The staff were unaware of a safe meal preparation and "acted" to make a gluten-free meal. As you'd expect, the food caused an unwanted gluten reaction despite the staff's claim that it was safe.
Another celiac visitor agrees that no cross-contamination measures were in place.
Some visitors say that although the corn tortilla should be gluten-free, they actually contain gluten. One celiac user even said that Cafe Rio adds flour to almost everything, even rice and beans.
Cross-contamination also seems like a common issue among visitors. One celiac user says that Cafe Rio isn't gluten-free for celiacs, after witnessing the staff use the same tongs for gluten-free and gluten-rich food.
Unfortunately, there were a handful of complaints about getting sick after eating a "gluten-free" meal. One visitor who ate the salad without the tortilla felt sick even before they got home. Another visitor even says that this should be anyone's first stop if they want to get sick since everything has gluten. One celiac user who ate at Cafe Rio twice also got sick both times.
Another visitor who ordered nachos with black beans and guacamole had a gluten reaction despite being told that the meal was safe.
Gluten-Free Alternatives to Cafe Rio
Well… we hope the last section didn't discourage you from giving Cafe Rio a shot.
Varying locations have unique managements. What others experienced can be different for you. So, it's best to do your part before deciding to eat at Cafe Rio.
Communicate your needs, watch the meal preparation, and order the safest gluten-free meals you can think of. Although we all want a good meal at the end of the day, nothing should be worth the risk when your health is at stake.
There are loads of options other than Cafe Rio that can similarly satiate your cravings! Here are some of the best alternatives we found for you:
Costa Vida
Most visitors at Cafe Rio mention Costa Vida as the next best option when Cafe Rio doesn't work out. It also serves fresh Mexican food, but with more gluten-free options.
Gluten-sensitive diners also had relatively better experiences here than at Cafe Rio. Decorate your corn tortilla with chicken, beef, pork, a dash of red enchilada, tomatillo, or roasted green Chile sauce!
If you're in for a Baja Bowl, you can get Black Beans and Cilantro Lime Rice with a wide selection of other proteins like shrimp, Mahi Mahi, or shredded beef. Finish this off with a sweet treat of a flan or Horchata.
Del Taco
There's nothing like a terrific taco fix Del Taco can't do by bringing a whole new twist of Mexican food to the streets of Florida.
Enjoy a crunchy, gluten-free Beyond Guacamole Taco or a nice Taco salad with fresh guac. If you're looking for something quick, you can try the Queso Loaded Fries and Chips & Queso Dip.
Del Taco also offers shakes with three flavors to choose from: vanilla, chocolate, or strawberry. Some gluten-sensitive visitors had a great experience, especially with how fresh the food was!
El Pollo Loco
El Pollo Loco offers the perfect mix between SoCal and their Sinaloan roots. It prides itself with its citrus-marinated fire-grilled chicken and other freshly prepared entrees!
For starters, you can have Tortilla Chips or Chips and Guacamole. You can also complete a Fire-Grilled Bone-In Chicken with entrees like the Double Chicken Bowl and Grande Avocado Chicken Bowl. Choose from a whole list of sides, too.
Coleslaw, Broccoli, Pinto Beans, and Mashed Potatoes (without gravy!)
Tio Pablo
Interestingly, Tio Pablo says that their entire menu is always 100% gluten-free which makes it an excellent spot for gluten-sensitive diners!
You can have a Gordita with Carne Asada, coupled with sides like Frijoles Charros, Chiles Gallos, or Grilled Red Onions! Tio's Burrito is also a must-try.
It's a grilled corn tortilla filled with loads of refried beans, rice, queso fresco, lettuce, and crema with your preferred pollo. Tio Pablo also has a full bar for customers looking for a nice drink with their meals.
Most visitors loved Tio Pablo's meals. They also commended the staff for their knowledge of safe meal preparation. If you're looking for a complete Mexican dining experience without worrying at the end of a meal, Tio Pablo is for you.