Who doesn't love freebies?? Just like me, if you also believe in testing the samples before buying the full product, then welcome to this guide which explains how to get free supplements samples by mail!
Free supplements samples are great for beginners who want to step up their fitness game and are not ready to invest in the full product yet.
You may also want to know if a certain product causes any unwanted reaction in your body. Additionally, trying the free supplements samples also lets you know the taste of the product before emptying your pockets.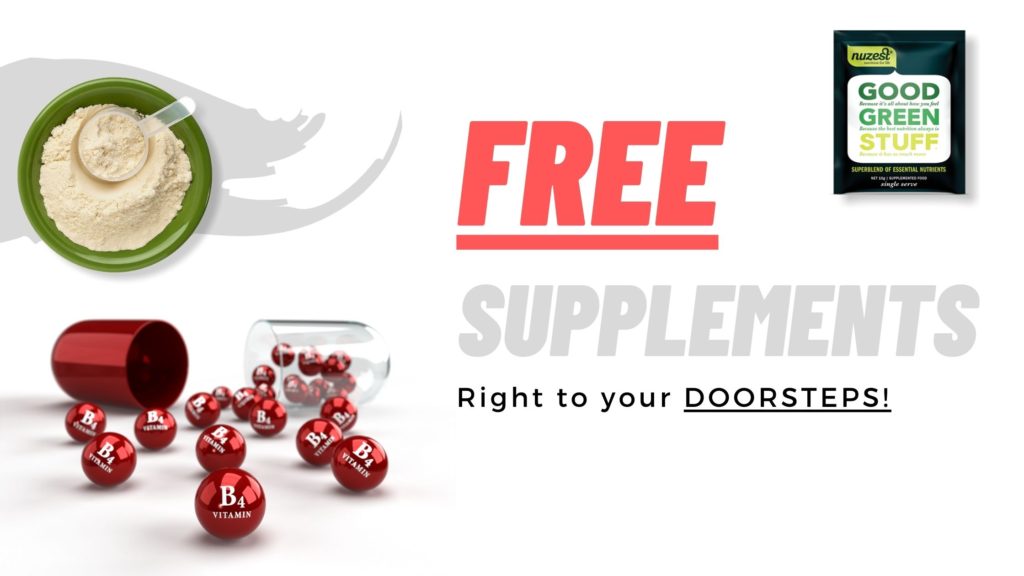 Whether you are building a completely new supplement stack or wanting to switch between brands and flavors, free supplements samples can rescue you from all the confusion!
I'll give you the best 15 brands to get free protein powder samples, BCAA, and free pre workout samples.
You can try different brands and samples until you find the perfect one for you!
---
This post may contain affiliate links, which help keep this content free. (Full disclosure)
Benefits of Free Supplement Samples
Trying to score free workout supplements sample might take some time and effort, but the benefits are well worth it!
Since the majority of health supplements today fall in the high-price segment, getting the free supplements samples by mail is the most practical approach (and easy on your pocket!).
Here are a few reasons why you should try the supplement samples before buying:
Try premium supplements without burning a hole in your pocket.
Reluctant to invest the full amount? Grab your free samples!
A single serving can reveal any possible allergic reactions

Test and compare various brands before procuring the full product.

FREE samples are best for entering the supplement routine
Taste is one of the major factors which makes or breaks a protein supplement! Sometimes the so called chocolate flavor tastes like MUD!
Samples can tremendously help you decide where to invest your hard-earned money.
(Recommended: Subway Guide for Health Freaks)
---
Why Companies Give Free Supplement Samples
Have you ever been offered a FREE sample of the product in a grocery store, and it tasted so DELICIOUS that you ended up buying a huge pack?
Welcome to the exotic world of marketing!
Brands today have realized that humans resist change and that they are NOT willing to buy expensive supplements (or other stuff) without trying them first.
Hence most of the companies give away freebies or a free trial to lure people and convert them into long-lasting customers. They know that the customer can't afford to buy every product available on the shelf, so they offer to deliver free samples right to your door.
It is also a great way to test new products in the market, and use that feedback to further improve their offerings.
Luckily for you, it means FREE SUPPLEMENTS SAMPLES (Yayy!)
READ: Losing Weight Without Cardio
---
How to Get Free Supplements from Companies
Getting free supplements samples by mail is quite an easy process, depending on the availability with the brand.
Each brand has its own strategy of distributing promotional freebies, but mostly its one of these:
They require you to buy something along with the freebie
You may be asked to cover the shipping costs of samples.
Many brands are giving free bodybuilding supplements samples in exchange for an honest review on their website or social media (amazing marketing tactic!)
If you are really lucky, you might land a few samples completely FREE (aka no strings attached!)
And if you are a regular customer, they might even surprise you with a supplement sample box, having various single-serve sachets of different products (I got these once!)
---
15 Free Supplements Samples by Mail
Here are the top 15 brands that offer free supplements samples by mail in US, Canada & UK:
Universal Nutrition
Universal Nutrition first came out with the world-famous Animal Pak in 1983. They provide cutting edge and staple nutritional products to bodybuilders and hard-training athletes globally.
It is a family company that has succeeded for years and years, offering premium whey, multivitamin, pre-workout, and other supplements.
How to order FREE workout supplement samples:
You can request for Animal Whey protein powder sample by visiting this link.
Request a BCAA Stack sample by clicking on this link.
Note: You must be 18 to receive a sample and have a mailing address within the continental U.S. Expect 4-6 weeks of delivery time. You can request only one sample per household Please allow 4-6 weeks for delivery.
---
ANS Performance
As their name suggests, ANS Performance specially caters to the bodybuilders and athletes, or even someone who wants to maximize their performance in weight loss.
You can ask for their pre-workout, BCAA, or a combo of BOTH (best option!)
How to order your free supplements samples by mail: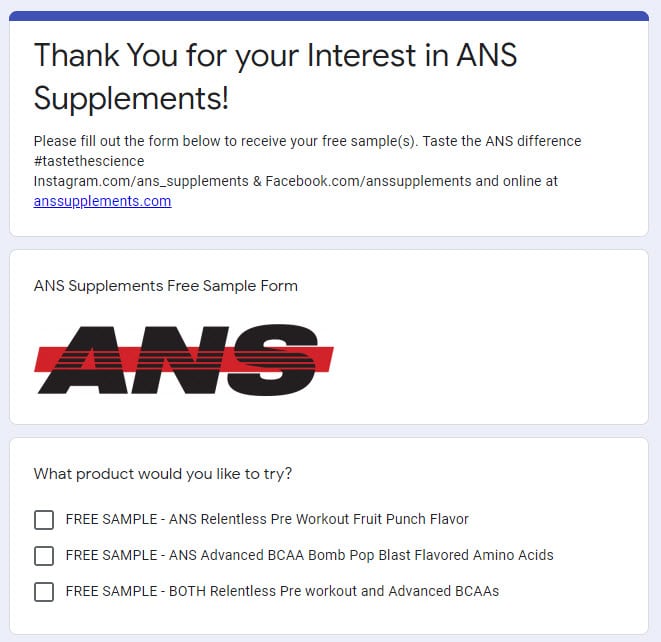 Simply fill this form with your e-mail address and shipping address to get your freebies delivered right to your doorsteps.
---
Tiger Fitness
Tiger Fitness is a great supplement store featuring many big brands from the supplement industry (including their own).
They provide free shipping for orders above $99 and also run a loyalty program.
How to order free bodybuilding samples:
Luckily for you, they have a page on their website dedicated only to FREE samples!
However, you need to buy something from them to get those freebies. There is also a maximum limit of 2 total free samples per order.
You will not be able to checkout if:
you add more than one individual sample or more than 2 samples total
you order the samples alone (must add those samples to the cart)
Be sure to bookmark their webpage as they keep updating their freebie section.
(Trending: How to Avoid Freshman 15)
---
How2Lose Nutrition
This is a not-so-great looking website which claims to offer free supplements samples by mail. They are actually a Herbal Life distributor firm who offers freebies from the brand.
At the time of writing this post, they are giving away Herbal Life's 'LiftOff' made for boosting your concentration and fighting fatigue.
How to order free supplement samples:
Visit this link to fill in your details and wait for the LiftOff to reach your doorsteps.
Samples are available for both Canada and US residents, in exchange for your email, phone number and address.
MORE: FREE KETO Diet Guide
---
ProSupps
Pro SUpps was started by a small group of fitness enthusiasts who ACTUALLY lift, instead of suited-up businessmen who haven't spent a day in the gym.
They are based in Texas and offer a compelling line of products whether for bodybuilding and overall fitness.
How to get free pre workout samples by mail:
They do not showcase their sample policy on the official website. However, you can ask them nicely over the e-mail customerservice@prosupps.com, and they are likely to fulfill your request.
---
Gaspari Nutrition
Gaspari Nutrition Inc., a Georgia based dietary supplement company. Founded in 1998, their company caters to all sorts of sports nutrition requirements including bodybuilders, MMA athletes or the weekend warriors.
How to get free supplements samples by mail:
While there is no official page on the website, Gaspari Nutrition gives away a free sample of muscle-recovery formula SizeOn, or the pre-workout supplement Superpump Max.
Send in your sample request via e-mail at samples@gasparinutrition.com.
PS: Don't forget to check out their deal of the week offers. You can save a lot of money through them.
TRENDING: How Long Does it Take to Shrink Your Stomach
---
Muscle Milk
As the name suggests, Muscle Milk exclusively offers premium protein supplements for better recovery of torn muscle fibers.
Their offerings include Genuine Protein Shake, 100 Calorie Protein Shake & Pro Series Protein Shake.
How to get free protein powder samples:
You need to get in touch with them with this link and request for a freebie.
---
GENEPRO Protein
GENEPRO offers protein supplements that are also suited for regular people who don't spend hours pumping iron.
They claim their products to mitigate gastric distress and provide low calorie, non-GMO protein with high absorption rates.
How to order free samples: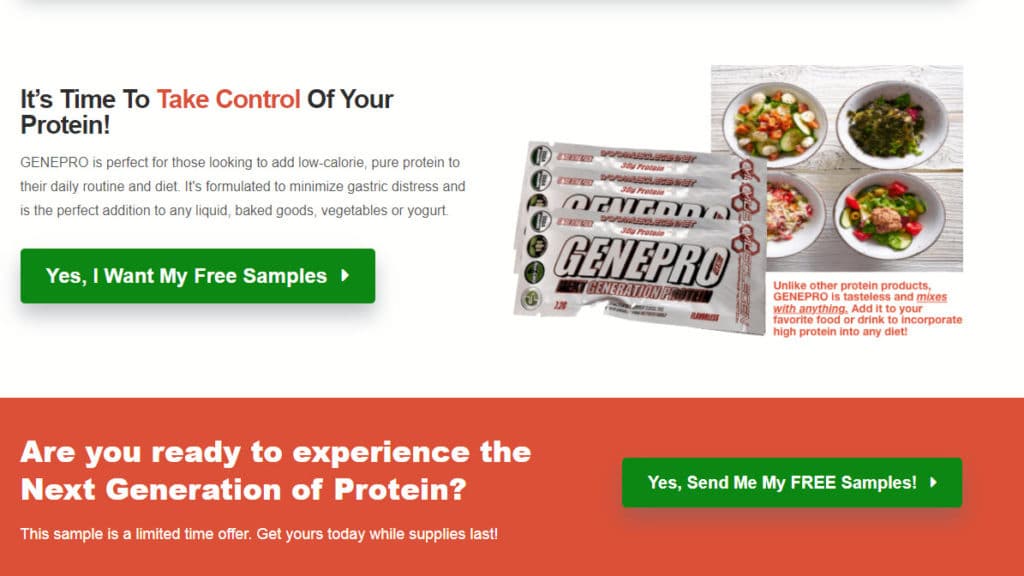 You can get a free serving of GenePRO whey protein by filling-up this form on their website.
The company ships it straight to your door without paying for shipping, and it's available even outside the US and Canada.
---
SupHub
Based in Vancouver, SupHub is a supplement store featuring many premium brands like Gaspari Nutrition, Labrada & Optimum Nutrition.
SupHub offers free samples only for people based in Canada (lucky Canadians!)
You can pick your free supplement sample with every purchase you make, with a maximum limit of 3 samples per order.
How to order free fitness samples: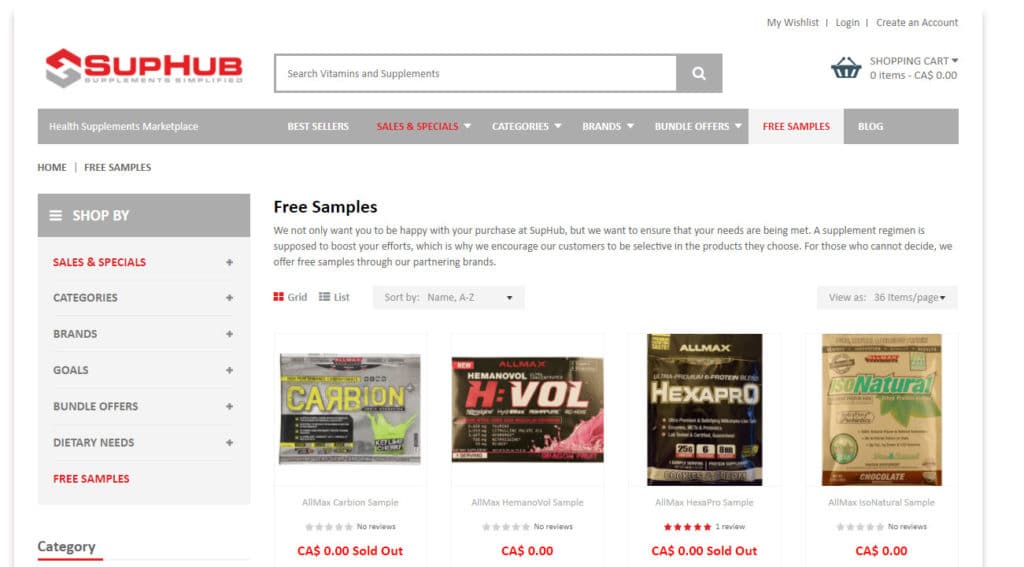 Add your main purchase to the cart, and visit this link to add up to 3 freebies per order.
---
Muscle Pharm
Muscle Pharm believes in enhancing an athlete's health & performance, all without using any banned ingredients.
They offer premium quality performance and recovery supplements, along with essentials and whey proteins.
How to get free supplements samples by mail:
E-mail them at info@musclepharm.com and nicely ask for free samples
If you are eligible, you might receive either their Assault or BulletProof supplements, both of which are highly reputed in the bodybuilding community.
---
OxyLife
OxyLife offers a huge and diverse range of products including bone support, multi-vitamins, weight loss supplements, stress relief and others.
How to claim free samples: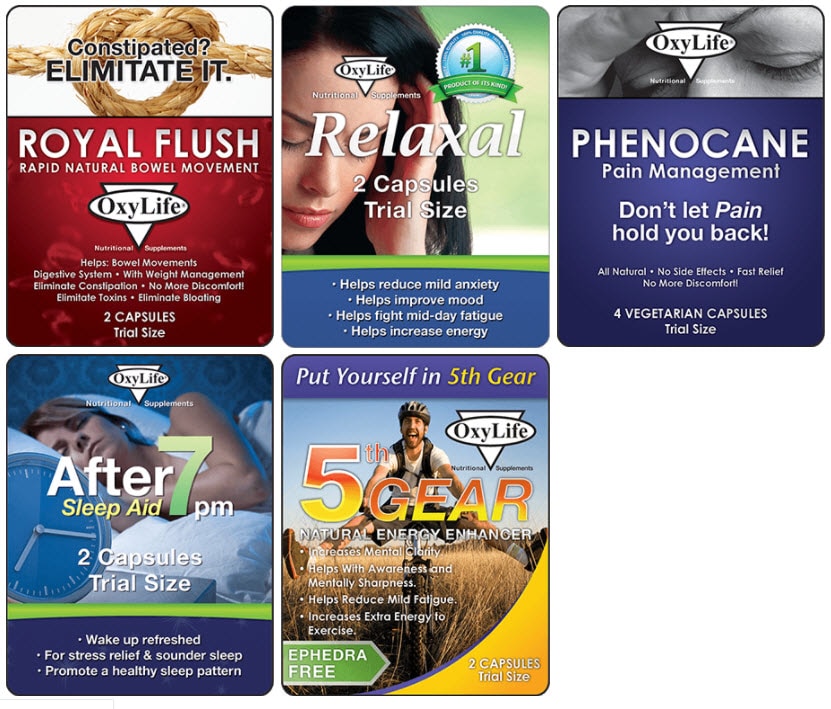 They currently offer 5 freebies up for grabs, all you need to do is fill in your information in this form.
MORE: HIIT Cycling for Weight Loss
---
Muscle & Strength
Muscle & Strength is a huge online supplement store, a workout database and a fitness education platform. They are quite famous in the fitness fraternity, majorly because of their helpful content.
How to order free supplements samples by mail: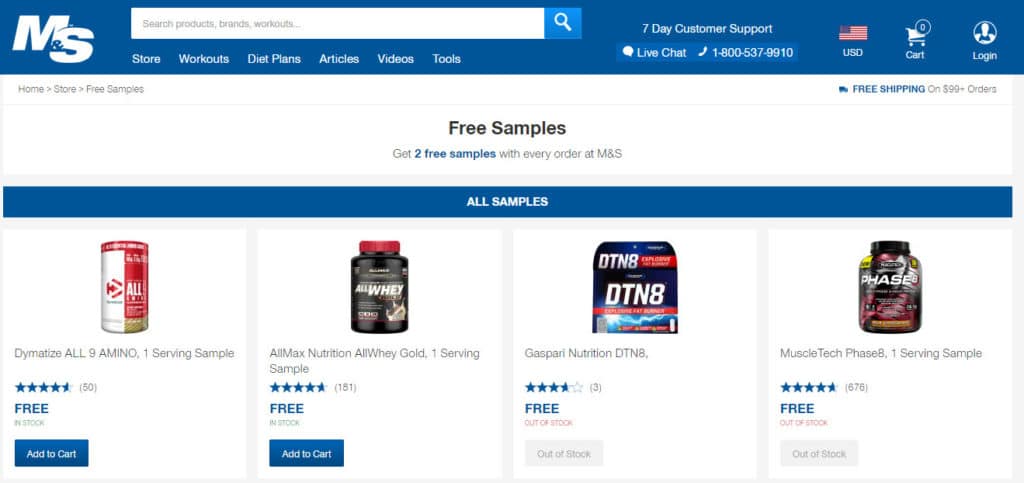 You can claim 2 free samples with every order at M&S. Once you add your products in the cart, visit this page to choose your free servings.
Tip: Some products have a free sample listed under the "Buying Options" box. You may find a "1 serving" option for $0. Simply add it to cart and enjoy your free supplement sample!
MORE: 6 Meals a Day Planner
---
Natures Craft
Natures Craft highly emphasizes the importance of using natural products. They offer a wide variety of supplements including weight loss, digestion, cholesterol support, and others.
How to order free samples:
You can't choose the exact supplements and their brands. But you can tell them the category of the products you are interested in (e.g. Wellness, Men's Health, Women's Health).
All you have to do is answer a few questions on this page, to qualify for your freebie.
MUST READ: How to MELT Down Love Handles
---
BlackStone Labs
One of the best things about this brand is their eye-catching-attractive label designs. They cater exclusively to hardcore fitness enthusiasts and bodybuilders.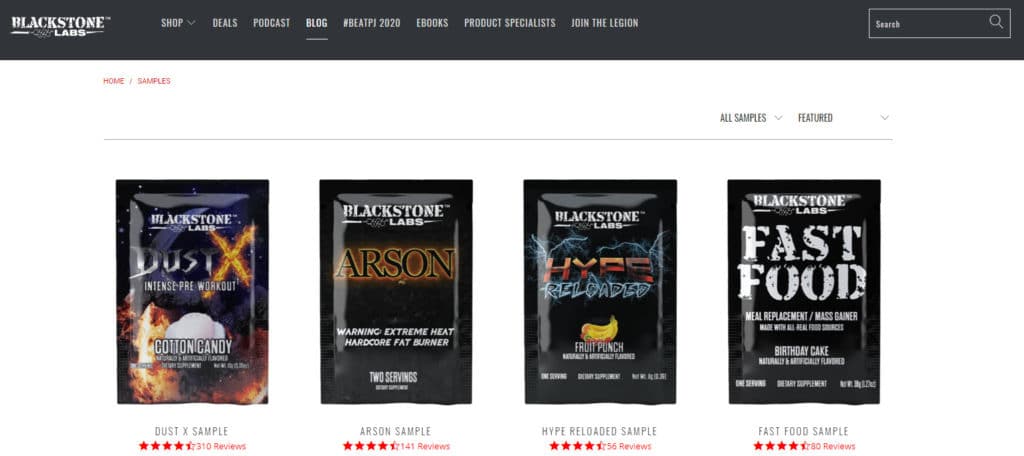 How to order freebies:
Simply visit this page and add your samples to the cart.
Note: Most of their supplement samples are usually sold out. So you are lucky if you get one!
GUIDE: Bullet Journal for Weight Loss
---
Vegan Life Nutrition
If you have chosen the vegan way of life, getting all the essential vitamins and minerals might be a tough task!
That is where Vegan Life Nutrition steps in to deliver your dose of required vitamin supplements.
How to order free supplements samples by mail:
Simply visit this page and fill in your details to qualify for a free serving.
Note: Even if there are no samples available right now, it is a good idea to submit your contact information to stay updated.
---
Free Supplements Samples TIPS
The word "FREE" instantly grabs our attention and we begin working to get it delivered right to our doorstep ASAP!
However, many companies are aware of this fact and they hide the actual product cost behind "shipping costs". They will ask you to just pay shipping which might turn out to be more than the actual product cost.
"Get free whey protein samples! Just pay $40 shipping charges."
Other things to consider when applying for free supplements samples by mail:
Check the spelling of the brand name on the website. It might also be a knock-off site with a name similar to the original manufacturer. Also, check the URL of the website.
Confirm whether the website has a security certificate (SSL) to protect against hackers or third-party attackers stealing your personal information. If the URL begins with https, it means the site is secured.
Close the website if the link redirects you to a suspicious landing page. It is most probably spam and you won't get any free supplement samples.
Always do some research about the company on Google to avoid potential scammers and spammers.
READ: Weight Loss Affirmations
---
In-Store Free Supplement Samples
Instead of getting those free supplements samples by mail, you could also walk into stores like GNC and get a freebie along with a purchase (or without).
GNC has long been known for its interactive marketing approach of giving away free supplement samples, especially for bodybuilding.
I also love the free sampling approach of Vitamin World, which is frequently running many in-store promotions all over the country.
Last but not the least, supermarkets like Walmart are always running promotions for a huge variety of products, including wellness and health supplements.
READ: How to Turn Fat into Muscles
---
Conclusion
Samples are the best way to try new supplements until you find the right one for you! Keep an eye on these 15 brands to get free supplements samples by mail delivered right to your doorsteps.
You may need to buy something along with the freebie, or you could be asked to cover shipping costs. If you're really lucky, you might just get them totally FREE of cost.
Note: No company guarantees the delivery of the samples. They may or may not come depending on the availability.