Let's face it: Eating home-cooked meals can get really boring sometimes. And sometimes we also need a break from the kitchen! That's when we turn to unhealthy fast food like burgers, pizzas, and other junk food.
Comes in Flame Broiler, a restaurant chain serving healthy protein bowls that are 100% customizable! You can choose from chicken, beef, tofu, or white meat chicken.
But can you eat keto at Flame Broiler?
The short answer is yes. Opt for protein options that are cooked without the sauce. Fill up your bowl with greens and avoid their Magic Sauce (i.e. Teriyaki) since it has 10g carbs per serving. Replace the rice with avocadoes and you are good to go!
Eating low-carb at restaurants is like playing with fire. Since most dishes are loaded with carbs and sugar, even the smallest mistakes can throw you out of ketosis!
That's where we come in! Today we'll look at the best keto ordering strategies for your next visit to Flame Broiler.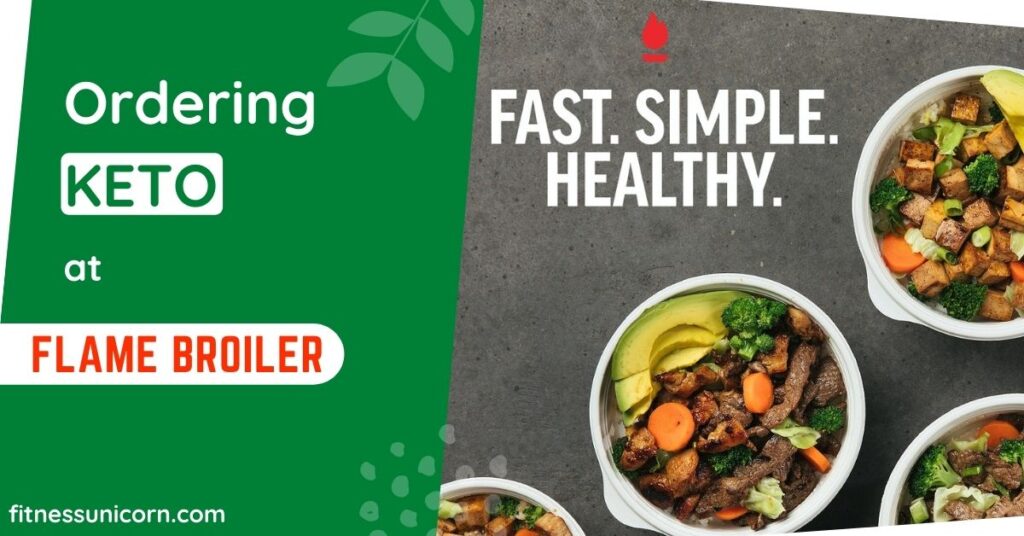 Tired of searching whether certain foods are keto? Download my keto cheat sheet with 210+ keto-friendly foods!
This post may contain affiliate links, which help keep this content free. (Full disclosure)
How to Eat KETO at Flame Broiler
Flame Broiler is known as one of the healthiest fast-food restaurants. But if you overdo the sauces, you take it much closer to "unhealthy".
Anyways, let's just stick to the keto side of things for this article!
Flame Broiler has a super-simple ordering process. First, you pick a base (i.e. rice, salad, or veggies). Then you choose from their protein options (beef, chicken, or tofu). Finally, it's time to spice up things with their proprietary sauces!
Follow these practical strategies while ordering keto at Flame Broiler:
1. Have Your Meat Cooked WITHOUT Sauce
The worst keto mistake at Flame Broiler is having your meat cooked in the sauce!
A 3 oz serving of white meat chicken (cooked without sauce) has exactly zero carbs. On the other hand, the same item tossed in the sauce gets a whopping 6g net carbs.
Flame Broiler offers 3 portion sizes i.e. mini bowls, regular bowls, and the plates. Here's the carb count of protein options in each bowl type:
Note: The carb count below excludes any base, toppings, or dressings.
Mini Bowls (3 oz):
Chicken (cooked without sauce): 2g
Tofu (cooked without sauce): 4g
White Meat Chicken (cooked without sauce): 0g
Regular Bowls (5 oz):
Chicken (cooked without sauce): 3g
Tofu (cooked without sauce):7g
White Meat Chicken (cooked without sauce): 0g
Plates (7 oz):
Chicken (cooked without sauce): 3g
Tofu (cooked without sauce):7g
White Meat Chicken (cooked without sauce): 0g
You might wonder why I left out their Angus beef in the above list. No, that wasn't a mistake.
They only have pre-marinated beef which is laced with carbs (thanks to the sauce). The smallest serving (3 oz) has 6g of net carbs and the majority of those come from sugar.
The Angus rib is available in the 7 oz. protein options. But sadly, it's so heavily marinated that a single serving has 10 grams of sugar. In fact, it can even kick you out of ketosis even if it's still under your daily carb limit.
There has long been a debate among ketoers about this specific topic: Whether 1g table sugar is considered the same as 1g carbs that you get from vegetables? Is Keto strictly a NO Sugar diet?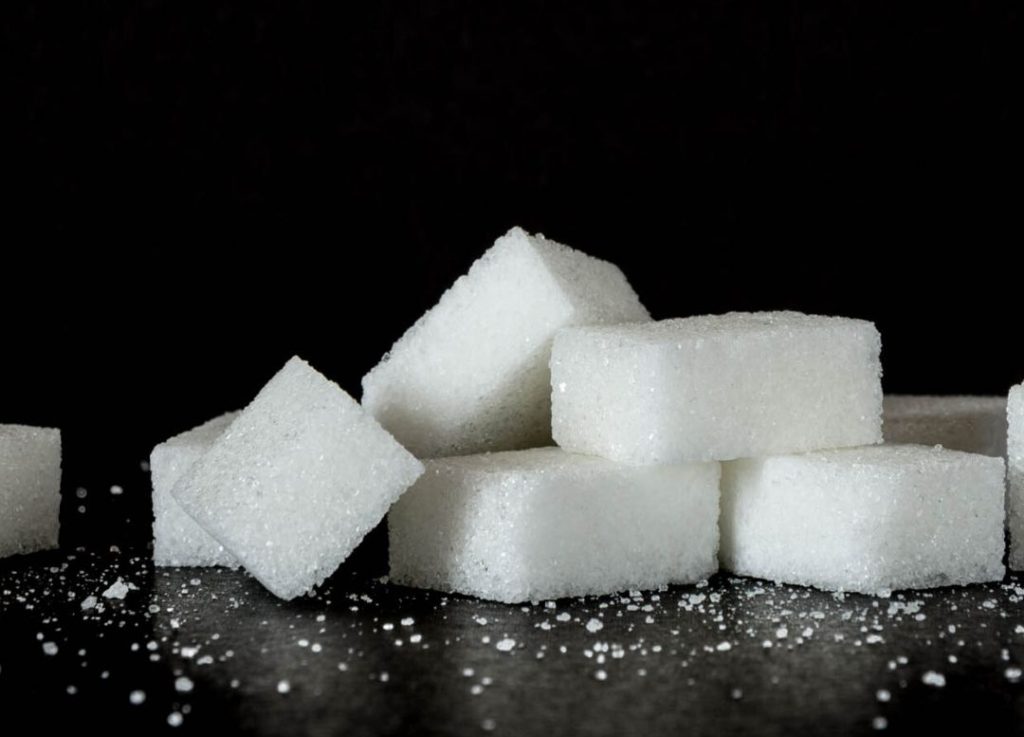 The answer is, it depends!
Sugar has a very high glycemic index which means it releases glucose into your bloodstream very quickly (much faster than any other form of carbs). As a result, a lot of people report losing their hard-earned ketosis even if they are eating well below their carb limits.
So the experts have concluded that sugar sensitivity on keto depends from person to person. You can find out for yourself only by trying!
But for now, let's get back to the Flame Broiler keto menu!
MORE: Pollo Tropical Keto Friendly Menu
2. Magic Sauce is the Culprit!
Have a look at the ingredients present in Flame Broiler's magic sauce:
Soy Sauce (water, wheat, soybeans, salt, sodium benzoate as a preservative), sugar, malt extract, water, modified food starch, mirin (water, dextrose, rice, corn syrup, salt), & ginger.
Notice the ones in bold, and you'll know for yourself why the magic sauce is strictly not keto!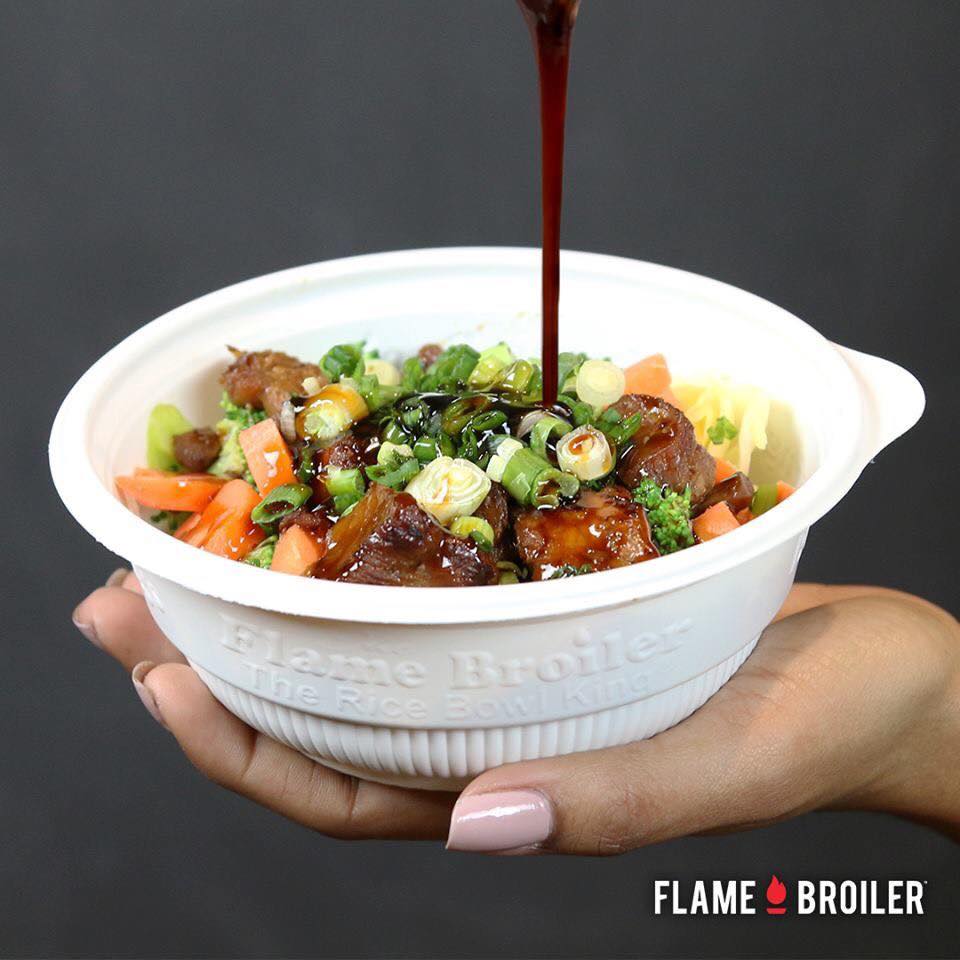 In fact, you'll find similar ingredients in most sauces that are drool-worthy! But the magic sauce in particular has 8g of sugar even in the smallest serving size (i.e. the mini bowl)
Does it mean no sauces for you at Flame Broiler?
Here's the good news: You can have a generous serving of their Hot Sauce because it has negligible amount of carbs.
Follow this carb guide to decide your dressings at Flame Broiler (based on regular bowl size):
Hot Sauce: 0g
Double Hot Sauce: 2g
Triple Hot Sauce: 2g
Simply Magic Dressing: 5g
Simply Magic Sauce: 10g
Keep in mind that all the sauces are high in sodium. USA's official guidelines from food authority recommends 2,300 mg of sodium per day to an average person. You'll be shocked to know that a single serving of Flame Broiler's Magic sauce has 820mg sodium alone!
It's only healthy until you put the sauce on, which is loaded with sodium.
RECOMMENDED: Quiznos' Keto-Friendly Options
3. Add Avocadoes to Your Bowl
Avocadoes are the latest addition to Flame Broiler's menu! I guess they heard all the prayers from ketoers, lol!
They are one of the most keto-friendly fruits on the planet. According to Healthline, a 100-grams serving of avocadoes provide just 1.5 grams of net carbs. They're also high in vitamin K, folate, vitamin C, and potassium.
Swap out the rice with diced avocadoes to make your bowl keto-friendly and more filling!
You may want to add veggies as a base of your bowl. But their pre-set "salad" base comes with carrots and a whole lot of other dressings that are high-sugar. Instead, just ask for some broccoli and green cabbage as the base of your bowl.
4. Use Their Nutrition Calculator
Thank God that Flame Broiler has a live nutrition calculator! It means you can choose the wierdest (I'm not judging!) food combos and still determine the exact carbs in your bowl.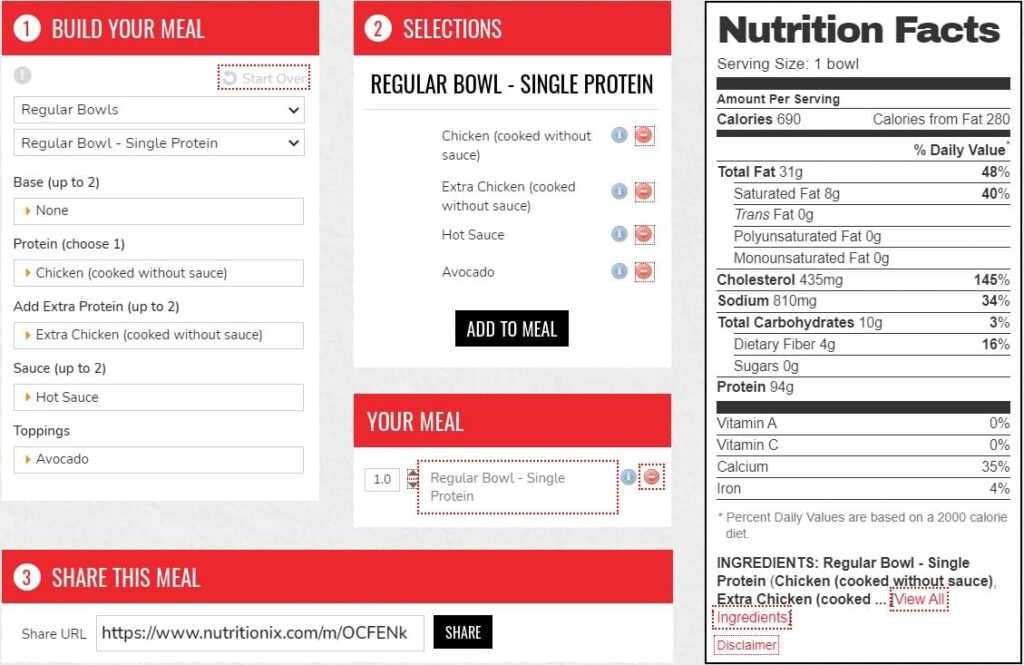 You just have to pick your choices as you would do at the counter. Click here to use their premium nutrition calculator.
Have a friend that is following you on the keto path? You can even share your meal choices with the little "share" button at the bottom of the page.
It also comes in handy when you just want to remember what you ordered the last time (saves a lot of time!)
5. Stay Below Your Keto Carb Limit
You might have heard the Pareto's principle: 20% of all your efforts will provide the 80% of results!
That 20% work in keto is just sticking to your daily carb allowance (20-30g carbs). It is what will really move the needle for you.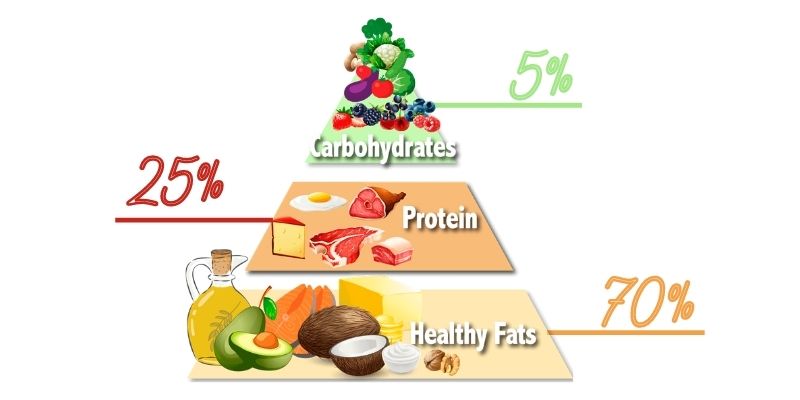 You can spend hours and hours finding low-carb foods, and still end up overeating them. That's why you ought to know the right portion sizes and track your macros (fats, carbs, and protein).
Tracking your portion sizes becomes really difficult when dining out in a group of friends. For such occasions, I always plan my meals ahead of the visit and really just stick to the plan!
What to Drink on KETO at Flame Broiler
I would ask you to simply stick to water! But luckily, Flame Broiler offers plenty of low-carb beverages that fit the keto bill!
Here's the carb count for each one (regular):
Coca-Cola Zero: 0g
Dasani Sparkling Black Cherry: 0g
Dasani Sparkling Lime: 0g
Diet Coke: 0g
Diet Sprite Zero: 0g

Gold Peak Premium Unsweetened Tea:

0g
Gold Peak Unsweetened Black Tea: 0g

Sprite Zero:

0g
Glaceau vitaminwater Triple X zero: 1g
Glaceau vitaminwater squeezed zero: 2g
Minute Maid Light Lemonade: 2g
Conclusion
Flame Broiler has plenty of low-carb options for the keto diet!
Choose a protein option that is sauce and marinade-free. Add avocadoes, cabbage, broccoli, or onion, and throw in some hot sauce for a perfect keto-friendly meal.