Thinking about where to get your next keto meal can be a huge pain! But True Food Kitchen might just be the solution to this problem. They offer a variety of nutritious meals that welcomes even those on keto (or those who aspire to be!)
From starters, salads, burgers, sandwiches, to entrees– their keto-friendly meals are all over the menu. A dash of the Tuscan Kale Salad and Seasonal Ingredient Salad without the high carbs will surely send you a heavenly sensation, guilt-free!
Going keto is never easy, right? From screening nutritional bits to finding keto-based meals, there's always a struggle along the way!
But this is what we're here for! Keep reading below to find out the best keto ordering strategies at True Food Kitchen.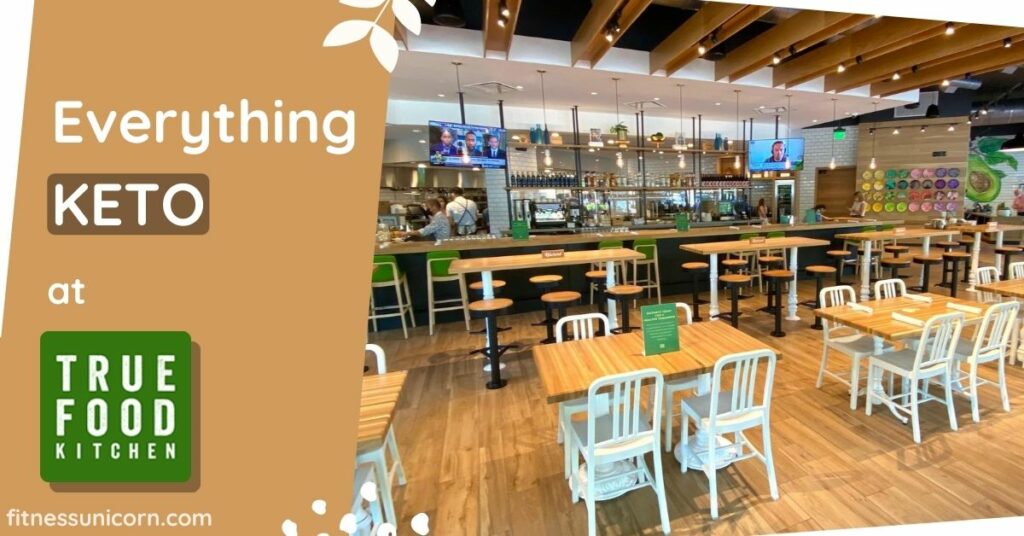 Tired of searching whether certain foods are keto? Download my keto cheat sheet with 210+ keto-friendly foods!
This post may contain affiliate links, which help keep this content free. (Full disclosure)
How to Survive Keto at True Food Kitchen
One of the commendable things about True Food Kitchen is that they group their meals according to diet options. Aside from Keto, you can enjoy other options like Vegan and Paleo as well. We give them two thumbs up for this one, by the way. Maybe even a high five.
As the King of Prussia, True Food Kitchen houses top chefs that prepare well-sourced, delectable dishes for their guests. The restaurant has locations across 17 states, heralding itself as an excellent source of ready-to-go healthy foods and top-notch meal options.
It's popular as a dine-in restaurant with a relaxed ambiance along with the eco-friendly environment. But if you don't feel like dining out– you can have your food delivered on your doorstep or for curbside pickup.
Despite the keto-friendly meals being readily accessible in their menu– how well are these meals fit for your keto regime? Let's find out.
You can access some of their prepared meals to help you maintain your keto diet. Although the entire menu isn't keto-friendly, their tasty dishes can still be modified to your liking to become keto-friendly!
See, dining on keto doesn't have to be so hard. You don't have to leave out True Food Kitchen for your next brunch (or lunch!). We'll help you figure out the best diet choices in this article.
Their Roasted Brussel Sprouts and Tuscan Kale Salad are really to die for. Along with their charred cauliflower, these will give you enough proteins and fats perfect for your daily requirement without the hidden high carbs.
Be careful! True Food Kitchen still has a couple of high-carb dishes that you should definitely avoid, as listed below. They exceed the 25g net carb limit which might ruin your keto regime.
Guacamole
Dumplings
Casserole
Ancient Grains Bowl
Pizza
Turkey Burger
Chocolate Cake
Pie
Lasagna Bolognese
Ice Cream (Any Type)
Going now to the most awaited part of your read: Here are the meals you can have while going on keto, or maybe if you're thinking about starting to!
With enough research, we give you the low-carb, keto-friendly dishes that you can enjoy if you're thinking about stopping by True Food Kitchen:
SUGGESTED: Keto Options at Seasons 52
True Food Kitchen Keto-Friendly Options
We sincerely thank True Food Kitchen for being kind enough to readily provide their keto-friendly meals. We're here to make it much easier for you to know what to order!
ALSO READ: Everything Keto at Yoshinoya
Starters
Roasted Brussels Sprouts – A meal inspired by the Belgians that contains rich vegetables and brussels sprouts, roasted with healthy oils with no miso vinaigrette.
Charred Cauliflower – Enjoy a sweet, tasty, and crunchy appetizer without harissa tahini and dates which makes this dish safely low-carb.
Salads
Seasonal Ingredient Salad – This flavorful salad can be enjoyed either with cauliflower, brussels sprout, and substitute kale salad dressing for an added flavor. This high calorie (610 cal.) meal also has no additional items, like beans and mulberries, that can risk for ketosis.
Tuscan Kale Salad – Get a breath of a fresh 'keto' air with this salad containing fine ingredients like lemon juice, garlic cloves, lacinato kale, and some avocado for an extra taste. It has no breadcrumbs, too!
Burgers & Sandwiches
Grass-fed burger- No buns, umami, or even mayonnaise. True Food twists the usual burger typically containing a ton-load of carbs to something healthier, using a lettuce wrap to help maintain the burger's excellent taste.
Turkey Burger – Just like the grass-fed burger, this has no buns, vegenaise, and jalapeno remoulade. This also uses a lettuce wrap along with a well-selected, flavorful turkey to deliver a sumptuous meal– perfect for a keto diet. (This is quite crazy, right?)
Grilled Chicken & Mozzarella Panini – Just the perfect combination of chicken and mozzarella heated together to shoot up thrilling sensations to your taste buds! This has no pita and breadcrumbs, but tastes great in a lettuce wrap.
Bowls & Entrees
Poke Bowl – Served with protein-rich diced fish, this Hawaiian dish has a mix of greens topped with olive oil and salt. It can be enjoyed with plain jicama.
Pan Seared Sea Bass – What can go wrong with seafood? This appetizing, flavorful meal uses a combination of sea bass, sea salt, olive oil, and lemon wedges– perfect for a keto diet.
Grilled Sustainable Salmon – This salmon-based nutritious and tasty meal features a mixture of mixed greens, vegetables, and kale salad dressing.
Grilled Chicken Parmesan – Grilled chicken mixed with broccolini, green bean, and carrot which can be an excellent main dish for anyone looking for a tasty meal.
Grass-Fed Steak or Shrimp Tacos – You can never go wrong on shrimps when you're on keto. Coupled with the Grass-Fed Steak with some avocados and cabbage slaw, you may be in for a treat.
Spaghetti Squash Casserole – It's best to get a ½ proportion of this order to reduce your intake of squash and onion, for maintenance of ketosis. It is also suggested to add in some cheese, almond ricotta, and avocado. This is a great diet that's more adaptive to your carb restrictions, so we didn't eliminate this one.
These are other great options you can also enjoy:
Grilled salmon
Avocado
Grass-Fed Beef
Extra Cheese
Lemon Ricotta
Pesto or Kale Salad Dressing
Vegan Almond Ricotta
Cilantro Pumpkin Seed Pesto
Keto Salad Dressing
Note: The net carb of the dishes below ranges between 5-15 g.If you want detailed nutrition information down to the single gram of carbs, check out their official nutrition website.
ALSO Read: Perkins Bakery Low-Carb Options
Conclusion: Is True Food Kitchen Keto-Friendly?
Enjoying a sumptuous, flavorful meal that fits your keto plan might sound like the perfect dream for you. Luckily, True Food Kitchen offers a greatly categorized menu that makes choosing tasty keto-friendly meals a breeze.
The standard for their healthy options is impressively sufficient and great in terms of keto.
The information we provided is based on the menu of True Food Kitchen. The meals are all below the 20g net-carbs which makes them ideal for your next low-carb endeavor – whether you dine in or order delivery.
Happy Ketoing!