Cheddar's Scratch Kitchen is a casual dining spot where you can enjoy great food at affordable prices. It is also an excellent place to enjoy a hearty meal and have some laughs with your pals.
You might have to adjust the meals slightly for gluten-sensitive guests, but there are still many options to pick from.
Cheddar's Scratch Kitchen features several gluten-free salads, combination dinners and steaks, and seafood appetizers, as well as the option of a burger in which you can omit the bun.
Unfortunately, cheddar's Scratch Kitchen doesn't provide a comprehensive Ingredient List for their menu items, so you should always double-check with the waiter regarding the gluten content of particular objects.
We've gone over the gluten-free menu suggestions and the gluten-sensitive dishes at Cheddar's. Keep reading the article to explore all your options along with some practical tips for a gluten-free meal here.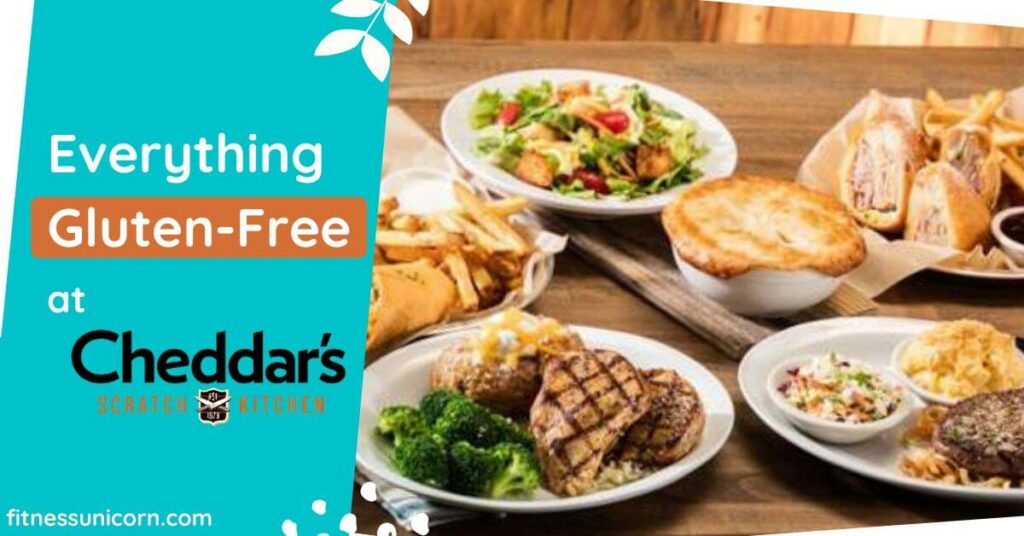 This post may contain affiliate links, which help keep this content free. (Full disclosure)
Cheddar's Scratch Kitchen Gluten-Free Options
Cheddar's was first established in 1979 by Aubrey Good and Doug Rogers. Its first location was in Irving, Texas, and the chain grew to 171 locations in 2018.
The company's vision is to offer high-quality local food in a casual dining environment at an affordable price.
Cheddar hired a new CEO in October 2014, Ian Baines, and within a year, they renamed the restaurant Cheddar's Scratch Kitchen, reflecting the company's goals of food made from scratch.
The restaurant has earned several awards, such as:
Top Overall American Cuisine, Top Rated Food, and Top Rated Decor and Facilities. Additionally, in 2016, it was honored with three awards. It was ranked as the #1 full-service restaurant chain for "Customer Intent to Return".
They also secured #3 out of the Top 20 full-service chains for sales and satisfaction. It was nominated as a Favorite Casual Restaurant.
The Cheddar's Scratch Kitchen website has not certified its menu items as gluten-free because of the possibility of cross-contamination.
So you should always inform your waiter or waitress about your diet preferences and the severity of your allergies.
Having said that, here are the gluten-sensitive options available at Cheddar's Scratch Kitchen:
Gluten-Free Sides at Cheddar's Scratch Kitchen
Idaho Mashed Potatoes
Southern Green Beans
Buttered-Off the cob corn
Sweet Baby Carrots
Seasoned Rice
Freshly Made Coleslaw
Fresh Steamed Broccoli
Cheese & Bacon Mashed Potato
Loaded Baked Potato
Red Beans & Rice 
FIND MORE: EVERYTHING Gluten-Free at Carrabba's
Salad Options
Grilled Chicken Pecan Salad
Salmon Caesar Pasta Salad
Chicken Caesar Pasta Salad
Tip: Order without Croutons and pasta and check that their dressing mix is gluten-free.
Gluten-Free Steaks at Cheddar's Scratch Kitchen
Top Sirloin Steak 6oz
Top Sirloin Steak 8oz
Ribeye 14oz
Ribs & Shrimp
Top Sirloin Steak & Ribs
Gluten Sensitive Burgers (No Bun)
The original Burger
The original Cheese Burger
Bacon Cheese Burger
Smokehouse Burger
Tip: Order without a bun.
Seafood You Can Enjoy
Top Sirloin Steak & Shrimps
Grilled White Fish
Gluten-Sensitive Chicken Dishes
Lemon Pepper Chicken
The Original
House Smoked Items
Gluten-Free Combinations
RECOMMENDED: Does Capriotti's offer anything gluten-free?
Tips for a Gluten-Free Meal at Cheddar's Scratch Kitchen
It Isn't Always Gluten-Free
Cheddar's restaurant does not offer a broad selection of gluten-free dishes and doesn't supply much information. Instead, they feature a mix of choices that typically ought to be gluten-free.
Still, there is no reference to a gluten-free menu on their website, and there is no disclosure of their stand on cross-contamination and other allergens.
We expect to see some cross-contamination-related issues. If you visit this restaurant, be sure to let your waitstaff know if you have any food allergies or other sensitivities since there must be some items you can safely consume.
Cheddar's scratch kitchen doesn't have gluten-free bread, so lettuce wrap is the only gluten-free option available as a bread substitute. Order burgers without the bun to increase your gluten-free dining options.
Avoid crusty, batter-coated meat or chicken since they contain gluten in the breadcrumbs.
Cheddar's scratch kitchen has no gluten-free desserts; therefore, do not expect the sweets you desire. Most of Cheddar's dressings and sauces are gluten-free, excluding the bourbon glaze.
Dietary Needs Should be Communicated to the Waiter
You will need to be vigilant about the issue of cross-contamination.
If you are dealing with celiac disease, the first thing you need to do is check to ensure that the cuisine at your local Cheddar's scratch is safe and secure to avoid cross-contamination from occurring and leading to sickness.
Speak up to ask any questions you may have to ensure a pleasant culinary visit to the restaurant.
Always alert the waiter of your gluten allergy when preparing your food, as well, so the waiter may be able to safely and effectively handle precautions against cross-contamination with your food.
If You are Unsure, Better Skip it!
It is safe to skip if you aren't certain about a specific ingredient or item on the menu.
Here is a list of foods to skip at Cheddar's scratch kitchen.
Sauce
Onion straws
Bourbon glaze
Crab sauce
All burgers, unless you order them without the bun.
Cross Contamination Risk
Despite the increased efforts of restaurants to cope with food allergies, a well-trained staff, gluten-free menus, dedicated kitchen tools for allergy-friendly foods, and a special segregated zone in the kitchen to eliminate cross-contamination, there is still no warranty.
Indeed, despite all the measures undertaken to mitigate the risk of cross-contamination, numerous establishments cannot ensure the strict elimination of gluten residues in their food.
In fact, certain dishes are freshly prepared in an environment that could have been exposed to gluten-based products during preparation or service.
What People Are Saying
The following Cheddar's scratch kitchen reviews were compiled based on customer reviews and feedback. It has 77 reviews on Find Me Gluten Free with a rating of 3.5 stars, which indicates a medium customer total satisfaction.
Many positive reviews refer to its menu options. On the other hand, negative reviews report cross-contamination and poor staff service in some locations.
One user submitted a negative review. The user dealt with terrible gluten contamination.
Unfortunately, she also received awful service from the server, who had no time, lack of patience, or willingness to fake an effort to be helpful and interested in the customer. She finally reported that she wiped them out.
One visitor gave the restaurant two stars. The visitor indicated that the gluten-free options were severely limited. He ordered seasoned rice for himself and his dairy-allergic daughter.
However, the server brought unsafe croissants to the table because their meal would take a long time. As a result, the rice arrived at his table and his daughter's steak, which had butter on it.
Another customer experienced a positive experience. He stated that he was prone to react to the slightest cross-contamination but had nothing, waiters were well informed, and there was a separate menu.
Gluten-Free Alternatives to Cheddar's Scratch Kitchen
Cheddar's Scratch Kitchen, of course, isn't the only restaurant with gluten-free menus!
So, if you're unhappy with Cheddar's Scratch Kitchen and do not find it persuasive and satisfying, there are more worthy fare and alternatives to choose from.
Check out the following list of other restaurants which may feature some great menu selections worth considering:
Wendy's
Many people suffering from celiac disease or gluten sensitivity choose Wendy's as their top destination when seeking a safe, gluten-free fast food establishment.
Based on the gluten-free menu released by Wendy's, most or all of the chain's signature baked potatoes contain no gluten ingredients. Wendy's Chili, Chocolate, and Vanilla Frosty's are also included.
You can dine on the salads at Wendy's without croutons, and most dressings are considered safe. You can also order a burger or cheeseburger without the bun.
When ordering, ensure the people behind the counter are informed about changing gloves and avoiding cross-contact with gluten-containing products.
Additionally, in some Wendy's establishments, you can have fries, but check to ensure they are not fried with gluten-containing ingredients in the same oil.
The Boston Market's gluten-free guests can enjoy a remarkable selection of entrees and appetizers from the company's gluten-free list. Plus, you can have some gravy, too, because it's gluten-free.
The Gluten-Free Option lists features:
Roast Chicken
Roasted turkey breast
Steamed vegetables
Southwestern corn salad
Holiday Ham
Christmas Turkey
Unfortunately, there are no gluten-free desserts. You may also refer to the Food Allergy Search section on the Boston Market website, which allows you to index only the gluten-free menu options.
P.F. Chang's China Bistro
P.F. Chang's allows you to order from their gluten-free menu, which has been successfully enjoyed by several gluten-free customers as well.
The options include a wide variety of appetizers, gluten-free egg soup, a noodle dish, many entree options, and even vegetarian options.
In addition, you can get a terrific surprise dessert item, P.F. Chang's Gluten-Free Flourless Chocolate Dome.
Gluten-free options at P.F. Chang's include:
Chang's chicken lettuce wraps.
Egg Soup
Fried rice
Spicy chicken
Mongolian Beef
Shrimp with lobster sauce
Pad Thai
Chocolate Souffle
All of P.F. Chang's gluten-free items are presented on a special plate with Chang's logo to ensure that your meal is safe. The restaurant also uses gluten-free soy sauce in its Gluten-Free recipes.
Chick-fil-A
Chick-fil-A boasts the best gluten-free food list of all fast-food restaurants. It has various menu options and details the ingredients for each so that those suffering from severe food allergies or intolerances can safely decide what to eat.
Chick-fil-A's gluten-free options include:
Grilled chicken nuggets
Grilled market salad
Southwestern Spicy Salad
Waffle fries
Fruit Cup
Iced lemonade
Grilled chicken sandwich on a gluten-free bun.
Egg white breakfast sandwich on a gluten-free bun
Breakfast hash browns
You can enjoy a chicken sandwich with a bun, several different-sized salads, a few different breakfast dishes, and Chick-fil-A's waffle fries, which are cooked in separate fryers ).
In addition, the fast-food chain offers gluten-free grilled chicken nuggets and mixed-fruit applesauce on its kids' menu. Furthermore, Chick-fil-A's yogurt parfait and Ice Dream dessert cup are classified as gluten-free.
As a result, many people have reported happy gluten-free results at Chick-fil-A.
Red Robin
For those with gluten allergies, successfully eating out can be a struggle. But, many restaurants are now offering gluten-free dining options to accommodate this expanding demographic.
Red Robin is such a restaurant. Although they don't have a dedicated gluten-free menu, they provide an array of food choices that can be customized to accommodate those needs.
For instance, while their burgers may come in a lettuce wrap instead of a bun, their fries are fried in a very special fryer to avoid cross-contamination.
Plus, Red Robin's waitstaff is knowledgeable about gluten-free alternatives, so you can trust that your meal will cater to your dietary requirements.
So, for the next occasion you are looking for a gluten-free catering alternative that fits your dietary requirements, don't miss out on a visit to Red Robin.