Carrabba's gluten-free menu has plenty of diverse options to choose from, whether you crave gluten-free soups, meats, or even pasta (Yup, you read that right!).
This national chain, which features authentically Italian cuisine, went to extraordinary lengths to provide a wide variety of gluten-free options.
Although their kitchen is not 100% gluten-free, you still may enjoy getting many of your favorite and most delicious Italian items at Carrabba's, depending on your risk tolerance.
In addition, they have various gluten-free options that can minimize the risk of gluten exposure.
Carrabba's features a super exhaustive gluten-free menu and an entire website section devoted to gluten-free options.
This vast gluten-free menu includes everything from small plates and appetizers to soups, salads, pasta, chicken, beef, pork, seafood, and sides.
So let's dive deep into this read! We'll look at some of the most delicious gluten-sensitive options along with practical insights to minimize your gluten contact!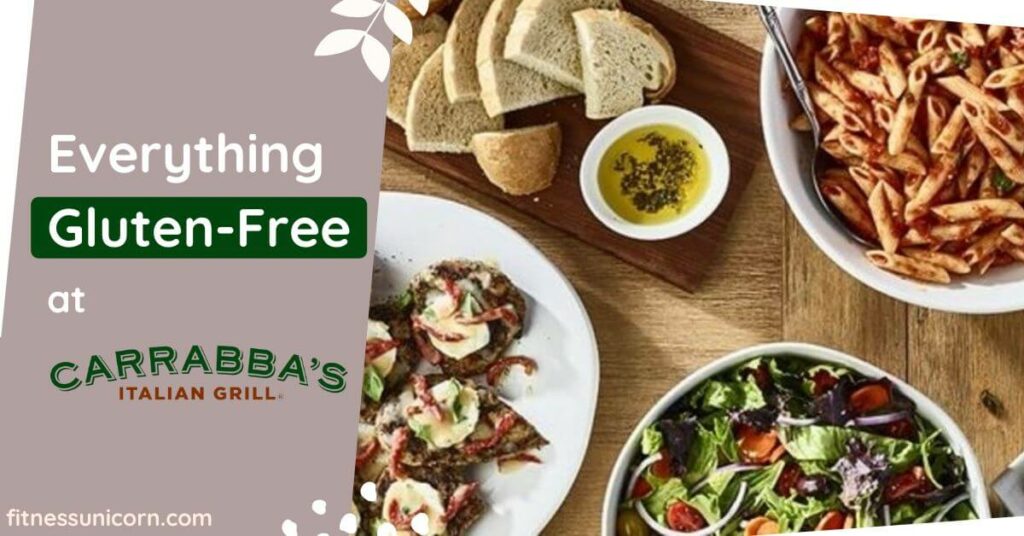 This post may contain affiliate links, which help keep this content free. (Full disclosure)
Carrabba's Gluten-Free Options
Carrabba's, established in 1986, is an American restaurant chain offering Italian-American cuisine founded by Damian Mandola and Johnny Carrabba. Their aim is to gather family members to enjoy food and meals together.
It focuses on the importance of food for bringing the family closer together. It values gathering all people around one table to eat as one family.
Most of the dishes on the menu at Carrabba's are appropriated by Grace and Rose. They are mother and sister to Johnny's uncle, Damien.
All these dishes are unique, and a couple of the recipes were showcased on the popular cooking show Cucina Sicilia, presented by Mandola and Carrabba.
Among the most popular recipes at Carrabba's is Chicken Bryan, a grilled chicken breast plate topped with sun-dried tomatoes, caprino cheese, and a lemon-basil butter sauce.
It was inspired by the name of the town of Bryan, Texas, the home of the Carrabba family.
Carrabba's features a separate gluten-free menu. The Carrabba's gluten-free menu is highly inclusive, so do not hesitate to check it out before deciding.
On their gluten-free menu, you'll find gluten-free variants of their signature main dishes, entrees, salads, and other prized Carrabba standards. In addition, they offer gluten-free pasta, which is pleasing and unusual.
So without any further delay, check out Carrabba's gluten-free menu options you can try:
Gluten-Free Small Plates at Carrabba's
Grilled Asparagus With Prosciutto
Italian Lettuce Wraps
FIND MORE: Does Capriotti's offer anything gluten-free?
Gluten-Free Appetizers
Tomato Caprese With Fresh Burrata
The Caprese Tomato with Fresh Burrata is a fantastic combo of burrata mozzarella, tomatoes, red onions, fresh basil, balsamic glaze, and the purest quality olive oil.
Gluten-Free Soups
Mama Mandola's Sicilian Chicken Soup (order Without Pasta)
Minestrone Soup
Soup & Salad Combo
Gluten-Free Salads
Tuscan Strawberry Salad
Caesar Salad (order Without Croutons)
Italian Side Salad
House Side Salad
Johnny Rocco Salad
Italian Chopped Salad
The Johnny Rocco Salad is the ultimate pick if you're in the mood for something slightly healthier, or perhaps you wish to order a side dish salad.
It includes grilled scallops and prawns, a greens combo, red peppers, ricotta Salata, Italian dressing, and kalamata olives. Simply remember to omit the croutons.
Pasta (Opt for the Gluten-Free Variant)
Linguine Positano
Shrimp & Scallop Linguine Alla Vodka
Fettuccine Carrabba
Cavatappi Franco
Spaghetti Pomodoro
Spaghetti Bolognese
Fettuccine Weesie
The above pasta dishes are available in a gluten-free version by substituting Carrabba's gluten-free Casarecce Pasta.
YOU MAY ALSO LIKE: EVERYTHING Gluten-Free at Dickey's Barbeque Pit
Chicken, Pork, and Veal Options That are Gluten-Sensitive
Tuscan-Grilled Chicken
Chicken Bryan
Chicken Marsala
Pollo Rosa Maria
Prosciutto-Wrapped Pork Tenderloin
Chianti Chicken
Steaks and Chops
Tuscan-Grilled Sirloin
Tuscan-Grilled Filet
Tuscan-Grilled Pork Chop
Tuscan-Grilled Veal Chop
Steak & Chops Toppings
Gluten-Free Chops Toppings at Carraba's
Spicy Sicilian Butter
Gorgonzola Sauce
Marsala Sauce
Bryan Topping
For the Seafood Lovers
Wood-Grilled Tilapia
Salmon Cetriolini
Gluten-Free Combinations You Can Try
The Johnny (Tuscan-Grilled Sirloin Marsala and Chicken Bryan)
Chicken Trio (Chicken Bryan, Pollo Rosa Maria, and Chicken Marsala)
Gluten-Free Sides
Sauteed Broccoli
Grilled Asparagus
Garlic Mashed Potatoes

Dessert Options – For the Sweet Tooth!
John Cole: The John Cole features a Vanilla ice cream with caramel sauce and roasted cinnamon rum pecans.
Panna Cotta: It consists of Madagascar vanilla bean custard with fresh raspberries
Tips for a Gluten-Free Meal at Carabba's Italian Grill
Speak to the manager about your dietary requirements
Carrabba's provides a range of gluten-free options; however, you should discuss it with the restaurant manager.
You will need to be aware of the cross-contamination concern. If you suffer from celiac disease, you must determine whether your local Carrabba's is sufficiently safe to prevent it from occurring and causing your illness.
Also, you should ensure that the waiter is notified of your gluten allergy when preparing your meals. So they can take precautions with your food against cross-contamination. Therefore, always talk to your waitperson.
Ask questions that you would like answered to ensure a good dining experience.
Always be careful
If you suspect any ingredient or meal on the menu might be gluten-free, it is better to skip it. No foods deserve to compromise your health with celiac disease or an advanced gluten allergy.
If you have pasta and are concerned about cross-contamination, you should definitely ask the waiter. In many cases, restaurants will reuse the pasta water for boiling different kinds of pasta.
While this makes it practical and sensible to preserve water, it is a worst-case scenario for individuals with celiac disease.
If you're concerned about cross-contamination, the best alternative is to stick to grilled steaks or chicken. They are delightful, so you're consistently right in the winning category.
Also, request that the grilled items be free of water. Also, make sure to order the salads without croutons.
Try to avoid rush hours
It is wise to avoid the lunch or dinner rush! You are at greater risk of cross-contamination when the restaurant is busy.
Rush hour typically results in wait staff and employees not having the time to devote their full attention to you, making it possible for the most careful and flexible waiter to miss out during the rush hour.
So you should plan your visit appropriately to avoid rush hour and try to go during off-peak hours when possible.
Cross-Contamination Risk
Carrabba's Italian Grill may not be an entirely gluten-free restaurant. Still, it does have plenty of options for those wishing to avoid gluten.
There is an entire menu dedicated to gluten-free options. Unfortunately, these gluten-free menus may not be authentic, but only a few options.
This is not a problem at Carrabba's, which offers a wide variety of gluten-free items; even though it takes precautions to avoid gluten cross-contamination, the risk of cross-contamination is always present at any restaurant.
Carrabba's is no exception.
You should understand that Carrabba's does not have a 100% gluten-free kitchen. Therefore some cross-contamination may occur due to the food they prepare.
It might not be the best place to dine if you are allergic or hypersensitive to gluten. Gluten can also be contained in many other foods.
When it comes into contact with non-gluten-containing foods, it can be contaminated and cause an allergic reaction in those with gluten sensitivity.
Cross-contamination may happen at any step of the food preparation process, from cooking to serving. Therefore, gluten-sensitive diners must realize the dangers of eating at a restaurant like Carrabba's.
While the restaurant takes measures to avoid cross-contamination, there is always a risk. Therefore, those with gluten allergies are advised to make a conscious decision before eating at Carrabba's Italian Grill.
What People Are Saying
Based on customer ratings and experience, we came up with the following reviews of Carrabba's from customer testimonials and personal reviews.
It has 152 reviews on Find Me Gluten Free with an average rating of 4 stars, reflecting an overall strong customer experience.
Many positive reviews mentioned its gluten-free menu options and pasta. On the other hand, some negative reviews report cross-contamination in some establishments.
One reviewer reported a negative review. The user experienced terrible cross-contamination when she ordered the Fettuccine Alfredo with gluten-free pasta.
She was assured that the gluten-free pasta is cooked in fresh water and that the sauce is gluten-free, with only cream and cheese. However, she ended up feeling awfully sick.
A guest gave the restaurant two stars. The visitor has celiac and Crohn's disease. He visited the restaurant twice; however, he experienced extreme illness after dining on both occasions, with severe abdominal pain lasting for hours.
Another user had a positive experience. He reported eating at the restaurant four times over the past seven months. But had only experienced outstanding, gluten-free, and other allergy-friendly services with no adverse reactions.
Gluten-Free Alternatives to Carrabba's
Carrabba's is definitely not the only one that offers gluten-free menus! Some more great alternatives might also be worth checking out if you aren't satisfied with Carrabbas's Italian grill and don't think it is convincing and stimulating.
Here's a preview of some other restaurants that might have some options to consider:
Outback Steakhouse
Outback Steakhouse is a bonafide fast-casual restaurant for gluten-free diners from hundreds of locations across the United States.
Outback has an extensive gluten-free menu of steaks, seafood, salads, sides, and a terrific gluten-free dessert, the Chocolate Thunder Flour-less Brownie.
They also have a gluten-free kids menu with smaller portions and a gluten-free sundae for dessert.
Although attention to the cross-contamination challenge may vary from establishment to establishment, Outback's personnel are commonly known and well trained.
Gluten-Free options at Outback Steakhouse also include:
Rib eye steak
Victoria Filet Mignon
Grilled Chicken on the Barbie
Perfectly grilled salmon
Alice Springs Chicken
Baby Back Ribs
Homestyle Mashed Potatoes
Chocolate Thunder
Brisbane Caesar Salad
Aussie Cobb Salad
Bonefish Grill
If you are a fan of fresh seafood and looking for a higher-end restaurant, you will be delighted with Bonefish Grill's gluten-free menu; almost all seafood dishes are naturally gluten-free.
This premium chain, belonging to the parent company of Outback Steakhouse and Carrabba's, is located in nearly 30 states.
You might like to start with either one or three appetizers and/or a salad, followed by a selection of a seafood dish dressed with one of the numerous sauces or an entree consisting of steak or chicken.
Below are a few of the gluten-free options:
Seasonal Vegetables and Josephine Mussels entrees.
Bonefish House Salad or Classic Caesar Salad 
A variety of grilled fish with a gluten-free sauce (mango salsa, garlic tomato lime, chimichurri, or lemon butter)
Lily's chicken or Minion filet
There is a gluten-free version for dessert: a flour-free Macadamia nut brownie with raspberry sauce. 
Old Spaghetti Factory
The Old Spaghetti Factory, which has multiple locations in 13 states, offers spaghetti and other pasta that you don't have to skip. In fact, these quick-service restaurants offer gluten-free pasta as part of their gluten-free menus.
You can enjoy Old Spaghetti Factory's pasta sauces, such as marinara sauce, meaty sauce, clam sauce, sautéed mushroom sauce, Mizithra cheese, browned butter sauce, and Alfredo sauce, to name a few.
You may also be considering the baked chicken with lemon and garlic marinade. Many sides, such as the Sicilian-style Italian sausage, are also gluten-free.
In addition, there is a kids' special menu, with mainly gluten-free, kid-size servings of pasta. Plus, the dessert offerings consist of vanilla ice cream or spumoni.