Fazoli's is a fast-casual Italian restaurant that specializes in Italian-American cuisine. It offers a variety of unmatched Italian dishes that get me drooling every time! But are there any keto-friendly options at Fazoli's?
The Low Carb Pepperoni-Bacon Flatbread is one of the latest keto-friendly items at Fazoli's. You may also opt for a Keto Combo that comes with the same flatbread and a crouton-free caesar salad. Other low-carb options include salads and bone-in wings.
The Keto diet restricts you to only 20-30g carbs of carbs per day. So glancing at Fazoli's menu can send chills down your spine because Italian cuisine is all about pasta, pizza, spaghetti, and breadsticks (all loaded with carbs!).
But where there is a will, there's a way! With just the right knowledge of nutrition, we can scoop out at least a few low-carb options even at the most impossible restaurants.
In this article, you'll look at the best keto options at Fazoli's without sacrificing on taste!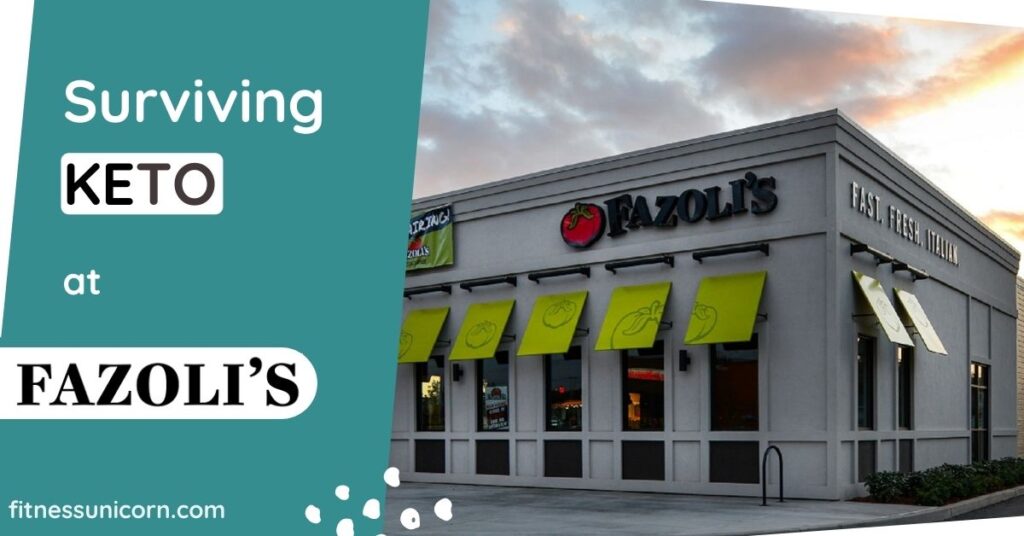 Tired of searching whether certain foods are keto? Download my keto cheat sheet with 210+ keto-friendly foods!
This post may contain affiliate links, which help keep this content free. (Full disclosure)
How to Survive Keto at Fazoli's
The restaurant was founded in 1988 in Kentucky and has more than 200 restaurants as of January 2021. Their menu is a fusion of Italian cuisine and traditional American fare consisting of sliders, pizzas, pasta, chicken wings, and a lot more!
It's deemed one of the best Italian restaurants in American. But what if you are on a low-carb diet? Can you still satisfy those cravings?
Definitely! While Fazoli's isn't the most keto-friendly place out there, you still have numerous options to stay below the carb radar. Besides, a few tweaks can help you brind down carbs of most of the meals.
But first, let's have a look at some stuff that's strictly a No-No:
Breadsticks

and Slider Buns
Spaghetti and Pasta dishes
Boneless wings
Pizza
Croutons
Mozarella Skewers (Cheese is good, but breading is not!)
Well, I agree that we've cut out most of the options. But the good news is that you can still savor the salads, meatballs, and those juicy chicken wings!
Also Read: Carrabba's Low-Carb Options
Fazoli's Keto-Friendly Options
Without any further adu, let's jump right into those delicious keto-approved delicacies:
Salads and Dressings
Salads are some of the simplest and safest low-carb foods. Most salads contain vegetables that provide you with many health benefits. They are also easily customizable and you can pick your favorite toppings and dressings.
Here are some keto-approved salads at Fazoli's:
House Side Salad (5g net carbs): Romaine lettuce blend topped with Grape Tomatoes, Shredded Mozzarella and Cheddar, Red Cabbage, Shredded Carrots, served with your choice of dressing.
Caesar Side Salad (9g net carbs): Romaine topped with shaved Parmesan and crunchy Focaccia croutons. It is served with Fazoli's Signature Caesar dressing.
If you want to spice things up, add in some Caesar or Ranch Dressing.
Caesar Dressing packet: 1g carbs
Ranch Dressing Packet: 1g carbs
You may also add broccoli, italian sausage, mushrooms, tomatoes, and a few slices of bacon.
Pizzas
What? I can have pizzas on keto?
Well, if you are at Fazoli's, the answer is yes!
However, I'm not talking about the regular pizza – but a low-carb flatbread pizza made of flax seeds.
Low Carb Pepperoni & Bacon Flatbread (8g net carbs): It's a low-carb flax flatbread that can satisfy your pizza cravings while following the keto rules! It is topped with garlic butter, mozzarella cheese, sliced pepperoni, and chopped bacon.
Sprinkled with Parmesan cheese and Italian herbs, it makes for a perfect snack at the end of a tiring day! And no, it won't kick you out of ketosis!
What's more, if you order the "Keto Combo", you also get a crouton-free Caesar salad for just 2g of additional carbs.
Related: Quest Pizzas on Keto?
Meatballs
Meatballs are round balls of ground meat, that are smothered with dressings and seasonings.
Fazoli's Baked Italian Meatballs are topped with Marinara sauce (Yumm!) & baked with mozzarella & provolone cheeses. While the ground meat barely has any carbs, it's the Marinara sauce that hikes up the carb count (Damn, it's worth it!)
A 5 ball serving of meatballs rakes in 15g of net carbs and 36g of fat.
Don't confuse it with other dishes that feature Meatballs paired with Spaghetti, Penne, or some other high-carb food.
Chicken Wings
Are you tired of the boring keto chicken recipes on your kitchen menu? Worry not! Fazoli's got you hot and juicy buffalo wings that are high in protein and super-low in carbs.
You can get a serving of 5, 10, 20, or even 40 chicken wings (some of us do have a huge appetite!) tossed in different sauces. Whether you like it hot and spicy, or a bit on the sweeter side, they've got you covered!
Fazoli's has two types of wings: Bone-in and boneless ones. Guess which one is keto-approved? (Hint: It's the one without any breading)
The bone-in wings at Fazoli's are the ultimate chicken delight on keto. Since chicken is already free from carbs, it's only the sauces that add some sugar into the mix. You can get a juicy 5-wings serving for less than 6g net carbs.
Below I've listed all the flavors along with their net carbs (5-wings serving):
Mild Buffalo: 6g
Medium Buffalo: 6g
Hot Buffalo: 6g
Parmesan Garlic Sauce: 10g
Sweet Honey BBQ: 48g (Not at all keto!)
Hot Honey BBQ: 48g (Not at all keto!)
Asian Chili Sauce: 35g (Not keto!)
Wondering why the BBQ sauces are so high in carbs? In fact, even the "Chili" sauce rakes in a whopping 35g carbs.
The truth is that all these seemingly "spicy" sauces are laced with tons of sugar. We Americans don't just like spicy sauces, but we want SWEET & spicy to balance things out. That's why grocery stores greatly outsell BBQ sauces over the Tobasco!
RECOMMENDED: Romano's Macaroni Grill Keto-Friendly options
And what about the Boneless Wings?
Other than the Bone-In wings, Fazoli's also offers Boneless wings in same sauces and portion sizes. However, the difference in carbs is poles apart!
You see, boneless wings are covered in a thick layer of breading (that's why it's so heavenly crispy and crunchy). But the same breading can lead to a major carb blunder if you are on the keto diet.
For example, while a bone-in buffalo wing costs little over 1g carb, it's boneless counterpart rakes in over 6 grams!
Tips for Ordering Keto at Fazoli's Restaurant
Now that you know all the low-carb options, here are some additional tips to finally NAIL your keto order at Fazoli's:
Plan your menu well in advance to avoid the last minute temptations. Trust me, this can go a long way!

If you simply can't resist the pasta or pizza, take a small bite from your friend's plate and move on with your low-carb order. Remember, don't feel any guilt as it would make you cheat further!

Instead of sodas, go for unsweetened teas and water with lemon.
Instead of reaching out for the sugary dressings, ask for vinegar or olive oil and drizzle it over your salads.
Keep your eyes on condiments and sauces. For instance, sauces like ketchup have a high amount of carbs.
If you really want those sliders, swap out the bun with a lettuce wrap!
Conclusion
So if you are on the keto diet and enjoy Italian dishes, Fazoli's is a great choice. Here you can enjoy various foods including delicious salads and dressing, low-carb flatbreads, and some juicy buffalo wings!
Fazoli's has gone the extra mile and came out with their Keto-Special menu. That goes a long way to show how much they care about specific diets.
Avoid the typical Italian fare like Pasta, Pizza, and Desserts, and you are good to go! When in doubt, refer to their nutritional page to know the exact carbs and macros.