When it comes to fast and healthy food delivery, Pita pit is the first name that pops up! Over time, this Canadian Restaurant has not failed to churn out the best sandwiches in the communities where they are located. They make eating healthy easy, with an array of freshly produced and nutrient-packed food, eating out while on a diet should not be so scary anymore.
So what's keto-friendly at Pita Pit?
In short, everything! Yup, you can order any pita sandwich as a salad and save up on carbs. A Pita sandwich is simply a combination of greens, meat, and dressings, wrapped inside pita bread. If you order it as a bowl, it instantly turns keto-friendly!
A ketogenic diet is all about minimizing your carb intake (20-25g per day) and doubling down on fat. But things can get really tricky when you start ordering food from outside.
That's where we come in! In this article, I've carefully broken down the menu to bring you the most keto-friendly options at Pita Pit.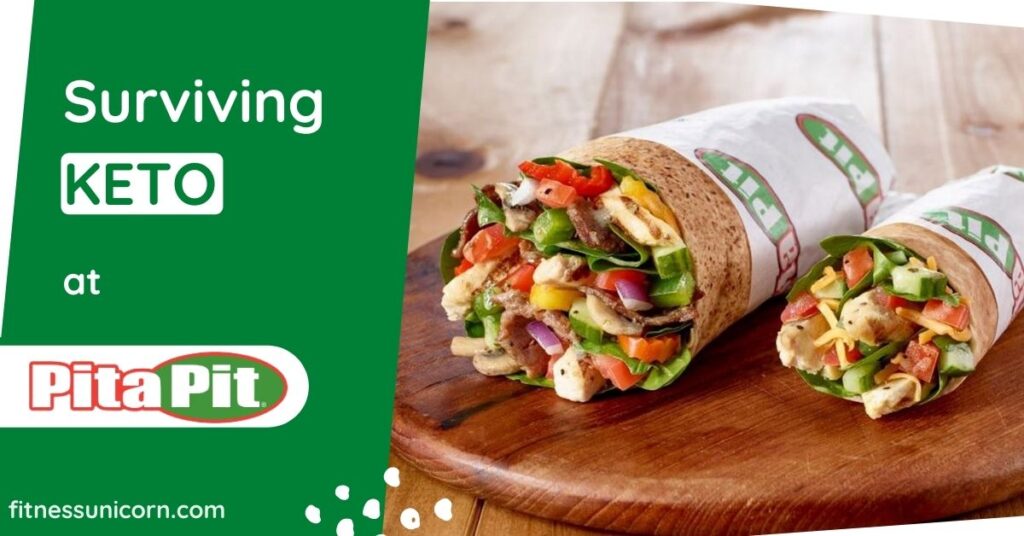 Tired of searching whether certain foods are keto? Download my keto cheat sheet with 210+ keto-friendly foods!
This post may contain affiliate links, which help keep this content free. (Full disclosure)
How to Survive Keto at Pita Pit
For people following a ketogenic diet, their biggest fear is making a keto blunder that will cost them their hard-earned ketosis. And the fear just gets amplified when dining out!
You see a huge menu with all these delicious options, and there's bread and sugary sauces everywhere! So you start thinking about whether there's anything low-carb to satisfy your hunger pangs.
Luckily, Pita Pit has several low-carb options to float your keto boat. In fact, you can build your own salad bowls with possibly hundreds of different combinations. Simply follow this 3-step process for a keto bowl at Pita Pit:
Fill up your base with some leafy greens like Spinach or Lettuce. They have negligible net carbs and can be really filling.
Choose a protein source such as chicken, ham, or steak.
Throw in some low-carb toppings like mushroom, pickles, or black olives.
Add seasosnings to spice things up (most of them are zero-carb anyway!)
If you just avoid the bread and go easy on the sauces, you simply can't go wrong with Pita Pit.
A keto diet wants you to eat under 25g of net carbs per day. (Net carbs = Total Carbs – Fiber). So that translates to roughly 8g carbs per meal. However, you can sometimes have more in one meal and cut back on others.
It means you can even splurge on a 15g carb meal for lunch and then go all-fat for dinner. Whatever works for you!
The best part about Pita Pit is that you have complete control over what goes in your bowl. But to make the most out of it, you should which items are really low-carb.
Here are some good suggestions (along with net carbs):
Proteins:
Bacon: 1
Chicken: 0.4
Chicken Caesar: 1.1
Chicken Shawarma: 1.3
Chicken Souvlaki: 0.9
Deli Club: 1.7
Deli Ham: 1.2
Deli Turkey: 1.4
Egg – Cage Free: 0.9
Philly steak: 0.4
RECOMMENDED: Romano's Macaroni Grill Keto-Friendly options
Toppings:
Alfalfa Sprouts: 0
Avocado: 0.8
Black Olives: 0.1
Cucumber: 0.2
Green Olives: 0.1
Green Pepper: 0.1
Hot Peppers: 0
Jalapenos: 0
Lettuce – Iceberg: 0.1
Lettuce – Romaine: 0.2
Mushrooms: 0.3
Red Onions: 0.7
Pickles: 0.1
Spinach – baby: 0.2
Tomato: 0.3
Keto Extras:
Bacon: 1
Cheddar Cheese: 0.9
Feta Cheese: 1.9
Swiss Cheese: 0
Seasonsings:
Cajun: 1
Chipotle Mango: 1
Garlic Plus: 1
Steak Spice: 1
Tex Mex: 1
Sauces & Condiments:
Ancho Chipotle: 4
Balsamic: 1.5
Caesar: 0
Hot Sauce: 0.7
Light Italian: 1.5
Light Mayo: 1
Light Ranch: 2
Mustard: 0
Special Sauce/Greek: 0
Tzatziki: 2.2
NOTE: The above listed options are taken from Pita Pit's Canada menu. Since Pita Pit is available in both Canada and USA, their exact menu options may differ slightly. But rest assured that the majority of the menu is same.
Still in doubt? Check out the official nutritional guidelines for both the countries:
Related: Sabra Hummus on Keto Diet?
Always Plan Ahead of Your Visit
"Failing to Plan is Planning to Fail" – That's exactly what you should remember when ordering takeouts or dining out on keto!
The best part about eating at Pita Pit is that their menu options is very flexible. You are allowed to combine and create your pita anyway that suits you. You can choose to your own sauces, toppings or cheeses just the way you love it.
But with great power comes great responsibility, and you are supposed to pick the right ingredients and fight of those sugary temptations! The best way to do that is planning your order well in advance.
Check out all the items listed above and decide on a meal that suits your taste and macro needs. And the most important part, please stick to it!
It is advisable you drink water before your meal arrives, this can help prevent over eating.
And here comes the golden nugget of keto wisdom – Whenever in doubt, always double down on fatty meats! Because that's the safest way to make a more filling meal, with minimum added carbs.
Pita Pit is undoubtedly one of the best keto-friendly restaurants out there. But I agree, even the "best" can get really boring and repetitive. So you should keep experimenting with different combinations of meat, veggies, and toppings to keep the spark alive (am I sounding like a dating coach?)
Heck, you can even go for some "risky" options like having a bite from your friend's pita sandwich. Alert: This isn't for the weak-hearted ones, or people with poor self control. Next thing you know, you are ordering two pita sandwiches and bidding good-bye to your hard-earned ketosis!
My Favorite Keto Options at Pita Pit
At this Canadian restaurant, there are tons of healthy options that you can choose from, we are going to carefully look at some of the foods that are low in carbs and loaded with nutrients.
Falafel Nourish Bowl
The interesting array of color on this salad is very attractive to most dieters, it is made with shredded lettuce, carrot, pickled beets, tomato, green capsicum and kumara cooked on the grill topped with sweet chili, and humus and sprinkled with sliced almond.
While this may seem like a lot to consume, the diet is very rich in nutrients, for Ketoers that have a desire to decrease their carbohydrate intake, they can ditch the tomato.
It contains 6.0g of carbs (Petite bowl) making it a great choice for the keto diet.
Chicken Teriyaki Salad Bowl
Some parts of the chicken are low in carbs making it a great choice for dieters who need a healthy and ample amount of protein. The Teriyaki Chicken salads is quite spicy and contains the teriyaki grilled chicken, you are given the liberty of choosing your own fillings. Seasonings, toppings and sauces.
You can choose from the grilled fillings section of spinach, corn, Capsicum or Kumara. Or from the fresh fillings of lettuce, tomato, cucumber and carrot
This delicious bowl contains 2-3g of net carbs (Petite bowl).
Black Bean Pattie Bowl
This delicious bowl can fulfill your lunch needs. It is a tasty blend of black bean pattie and other fillings of lettuce, carrots, mushrooms, grilled onions and roasted red pepper.
It can be customized just how you love it, but, be sure to make food choices that are keto friendly and are low in carbs to avoid having so much carbs in a single meal. This can jeopardize your weight loss goals.
This dish contains only 7.0g of carbs (Petite bowl). It is super-keto friendly.
Chicken Breast Bowl
Chicken lovers, get in here! you can have your delicious pita made from chicken breast at this quick service restaurant.
The main ingredient is the grilled chicken breast which is very low in carbs, to have a more balanced pita, you can choose toppings, or sauce, but remember the watchword should be "low carbs".
Since chicken is free from any carbs, the only carbs you get come from toppings and dressings. You are free bird to choose whatever you want!
Of course, there are different yummy options on the menu to choose from, but, my favorite is the chicken breast bowl. This bowl has the least number of carbs and leaves a lot of scope for customization.
Is a Pita Sandwich Keto-Friendly?
Unfortunately, the answer to this question is no, unless you do not intend to eat the bread or base. When I first started out on keto, I couldn't even imagine a Pita snack without a base; it felt like a cake without icing.
A pita bread is made of flour, which is why it's extremely high in carbs. Even if you exercise strict portion control, a pita bread is simply not worth it on keto. The best alternative is to use a lettuce wrap or go for the salad bowl instead.
Nevertheless, the Pita Pit restaurant follows a ketogenic diet with their salads which can be recreated in countless ways.
Conclusion
Ordering delivery or dining out on keto isn't so scary anymore. In fact, more and more restaurants are becoming flexible to cater to specific diets.
Pita Pit is one such restaurant. Their menu is highly customizable and you can build your own salad bowl from scratch. No extra sauces, no extra toppings. You simply choose what suits your taste and macro preferences. What's more, the food served is fresh and healthy throughout the year.
We all know that in order to achieve our diet goals, homemade foods are the best option, why? You are in control of how much of "what" goes into your meal and mouth. But, with the nutritional calculator available on most meals at Pita Pits, you can be sure to keep track of you macros.