Life gets better with a burger. It's the perfect treat for any occasion that you could get at any corner. But if you're in for a savory thrill, try reliving Harold and Kumar's mouthwatering burger experience at White Castle!
Well… are there any gluten-free options at White Castle?
You probably guessed it right. Unfortunately, White Castle barely has anything gluten-free. It can be hard to tailor a meal suitable to your dietary restrictions. Don't get too worked up, though.
You can still enjoy a handful of their bun-less burgers, fries, milkshakes, and other beverages.
As a burger place, cross-contamination is an inevitable risk that could crawl up your feet anytime. Wheat could likely be all over the place, sitting around the kitchen surface.
It would be good if they had an intended gluten-free prep area. However, White Castle states that all food is prepared in common kitchens, involving possibly shared areas and utensils.
Hence, White Castle isn't the best idea if you have celiac disease or gluten intolerance.
But, this shouldn't deprive you of a terrific experience. Stick around to know the gluten-free options at White Castle and alternative places you can go to (if things don't work out!)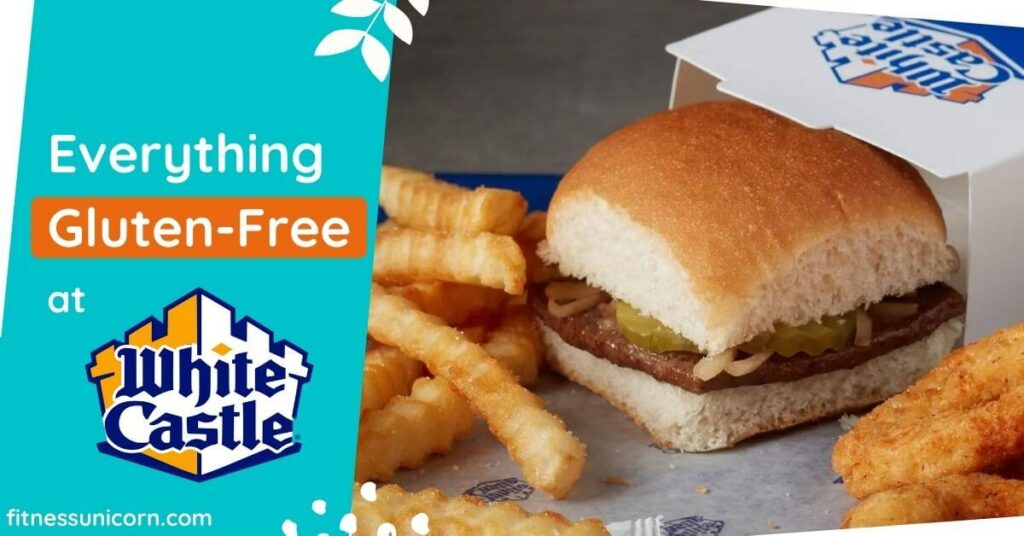 This post may contain affiliate links, which help keep this content free. (Full disclosure)
White Castle Gluten-Free Options
Did you know that White Castle is the USA's first fast-food hamburger chain?
Founder Billy Ingram originally envisioned easy-to-eat square hamburgers dubbed as 'Sliders' back in 1921. Today, White Castle's Original Slider has been crowned as the most influential burger of all time by Time Magazine.
White Castle has always been very innovative, thanks to Billy. He created the idea of a restaurant "carry-out", which is now what we enjoy as a take-out.
In 1933, he pioneered the concept of a newspaper coupon for customers to enjoy five hamburgers for 10 cents.
The restaurant has continued Ingram's creative legacy by inventing more delectable combinations through its burgers. The menu ensures that everyone can get a fix for their burger cravings.
To get you started, here are the top gluten-free options at White Castle. Note that this information is based on the available allergen information on White Castle's website.
The restaurant also claims that some items are cooked on the same grill or oil as gluten-containing items.
Burgers
You can get a burger patty without the bun. Although most of them are wheat-free, this does not eliminate the risk of cross-contamination.
Beef Patty
Sausage Patty
Veggie Patty
French Fries
White Castle's incredible crinkle-cut fries are luckily gluten-free. The Loaded Fries add a twist by adding melty cheese topped with thick bacon crumbles and ranch sauce.
However, White Castle says that the fries are still cooked in the same oil as gluten-containing foods. So, you might want to think twice about this.
French Fries
Loaded Fries
Breakfast
Hashbrown Nibblers
A delight all in one box. Perfectly golden, bite-sized hash browns cooked to absolute crispiness. While they're generally gluten-free, these are similarly cooked in the same oil as gluten-containing items.
Eggs
Bologna
Bacon
RELATED: Is there anything gluten-free at TGI Fridays?
Condiments and Sauces
Enhance your meal with White Castle's gluten-free condiments and sauces to alleviate your zero-gluten experience!
Shakes
Complement your meal with a sweet and cold fix of White Castle's shakes. Enjoy a zero gluten shake with three flavors: Chocolate, Vanilla, and Strawberry!
Other Beverages
Strawberry Banana Smoothie
Strawberry Lemonade Smoothie
Coffee
Iced/Hot/Sweetened Tea
Hot Chocolate
Coke
Juice
Tips For A Gluten-Free Meal at White Castle
That wasn't so bad, was it? As we said, there's always something for everyone… although not in an entirely hassle-free way.
Don't let your gluten-free regime be a letdown for a burger-rrific experience at White Castle. Here are some valuable tips for a zero-gluten experience.
Shun The Bun
Wait… what?
Yes, a burger without a bun might sound pointless. But, your health should always be your top priority anywhere you go. A meal in an unwell state would be more troublesome.
So, celiacs and gluten intolerant people should shun the bun completely when getting a burger.
Burger buns are naturally gluten-rich, especially for White Castle where no gluten-free buns are available. Like most burger places, you can skip the buns when ordering and opt for a lettuce wrap instead.
You can also bring your own gluten-free buns like other visitors do! These are only some of the few ways gluten intolerant people can truly enjoy a burger. 
RECOMMENDED: Gluten-free items on Little Caesars menu
Dodge All Risky Food
This tip guarantees the safest experience at White Castle. Sadly, it also leaves you with only the shakes and other beverages.
It's safe to say that almost all items are at risk for cross-contamination by looking at the allergen information online. White Castle says that all food is prepared in common kitchens and cooked in the same grill or oil with wheat-containing food.
Thus, there is an obviously high risk. Dodge every risky food on the menu to eliminate any hazard, including the supposedly gluten-free ones.
Unless the kitchen staff willingly prepares it separately using dedicated kitchenware with your guidance, go for a tasty shake or smoothie instead to save the day.
Be Prepared
Customizing a gluten-free meal may be gruesome at most fast-food chains. With no gluten-free prep area in the kitchen, the possibility of cross-contamination persists. Before visiting, check out the available gluten-free options first.
If you still have doubts about the food's safety, make your next move by either contacting the place to determine if they can accommodate your restrictions or if you'll have to find an alternative restaurant.
Avoid Peak Hours
Rush hours are probably the worst hours for a fast-food chain. With the stress of a fast-moving and packed place, the staff would less likely give you their full attention, which could endanger your health.
Dining at a different and less busy time is most practical. Plan your visit accordingly to have a less pressured conversation while communicating with the staff.
Cross-Contamination Risk
Word has it that cross-contamination is indeed the most demanding and excruciating part of going gluten-free. The risk lurks around in every corner of the kitchen, even when the strictest measures are observed.
So, a gluten-free regime may be more troubling in fast-food chains like White Castle due to the lack of gluten-free prep measures and special food preparation areas.
What is cross-contamination, anyway?
Picture your supposedly gluten-free burger patty being cooked with a gluten-rich bun. The gluten particles from the bun can stick on the grill and transfer to your patty, posing a risk of gluten contamination.
That scenario depicts cross-contamination, a gluten-free item is contaminated with gluten particles from a gluten-containing item through direct or indirect contact.
It may be a bigger risk for fast-food dining since a dedicated gluten-free preparation is almost impossible. Getting a gluten-free experience at fast-food chains with no special menu can leave you grasping at straws.
To be safe, study White Castle's menu beforehand to know the necessary adjustments needed or communicate your needs with the kitchen staff if possible.
But, the best choice would be to steer clear of the place due to the wall-to-wall presence of gluten—from the buns down to the breadcrumbs.
White Castle's clear-cut explanation concludes the inevitable risk of cross-contamination even in items that you'd think are gluten-free, like the fries and burger patties. Thus, gluten-sensitive visitors may want to reconsider eating at White Castle.
Read on to know the sentiment of gluten-intolerant visitors about the restaurant's zero gluten accommodation.
What People Are Saying
Who knows more about a place's gluten-free potential other than gluten intolerant people themselves?
To help you come up with a final verdict, we collected some of the best reviews online about the visitors' attempt to have a zero-gluten experience.
The common opinion among visitors is the absence of a fully gluten-free option on the menu. Although the fries are wheat-free, customers point out the possibility of cross-contamination due to the lack of a dedicated fryer.
The call for gluten-free buns goes way back to 2013. A Facebook user calls out White Castle to create gluten-free buns and to have a separate fryer.
Other gluten intolerant users under the post agree that the risk of cross-contamination is always present in the restaurant. They agree that it was a shame how they couldn't devour the Sliders due to the buns.
One user asks White Castle to develop an option of having the chicken rings with rice flour or cornflour instead to make it gluten-free!
While all ideas sound extremely good, White Castle has seemingly stayed the same. Under the same post in 2019, users still clamor about the absence of gluten-free buns and fries.
Another user even says that White Castle "doesn't seem like a place for the people". One visitor tries out the actual ordering process at White Castle to check for gluten-free buns or alternatives since the website says that nothing has zero gluten.
As you might have guessed, this visitor also failed in doing so and only ordered the Applesauce Pouch.
Gluten-Free Alternatives To White Castle
Welp… looks like White Castle isn't the smartest choice for our gluten-intolerant readers.
No worries, you can still go for an alternative burger spot like the ones we'll share with you!
1. Shake Shack
You can never go wrong with Shake Shack. What makes them remarkable is the comprehensive information available online for gluten-sensitive diners.
Most reviews testify that the restaurant really accommodates gluten-free requests. Shake Shack has also listed the items you should avoid, such as their 'Shroom Burger', which contains breadcrumbs.
Visitors also commend the staff for taking strict measures when rightfully informed.
2. In-N-Out
The tagline, "Quality You Can Taste", should tell you everything you need to know about In-N-Out.
Gluten-intolerant visitors can enjoy any healthy "Protein Style" burger replacing buns with hand-leafed lettuce. Many customers have also seen the staff take the allergy protocol seriously when you inform them of your condition beforehand.
3. Five Guys
Another one of the big burger destinations in the USA is Five Guys. Visitors testify that the restaurant is relatively very gluten safe as long as you alert the staff before ordering.
For a gluten-free meal, have your burger wrapped in lettuce instead of the buns for a trouble-free experience. You should also be able to enjoy the fries thanks to Five Guys' dedicated fryer.
4. Wendy's
If you're looking for something else other than a burger, then Wendy's might be for you. The decent range of gluten-free options guarantees everyone a packed meal!
If you fancy a burger, go for it with no buns or have it lettuce wrapped. You can also enjoy the sumptuous selection of salads (without chickens or croutons) along with a Frosty and some awesome sides like apple slices or baked potatoes!