We Americans love burgers, and that's why it's the top-selling fast food item in the country. But if you are on a keto diet, diving your teeth into a juicy fat burger can seem like a distant dream! And then there are chains like MOOYAH that can get you a burger for just 4g net carbs.
This place is famous for its shakes, burgers, and fries, which sounds completely opposite of keto! But they care about the changing consumer needs and hence they have a dedicated keto offering as well.
So what all is keto-friendly at Mooyah?
Mooyah has a dedicated Keto burger made of Turkey patty, Cheddar Cheese, Fresh Avocado, Tomato, Jalapeños, and mayo. The only catch is that it comes in a lettuce wrap instead of a carb-heavy bun! You can also opt for a side salad and top it with lots of cheese and bacon.
Looking at the menu of a fast-food restaurant, you'll probably feel that there's no chance of surviving keto there. But the truth is that you can turn any restaurant keto-friendly if you just follow the basic nutrition principles.
In this article, we'll look at all the keto options available at Mooyah (and what you should totally AVOID).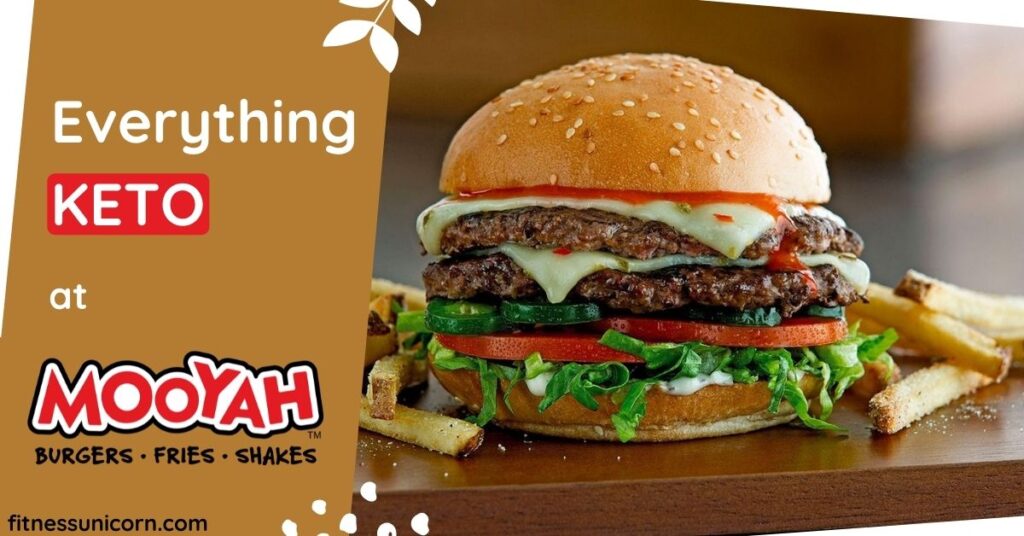 Tired of searching whether certain foods are keto? Download my keto cheat sheet with 210+ keto-friendly foods!
This post may contain affiliate links, which help keep this content free. (Full disclosure)
How To Survive Keto At MOOYAH
MOOYAH is a diet-friendly restaurant that offers a variety of burgers, fries, and drinks that suit almost every diet.
The best keto options on the menu are the lifestyle burgers, meat patties, and of course, the salads. The Keto Recipe has about 4 grams of net carbs, while the proteins, comprising mostly beef, have negligible amounts of carbs in them. The least carb-dense salad — the Loaded House Salad —, on the other hand, has just 8 grams of net carbs.
Nonetheless, there are some options you should stay far away from to maintain your ketosis. The French Fries section, for instance, is filled with fries that exceed the carb limit for anyone on a keto diet. The personal-sized sweet potato fries have about 91 grams of net carbs, well over two days' worth of carbs for you.
Sadly, it's not just the fries with a high carb count but almost every drink on the menu. Even the Little Moo Mint Chocolate Chip Shake has 84 net carbs.
And while the Lemonades may be enticing, the only one you can have is the Country Time 12 oz cup lemonade.
Luckily there are a couple of beverages that average out at zero carbs. These drinks are diet cokes and unsweetened teas.
So, without further ado, let's dive into a list of the keto options at MOOYAH and what I think of them.
Keto-Friendly Options At MOOYAH
#1. The Lean Green
Carbs: 17g
Fiber: 3g
Net Carbs: 14g
Total Fats: 23g
Protein: 33g
Calories: 410 Kcal
The Lean Green is an amazing combination of Turkey and Lettuce. Rather than using buns for the turkey burger, MOOYAH innovatively chose to use lettuce to wrap the turkey. And it's just as yummy as it looks.
#2. The Paleo
Carbs: 12g
Fiber: 3g
Net Carbs: 9g
Total Fats: 40g
Protein: 49g
Calories: 625 Kcal
The Paleo follows the design of the lean green with lettuce wrapping beef and smoked bacon. In addition to these, there's pickles, sliced avocado, diced tomatoes and mustard. The taste is just heavenly.
#3. The Keto
Carbs: 6g
Fiber: 2g
Net Carbs: 4g
Total Fats: 47g
Protein: 33g
Calories: 580 Kcal
The Keto is my favorite burger at MOOYAH. Between two large loaves of sliced lettuce are fried Turkey, jalapenos, cheddar cheese, real mayo, and avocado. It's healthy and is the best low-carb option on the menu.
Related: The Habit Burger Low-Carb Meals
#4. The Low Cal
Carbs: 10g
Fiber: 2g
Net Carbs: 8g
Total Fats: 18g
Protein: 20g
Calories: 285 Kcal
The Low Cal is another low-carb burger on MOOYAH's menu. As advertised, it has a lower carb count than the other burgers by incorporating elements that do not have a high energy count. As expected, garden veggies like tomatoes, avocados, and lettuce make up this dish.
RECOMMENDED: Everything Keto Friendly at Togo's
Proteins (just the patties):
#5. Single beef (¼ lb)
Carbs: 0g
Fiber: 0g
Net Carbs: 0g
Total Fats: 13g
Protein: 20g
Calories: 200 Kcal
The Single beef is a full protein option to include in your burger. It's tasty, soft and doesn't have any carbs
#6. Double beef (½ lb)
Carbs: 0g
Fiber: 0g
Net Carbs: 0g
Total Fats: 26g
Protein: 40g
Calories: 410
The Double Beef is double the size of the single beef option. It's made from delicately barbecued beef and has that characteristic tenderness of well-cooked beef. Have I mentioned that it's delicious?
#7. Turkey Burger (5.3 oz)
Carbs: 0g
Fiber: 0g
Net Carbs: 0g
Total Fats: 12g
Protein: 28g
Calories: 110 Kcal
The turkey burger is what you'll find in the lean green and keto burgers. It's tasty but a little low on calories.
#8. Black Bean Vegan Burger
Carbs: 18g
Fiber: 4g
Net Carbs: 14g
Total Fats: 5g
Protein: 20g
Calories: 170 Kcal
The Black Bean Vegan Burger is made of tenderized black beans and has a taste that no vegan can resist.
#9. 100% All Beef Hot Dog
Carbs: 2g
Fiber: 0g
Net Carbs: 2g
Total Fats: 26g
Protein: 11g
Calories: 280 Kcal
If you're in the mood for a hot dog, you can use the 100% all-beef hot dog to make a lettuce sandwich. You could also combine this tasty hot dog with the Lettuce Cup Bun.
Keto-Friendly Bun (okay, not technically a bun!):
#10. Lettuce Cup Bun
Carbs: 1g
Fiber: <1g
Net Carbs: ~1g
Total Fats: 0g
Protein: 4g
Calories: 5 Kcal
The Lettuce Cup Bun is the best option for you to choose when making a burger. Apart from being the bun with the lowest carbs, it's also the healthiest.
Salads:
#11. Loaded House Salad
Carbs: 13g
Fiber: 5g
Net Carbs: 8g
Total Fats: 17g
Protein: 12g
Calories: 240 Kcal
The Loaded House Salad, as the name implies, is loaded with delicious greens. With the salad comprising fresh greens, avocado, tomatoes, onions, smoked bacon, and mushrooms, how can you resist it?
#12. Vegan Salad
Carbs: 18g
Fiber: 4g
Net Carbs: 14g
Total Fats: 5g
Protein: 20g
Calories: 170 Kcal
The vegan salad typically comprises greens that would make any vegan salivate. This beautiful bowl makes up avocado, tomatoes, lettuce, and assorted greens.
Kid's
#13. Kids Chicken Tenders
Carbs: 14g
Fiber: 1g
Net Carbs: 13g
Total Fats: 15g
Protein: 21g
Calories: 270 Kcal
Chicken Tenders, as the name implies, are tenderized chicken. It falls in the kids' menu, so expect it to be much softer than it looks. Also, it's pretty tasty.
Beverages
Diet Coke: 0g
Diet Dr. Pepper: 0g
Country Time Lemonade (12 oz): 15g
Country Time Pink Lemonade (12 oz): 15g
Conclusion
I like MOOYAH's because they give you the option to create your dishes with what's available on the menu. Luckily, there are several options for you to choose from as a Keto enthusiast.
In this article, I've highlighted them. With these, I look forward to you having the same experience as I had in the restaurant.