If you are on a keto diet, you may have your own concerns about dining at a pizza outlet. Naturally, pizzas are full of carbs, which may not suit the restrictions of your keto diet. However, did you know that Papa Murphy's has a separate section of pizza for those following a keto diet?
So what's low-carb at Papa Murphy's?
Papa Murphy's has a wide range of keto-friendly options including its crustless pizzas, gourmet vegetarian, chicken bacon artichoke, and many other offerings, much to your surprise. Believe me when I say that you will be spoilt for choice at Papa Murphy's because their low-carb options are just endless.
However, you've got to be careful what you pick. Because the more options you have, the higher the chances of falling into a carb trap! This article is your guide to everything Keto at Papa Murphy's. And I also review their ever-so-famous crustless keto pizza at the end.
So let's begin!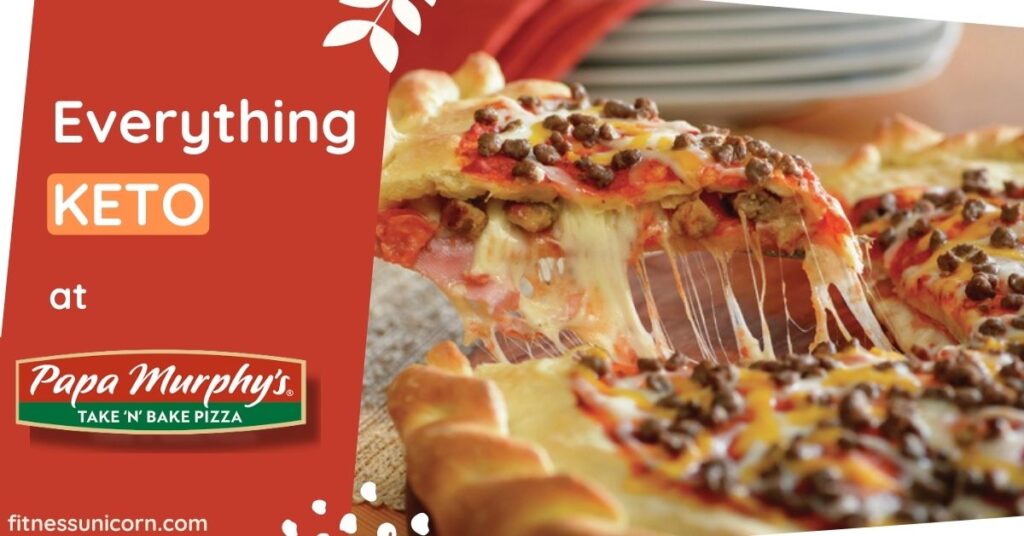 Tired of searching whether certain foods are keto? Download my keto cheat sheet with 210+ keto-friendly foods!
This post may contain affiliate links, which help keep this content free. (Full disclosure)
Surviving Keto at Papa Murphy's
In the year 1995, two local pizza companies, Papa Alto's and Murphy's Pizza merged to form the much-loved Papa Murphy's pizza chain in the USA. Based in Vancouver, Washington Papa Murphy's quickly grew by leaps & bounds. Today, you will find this pizza chain in over 1500 locations in the USA and Canada, which made it the fifth biggest pizza chain in the USA. A couple of years ago, in 2019, the MTY Food Group acquired this pizza chain.
You are allowed only about 20 to 25 net carbs per day in a keto diet, as anything more than this doesn't fall under the "keto" category.
If you have been following this keto style for a long time, you will agree with us when we say that choosing keto options at a restaurant can be quite a tough ask. In this article, we have made this task easy for you, as we have listed out some of the top keto-friendly dishes you can order when you visit Papa Murphy's in your area, next time.
Within a few years of its launch, Papa Murphy's went on to become one of the most loved pizza chains in the USA. It received many awards for catering to the different needs of consumers and retaining its loyal customer base. By 2017 and 2018, this pizza chain started experiencing losses.
As profitability witnessed a dip, the pizza chain witnessed a change in ownership. The private food conglomerate from Canada, MTY Food Group, acquired Papa Murphy's in 2019, and the food chain has been doing very well, since then.
Recently, Papa Murphy's launched a series of crustless pizzas, as part of its keto-friendly menu. Here, you could choose your own pizza with the toppings and flavors of your choice, but without the crust! Sounds quite tasty and healthy, doesn't it? Choosing from their exhaustive list of keto-friendly options will beat the boredom out of your dining out experience.
Cowboy Pizza (4grams of net carbs), All Meat Pizza (1 gram of net carbs), Papa's Favorite (1 gram of net carbs), Chicken Bacon Artichoke Pizza (around 4 grams of net carbs), and Gourmet Vegetarian Pizza (about 1 gram of net carbs) are some of the CRUSTLESS keto-friendly options you can try at Papa Murphy's.
The best part of these dishes is that you can do your homework and check online about your customizations so that you don't go overboard with your net carbs. For example, when choosing these keto-friendly pizzas, you have the option of selecting crustless slice, family slice, medium slice, large slice, thin family slice, etc.
You can also choose the number of cheese toppings, sauce, and flavorings in your pizza. The nutrition facts of each customized option are displayed on the left-hand corner, as you keep customizing your pizza as per your requirements. This way, you know exactly what you want to order when you enter the Papa Murphy's outlet.
RECOMMENDED: Everything Keto at Mimi's Cafe
Papa Murphy's Keto Friendly Options
Here is a list of the top keto-friendly options you can try at any Papa Murphy's pizza outlet.
Crustless Pizzas
You can create your own crustless pizza to enjoy a keto-friendly option at Papa Murphy's. When you choose the option of crustless and size (for example medium), you will be directed to customize your sauce and toppings. Out of the options listed, you will notice that some have "KF" marked against them. These are keto-friendly options.
For example, under the choice of sauce, the keto-friendly options you can pick are creamy garlic and olive oil & garlic. Under cheese toppings, you can choose mozzarella or normal cheese toppings.
Once you are done with this, you can pick from a list of keto-friendly meat options like bacon, chicken, giant pepperoni, ground beef, ground sausage, salami, and more. Under the veggie toppings, you can choose from an exhaustive list of artichoke hearts, mushrooms, olives, onions, jalapenos, green peppers, chopped garlic, Roma tomatoes, spinach, and more.
This way, you can customize each and every ingredient of your crustless pizza and get an amazingly tasty keto-friendly dish for yourself at Papa Murphy's.
A crustless slice of cowboy pizza with creamy garlic sauce, mozzarella cheese toppings, and simple toppings (olives, sausages, mushrooms, peppers, etc.) contains only 1 gram of net carbs. This slice contains 180 calories, 40mg of cholesterol, 540 mg of sodium, and total fat of 15 grams.
Note: Since a crustless slice isn't exactly a "slice", how do you portion these meals to figure out the exact carbs per serving? According to Papa Murphy's, a single crustless slice is taken as 1/8th of the container of your crustless pizza. (More on this in the review section later.)
Gourmet Vegetarian Pizza
One thin large slice of Papa Murphy's Vegetarian Pizza contains about 200 calories and 16 grams of net carbs. So it is a filling dish, which you can eat during the day to keep your appetite at bay for a long time.
Like all other pizzas, this one also contains a little high sodium content (380mg). On the days you eat such sodium-rich foods, we recommend you to cut down the salt in other foods that you eat on those days.
Herb Chicken Mediterranean deLITE
This is one of the tastiest keto-friendly options that you can find on the menu of Papa Murphy's. One slice of this tasty pizza contains only 14 grams of net carbs and 9 grams of fats.
Other Low-Carb Options at Papa Murphy's
Contrary to popular belief, Papa Murphy's has got a lot more than just pizzas! And they have different sides to please your appetite depending on the time of the day. The other interesting keto choices on the pizza chain's menu are:
Low-Calorie Italian Salad Dressing – Use this dressing to give unique flavors and tastes to your salads. This dressing has only 1 gram of net carbs, 10 calories, and 0.5 grams of fat.
Marinara Sauce – What's cheesy bready without some interesting marinara sauce to go along with it? The interesting part is that this sauce is also keto-friendly. It contains only 1 gram of net carbs, 11 calories and 0.4 grams of fat, making it a healthy choice for you.
Cesar Salad – This is one of the lightest and healthiest options in Papa Murphy's keto-friendly options. It contains only 2 grams of net carbs and 2 grams of fat.
Papa Murphy's Keto Pizza Review
I've always been the first to try out new low-carb offerings from restaurants. And Papa Murphy's was no exception! I was probably one of their first customers to taste the crustless pizzas.
If you've never had one, Papa Murphy's crustless pizza is more like a pizza casserole with all the meat, cheese, and veggies BUT without the carb-laden crust. It's my second-most favorite option after the CICI's cheese crust pizzas (they are baked on a tin-foil pie to mimic an actual slice!)
Another cool thing about this pizza is the Take-n-Bake option. You can simply put it in your freezer and bake it later at your convenience. (I highly recommend you don't go longer than 2 weeks.)
So far we've only talked about the positive aspects here! But there are two things you should consider before giving a final verdict on Papa John's Crustless Keto Pizzas:
1. They can be expensive: While these crustless keto pizzas offer a great amount of convenience, they do come at a premium! A crustless pizza from Papa John's costs as much as a medium Pizza, but has a smaller portion size. The keto pizza comes in a 7″x9″ tray i.e. an area of 63 sq. inches. On the other hand, a 12″ medium pizza is spread over 113 sq. inches (almost double!)
So if budget is a constraint, you may be better off by simply scraping the toppings off a regular pizza!
2. Nutritional Info can be misleading: A single crustless slice can be as low as 1g net carbs. Too good to be true, right? The catch here is that Papa Murphy's considers a single slice as 1/8th of the whole container. And a single serving is too small, which means you'll at least have 4 servings in a go.
With 10-15g of carbs per actual serving, it isn't really that low-carb.
Are Papa Murphy's Pizza healthy?
Yes, the pizzas from Papa Murphy's (crust and crustless pizzas) are healthier than their counterparts because they are low on carbs and calories. You can customize every single ingredient in these pizzas; therefore, you can make it as healthy as you want.
Papa Murphy's is definitely one of the best pizza chains in the USA, if you want to eat healthy, keto-friendly and tasty pizzas. With clear markings of KF on their menu, they have made ordering keto dishes easier than you ever imagined.
FAQs
Does Papa Murphy's have a keto option?
Yes. Papa Murphy's has a range of low-carb crustless pizzas that are extremely keto-friendly.
What's in the keto pizza at Papa Murphy's?
Their keto pizzas are served in a container with your choice of meat, cheese, veggies, and other toppings.
How do I cook Papa Murphy's keto friendly pizza?
You can freeze the crustless pizza containers and then bake it at your convenient. Ideally it takes 12-15 minutes in a standard oven.
Does Papa Murphy's have a low carb pizza?
Papa Murphy's has crustless pizza options which are quite low in carbs.
Read Next: