Mimi's Cafe is a family-style bistro serving some of the best soulful meals. Whether you're looking for brunch, lunch, or dinner, Mimi's has you sorted. Founded in 1978, Mimi's has fed generations with fresh and amazing comfort food.
Their expansive menu has plenty of low-carb options. So if you find yourself at Mimi's, do not worry; your hard-earned ketosis is in safe hands.
So what's keto-friendly at Mimi's Cafe?
You can order the delectable Grilled Atlantic Salmon, which comes with two sides. On its own, the Grilled Atlantic Salmon has absolutely zero carbs (a keto-dream).
But if you are somebody who finds meals incomplete without a side (like myself), try sticking to the broccoli, garlic spinach, or green beans.
These have the least amount of carbs and will make for a scrumptious combo with the grilled salmon. Best part? You'll only be sacrificing 8-10g of net carbs.
Other keto-friendly options at Mimi's Cafe include a variety of eggs, salads, steaks, and a few adjustable items to make for a delightful keto-friendly meal.
If you plan your meals ahead of the visit, you can unlock the ketogenic potential of their menu. You can mix and match various items to order yourself an appetizing meal without putting your ketosis at risk.
The Mimi's Cafe website has a thorough nutritional guide of all their menu items. We've gone through the hassle of picking out the best keto-friendly items and combinations so that you don't have to.
So stick around because we are about to discuss the best keto options Mimi's has to offer to make your dining experience pleasant and hassle-free.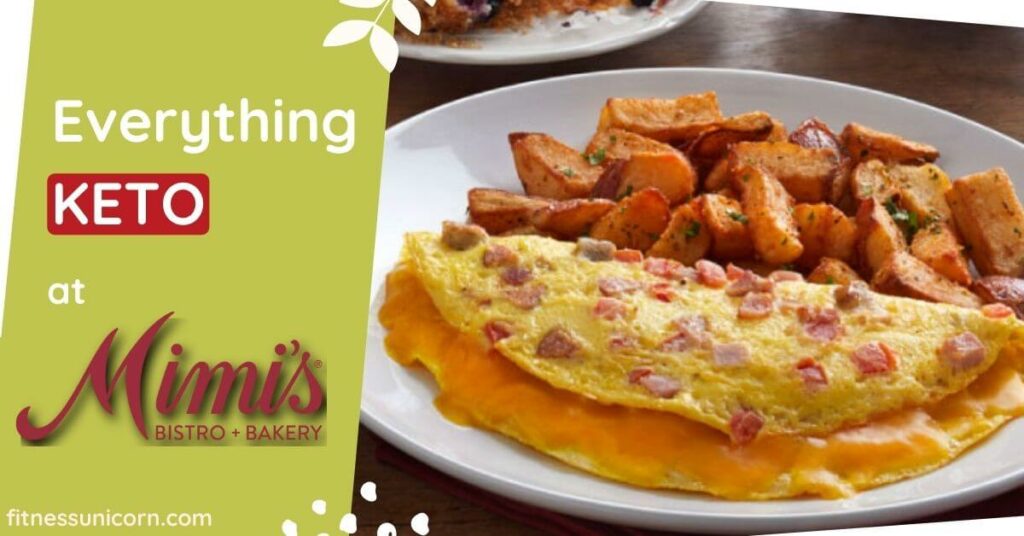 Tired of searching whether certain foods are keto? Download my keto cheat sheet with 210+ keto-friendly foods!
This post may contain affiliate links, which help keep this content free. (Full disclosure)
How to Survive Keto at Mimi's Cafe
Dining out on Keto can be a daunting task for anyone. There's a constant fear and anxiety of some secret ingredient that might be loaded with carbs—knocking you out of your hard-earned ketosis.
Having to spend most of your time sidelining keto options on the menu while your friends rummage through the menu carefree can prove to be quite a handful.
But you can easily navigate these problems if you start pre-planning your visits and have a thorough look through the nutritional guides provided by restaurants.
Knowing what to avoid and what you can eat will make your life organized and fruitful.
Sticking to a ketogenic regime means you can not have more than 20-25g of net carbs a day. You need to follow a strict protocol to stay below that threshold. A typical Keto meal should have no more than 15-17g of net carbs.
If you prefer having one substantial meal a day, you can consume all carbs in one go, i.e. 20-25g.
Mimi's Cafe has a diverse menu that caters to the tastes and preferences of a large plethora of food lovers. They're particularly known for their bakery items (a keto crime) baked fresh in-house every day.
Mimi's offers brunch, lunch, and dinner; they serve all the bistro classics that will tantalize your tastebuds and leave you longing for more.
Not everything at Mimi's is keto-friendly; you'll need to be cautious while placing an order to avoid any hidden carbs.
Some low-carb options at Mimi's include a variety of Three-egg Omelets like the Bacon Avocado Omelet packed with proteins and fats (perfect for your ketosis).
You can also resort to their fresh, wholesome Tomato Basil soup or their famous Mimi's Caesar Salad (but remember to ditch the croutons).
ALSO READ: SUPER Low-Carb options at Tropical Smoothie Cafe
If you're looking for a wholesome meal, Mimi's has a selection of excellent steaks that you can pair with some delicious greens to craft the perfect meal, all while staying below the daily carb limit.
Before we dive into an in-depth review of all the keto-friendly options at Mimi's, here are a few of the items you need to stay clear of strictly:
All of their bakery items (don't give in to those carb cravings!)
Everything in their Grand Breakfast section.
Fried Chicken & Waffles
Brown sugar oatmeal
All forms of potatoes (roasted, mashed, fried)
Sugary sauces & drinks
All their desserts (obviously!)
All kinds of beers, cocktails, and mimosas
Quinoa salads
All types of bread, buns, and croissants
The Corn Chowder and French Onion soup
Their flatbread starters
All types of pasta and rice
Anything battered and deep-fried (always go for grilled meats)
Sweet Glazed Salmon (the sweet glaze has sugar!)
Slow Roasted Turkey
All of these menu items might seem enticing, but the truth is they all share one thing in common. They will all knock you right out of ketosis because they have more than 25g of net carbs per serving (the goal is to stay below 20-25g per DAY).
Now let us get to the part we've all been so eagerly waiting for. Let's dive deep into the enticing and keto-friendly options Mimi's Cafe has to offer to satiate your hunger pangs!
RECOMMENDED: Everything Keto at Smart Carb
Keto-Friendly Options at Mimi's Cafe
All of the nutritional information we provide is extracted from the complete nutritional guide available on the official Mimi's Cafe website. These values will vary as you swap out certain items in a dish to make it keto-compliant.
We'll divide their extensive menu into sub-groups and carry out some in-depth scrutiny of their ingredients and nutritional profiles.
1. Steak and Eggs
Net Carbs: 1g
Total Fats: 67g
Proteins: 71g
Calories: 916 kcal
Who doesn't love a great steak and eggs? This hearty meal will satisfy all your hunger pangs without having to risk your hard-earned ketosis.
The steak used is a 10oz piece of aged New York strip that is served to your preference with two eggs and some delicious herb butter on the side. You'll have to skip on the roasted potatoes on the side to keep the dish keto-friendly.
2. Ham and Swiss Crepes
Net Carbs: 11g
Total Fats: 41g
Proteins: 36g
Calories: 559 kcal
This delicious breakfast dish comes with some thick-cut ham served with melted swiss cheese, topped off with a creamy mornay cheese sauce.
Ditch the roasted potatoes on the side; you can swap them with a green veggie side. You can even ditch the mornay cheese sauce to reduce the net carbs further.
RELATED: Low-Carb Hot Dogs at Wienerschnitzel
3. Selection of Three-Egg Omelets
Net Carbs: 1-5g
Total Fats: 30-60g
Proteins: 30-52g
Calories: 406-768 kcal
Mimi's has a selection of three-egg omelets that you can choose from. Ditch the roasted potatoes on the side and you'll be golden. Some of the delicious omelets they offer are;
Bacon Avocado Omelet
Santa Fe Omelet
Egg White and Veggie Omelet
Bacon, Ham, and Sausage Omelet
Smoked Salmon Omelet
4. Two-Egg Platters
Net Carbs: 2-7g
Total Fats: 12-66g
Proteins: 13-79g
Calories: 164-1042 kcal
You can order the scrumptious two-egg platters, just remember to ditch the toast and roasted potatoes to maintain your ketosis. These platters include;
Bacon & Eggs
Pork Sausage & Eggs
Turkey Sausage & Eggs
Ham & Eggs
5. Tomato Basil Soup
Net Carbs: 10g
Total Fats: 168g
Proteins: 2g
Calories: 238 kcal
If you're not in the mood for a full meal, you can order a cup of Mimi's fresh Tomato Basil soup. A delectable blend of vine-ripened tomatoes and fresh basil.
6. Roasted Half Chicken
Net Carbs: 2g
Total Fats: 57g
Proteins: 37g
Calories: 680 kcal
Enjoy Mimi's slow-roasted, fall-off-the-bone chicken with herb butter and two sides (broccoli, green beans, or garlic spinach). This is the perfect meal to soothe your soul, and the best part is that it's completely keto!
7. Grilled Atlantic Salmon
Net Carbs: 0g
Total Fats: 20g
Proteins: 34g
Calories: 317 kcal
Coming in at ZERO grams of net carbs, the Grilled Atlantic Salmon is the perfect entree for ketosis. It's served with two sides which you can either skip on or have the low-carb options.
8. Ribeye or New York Strip Steak
Net Carbs: 1g
Total Fats: 55-63g
Proteins: 58-75g
Calories: 752-890 kcal
These gorgeous 10oz cuts of 28-day-aged meat are perfect if you're a meat-lover. They're the perfect go-to meal for you.
Freshly grilled to your liking and served with herb butter and two sides (choose keto-friendly ones), you just can not go wrong with this meal.
9. Sandwiches and Burgers
Mimi's has an exciting range of sandwiches and burgers. If you're really craving one, you can simply swap the bread or buns with lettuce. Don't be shy to ask the waiter as many restaurants will happily do this for you.
Be sure to ditch the side of french fries and ask the waiter about any other ingredients that might have carbs.
10. Keto-friendly Sides
Net Carbs: 2-3g
Total Fats: 4-9g
Proteins: 3-4g
Calories: 69-114 kcal
Most of the dishes you'll order will have an option of sides to enjoy with the meal. Keto-friendly sides are limited but some of the low-carb sides at Mimi's include;
Broccoli
Green beans
Garlic Broccoli
11. Wine
Net Carbs: 4g
Total Fats: 0g
Proteins: 0g
Calories: 145 kcal
Falling prey to temptation while all your friends enjoy all sorts of alcoholic drinks and cocktails is relatively easy. But don't worry you can enjoy a glass of wine that won't harm your ketosis.
Conclusion
Trying to find keto-friendly options can be exhausting. But, if you know what you're doing you'll be able to master the art of eating keto anywhere.
Mimi's Cafe has an extensive menu that can be played around with to make it keto-compliant. Don't shy away from communicating your needs to the staff, they'll be more than happy to modify your meal according to your preferences.
Always be mindful to stay below your daily carb limit to protect the ketosis you've worked so hard to achieve.