Moe's Southwest Grill is a popular casual American restaurant founded in 2000. Moe's isn't a name but an acronym for 'Musicians, Outcasts, and Entertainers.'
The restaurant is based on popular pop culture and creativity. It's a place where the music takes the driving seat instead of just being background noise.
So what's Gluten-Free at Moe's Southwest Grill?
Moe's has a 'build-your-own' style menu that lets you conjure up the meal of your dreams.
Moe's boasts 20+ gluten-free ingredients and various condiments that you can use to make delicious American-Mexican items like burrito bowls, tacos, nachos, stacks, and salads. They have a corn tortilla option that is entirely gluten-free.
The only gluten-containing item you need to stay clear of on their menu is the wheat tortilla. All of the ingredients at Moe's are always fresh and organic, making for a lovely dining experience every time.
They're dedicated to setting high standards and satisfying the customer each time.
The staff at Moe's is knowledgeable and hospitable; they ensure that strict cross-contamination protocols are followed to guarantee the safety of their customers.
The only little drawback is the lack of separate fryers for the tortillas, which they rectify by frying your tortilla in fresh oil upon request.
Moe's leaves no stone unturned in providing the most pleasing gluten-free experience, but you should always practice caution if you have Celiac disease or severe gluten allergies.
You can't risk your health and safety by blindly trusting any establishment.
This article will thoroughly scrutinize Moe's Southwest Grill's menu. We've filtered out all the delicious gluten-free for you to enjoy on your next outing. We'll also discuss some practical tips to elevate your c experience.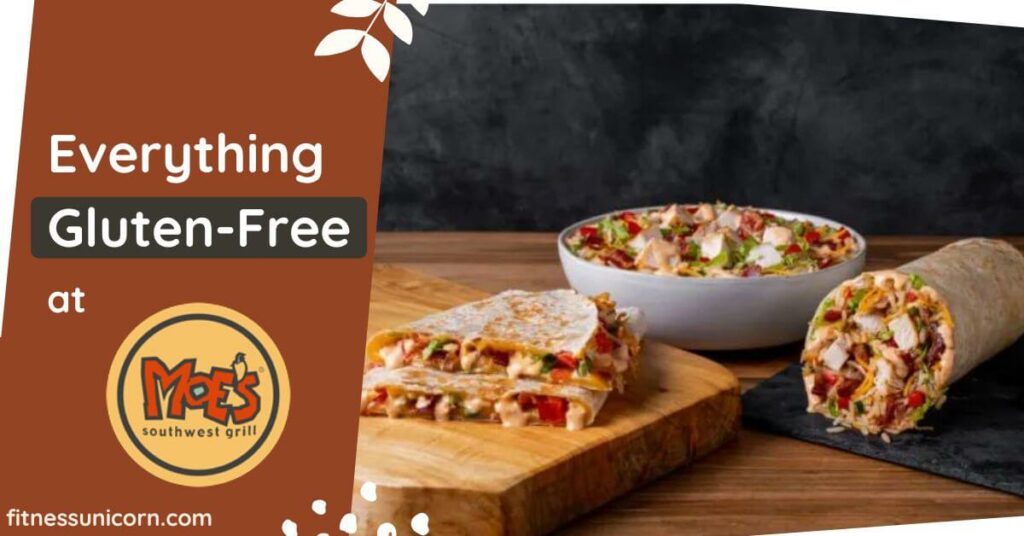 This post may contain affiliate links, which help keep this content free. (Full disclosure)
Gluten-Free Options at Moe's Southwest Grill
Moe's Southwest Grill is known for its fresh, high-quality ingredients sourced locally and always organic. They have a detailed gluten-free menu to help you order the perfect meal.
Moe's always prioritizes their customers and ensures they have a pleasant experience.
Moe's is the perfect place to rejoice with friends and family, along with delicious meals and fantastic music.
They have grown to over 700 locations across the United States in just 22 years. This signifies the popularity and success Moe's has achieved in such a short period.
The restaurant focuses on legendary music from artists who impacted millions of lives with their music. Moreover, Moe's prioritizes fresh, locally sourced organic ingredients used to make their amazing meals.
If you're on a gluten-free diet, we have some fantastic news! The menu at Moe's is fully customizable, making it a paradise for people with food allergies.
Their menu boasts various gluten-free options that will satisfy your cravings and get you hooked. The best part is that you'll be able to enjoy all of this without having to risk your health or wellbeing.
Since Moe's has a 'build-your-own' style menu, we've listed down all the gluten-free ingredients. You can conjure up various delicious dishes using these ingredients.
Note: The only explicitly gluten-containing item on their menu is the flour tortilla. 
RECOMMENDED: What's Gluten-Free at Checkers?
Build-Your-Own
The menu at Moe's is fully customizable, meaning you can choose gluten-free ingredients of your choice and have your imagination run free. You can use these ingredients to have the following items prepared for yourself.
Burrito Bowls (minus the wheat tortilla)
Stacks – A fusion between quesadillas and hard shell tacos (opt for corn tortillas)
Quesadillas (corn tortillas)
Tacos (corn tortillas)
Nachos (corn chips)
Salads
Meal Kits
You can get the famous meal kits at Moe's; you'll receive all the ingredients individually, which you can assemble yourself to make a meal of your choice.
Just remember to ask the staff to swap the wheat tortillas with corn tortillas in your kit. This further eliminates the risk of cross-contamination.
The meal kits make for a fun activity with friends and family. Moe's offers the following gluten-free meal kits;
Taco Kit
Nacho Kit
Fajita Kit
Tortillas
Moe's offers corn tortillas that are totally free of gluten. You can enjoy these as taco shells filled with gluten-free toppings or as scrumptious quesadillas.
You can also enjoy them in the form of nachos with your favorite toppings and salsas. 
RELATED: Does Bob Evans have anything gluten-free?
Proteins
Moe's has an expansive selection of gluten-free proteins that you can add to your salads, burrito bowls, and tacos.
Adobo Chicken (148 cal)
White Meat Chicken (130 cal)
Steak (104 cal)
Pork Carnitas (131 cal)
Ground Beef (124 cal)
Fish (106 cal)
Organic Tofu (108 cal)
Beans
You have a choice of two different types of beans that you can add to your burrito bowl.
Black Beans (129 cal)
Pinto Beans (120 cal)
Fresh Ingredients
There are a plethora of fresh gluten-free ingredients available at Moe's. You can add any of these items to your tacos, burrito bowls, salads, and quesadillas.
Seasoned Rice
Cilantro Lime Rice
Quinoa
Diced Onions
Fresh Jalapenos
Chopped Cilantro
Diced Tomatoes
Corn Pico
Grilled Onions
Grilled Peppers
Grilled Mushrooms
Pickled Jalapenos
Diced Cucumbers
Black Olives
Shredded Lettuce
Pico de Gallo
Sour Cream
Shredded Cheese
Lime Wedge
Chopped Romaine (for salads)
Shredded Cabbage
Pickled Red Onions
Queso Fresco
Diced Onions
Sides
These fantastic gluten-free sauces and sides can add a little oomph to your meal.
Sour Cream
Chipotle Ranch
Southwest Vinaigrette
Hard Rock and Roll Hot Sauce
Pico de Gallo
Guacamole
Queso
Baja Enchilada Soup
Corn Tortilla Chips
Chili Con Queso
Salsas
Spice up your tacos, burrito bowls, and stacks with these delicious signature salsas at Moe's.
El Guapo
Kaiser
Tomatillo
Space B'Green Us
Tres Jalapeno
Drinks
Complete your meal with these refreshing gluten-free drinks at Moe's.
Fantastic Tips for a Gluten-Free Meal at Moe's Southwest Grill
Moe's is incredibly intricate regarding their website; they have every possible detail uploaded, including ingredient profiles, gluten-free, and allergen guides. This makes ordering at Moe's awfully convenient.
Here are a few tips to further elevate your experience at Moe's Southwest Grill.
Know the Restaurant
Prior to visiting any new restaurant, it's crucial that you have a little knowledge about the type of cuisine being served. For instance, some cuisines like Italian are based on pasta which is an absolute no-go for people with gluten allergies.
You should also be aware of the cross-contamination protocols and the availability of gluten-free items for your own safety.
At Moe's, strict cross-contamination measures are in place to ensure the safety of their customers. They have a gluten-free menu, and the staff there is amicable and hospitable and will go to lengths to address your concerns.
Communicate your Concerns
Before ordering anything, you should always inform the manager and wait staff about your dietary restrictions. This enables the restaurant to take necessary precautions.
Even if the eatery has adequate measures in place, a gentle reminder will do no harm.
The staff at Moe's is well trained and follows adequate precautions. They'll put on fresh gloves before prepping your order and ensure there's no contamination.
Since the menu is fully customizable, you can choose all the ingredients, which is another plus.
Follow Adequate Precautions
Remind the servers to follow the following precautions. These will reiterate the need for cross-contamination protocols and will leave you satisfied with your order.
Ask for a single server to assemble your meal from start to finish to minimize contamination and avoid confusion.
Request the server to disinfect and clean the prep surface before prepping your order.
Request the server to wear a fresh pair of gloves before preparing your order.
Request that the ingredients for your meal be fetched from a fresh batch to limit contamination.
If you're going to get anything with the fried corn tortillas, request the server to fry them in fresh oil.
When in Doubt, Throw it Out
If you're on the fence about a particular ingredient, you should always avoid it. There's no point in risking your health over a food item. Only consume things that you're sure are gluten-free.
Avoid Rush Hours
It is always wise to visit eateries during off-peak hours. This ensures that you're getting the server's full attention and will reduce the possibility of mistakes. The risk of contamination always increases during rush hours since the staff is preoccupied with multiple orders.
Cross Contamination Risk at Moe's Southwest Grill
Cross-contamination is every Celiac's worst nightmare. It occurs when gluten comes into contact with gluten-free items through contaminated utensils, surfaces, gloves, and food items.
This poses a serious concern for people with serious gluten-related disorders like Celiac disease. Therefore, strict cross-contamination protocols are paramount at any eatery.
At Moe's, cross-contamination holds the utmost priority. They are dedicated to serving safe and healthy food to all their customers, especially those with dietary restrictions.
Separate utensils and dishes are used to scoop out ingredients which further limits contamination. They follow protocols stringently, and the staff washes their hands and puts on a new pair of gloves for every order.
Moreover, the customizable nature of Moe's menu means you can pick and choose each ingredient that goes into your dish. This reduces the ambiguity around your order, further limiting the risk of contamination.
The only drawback we found was the lack of separate fryers for their tortillas which presents a risk of possible contamination. However, upon request, they will fry your corn tortillas in fresh oil in a clean fryer for your safety.
The Public's Verdict
Moe's has some fantastic reviews from people with gluten allergies and Celiac disease. We scoured the internet for reviews on Moe's Southwest Grill by the gluten-free community, and here's what we found.
An overwhelming number of reviews reflect upon the courteous and knowledgeable staff at Moe's that will listen to your needs every step of the way.
They mention the strict cross-contamination protocols in place and how the servers wash their hands and put on new gloves before assembling a new order.
The public also mentioned the amazing variety of gluten-free items on the menu that doesn't restrict you.
Throughout the reviews, we noted that many people with Celiac disease also had pleasant experiences at Moe's. This is an excellent sign that the eatery is allergy-friendly.
However, we always advise practicing utmost caution if you have Celiac disease or severe gluten sensitivity since mistakes are always possible.
A few negative reviews mentioned the lack of separate fryers and accidental contamination by employees. These reviews serve as a reminder to always be careful while dining out.
Gluten-Free Alternatives to Moe's Southwest Grill
Chipotle
Chipotle has to be the undisputed king in the American-Mexican fast-food scene. The best part is they have a detailed gluten-free menu and have stringent cross-contamination protocols to ensure the safety of their customers.
Chipotle has a fully customizable menu; you can opt for all the fixings you want on your salad, burrito bowl, or nachos.
A variety of proteins and vegetable toppings.
Guacamole and various sauces.
Beans and rice.
Various salsas.
California Tortilla
California Tortilla is another popular fast-food Mexican restaurant that has some amazing gluten-free burrito bowls and salads on the menu. They practice adequate contamination protocols, making it a safe place to dine out.
Southwestern Salad
Carnitas Verde Bowl
No-Meato Bowl
Fajita Bowl
Baja Fresh
Baja Fresh is a popular Tex-Mex restaurant that prides itself on its fresh ingredients and excellent service. It's popular for its self-serve salsa bar and has some scrumptious gluten-free options on the menu.
Baja Ensalada with Shrimp
Tostada with Shrimp
Baja Tacos with Grilled Shrimp or Fish (corn tortillas)