You know what they say, food always brings people together. True enough, there's nothing like sharing meals in family-style restaurants such as Bob Evans! It's the perfect place for families who love country-style food.
Does Bob Evans have anything gluten-free?
We'll cut to the chase. The menu features quite a lot of gluten-free options. Rest assured, everyone in your bunch can enjoy something at Bob Evans.
Yup. There's something for every hour. For brunch, have a Cheese, Veggie, or Western Omelet with salads such as Cobb, Cranberry Pecan Chicken, or Wildfire Grilled Chicken.
Lunch options include a fine selection of meat like USDA Choice Sirloin, Salmon, or Chicken Breast. You can also have sandwiches without the bun.
However, the risk of cross-contamination runs very high due to the nature of the food with lots of fried stuff and items with wheat. Even your gluten-free food might be unsafe for consumption.
If you have extreme gluten sensitivity or celiac disease, Bob Evans might not be for you.
It's also understandable if you can't fight your craving for their food. So, make sure you stick with us til' the end to know your best options and other tips for a safe experience.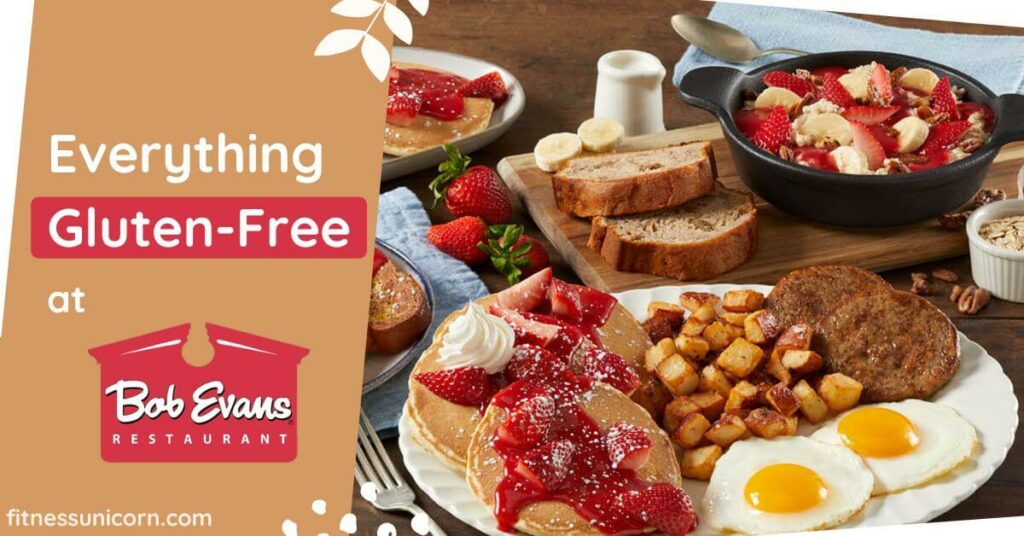 This post may contain affiliate links, which help keep this content free. (Full disclosure)
Bob Evans' Gluten-Free Options
Robert Lewis Evans founded Bob Evans Restaurants when he first started to process sausage for his own diner in Ohio. The restaurant initially operated on Evans' farm in Rio Grande.
Thanks to his sausages' growing popularity, more people came in to buy bulks. This increasing fame led the way to the first company restaurant at his farm in 1962, which was called "The Sausage Shop."
In fact, you can even visit Bob Evans' original farm in Rio Grande, Ohio, which has now become a tourist destination! His legacy truly lives on. Hopefully, you can taste it too through the flavorful meals at his restaurant.
To save you from stressing over what to find on the menu, we have already shortlisted the best gluten-free options at Bob Evans for our gluten sensitive readers. That's what we're here for, right?
This information is based on Bob Evan's Menu Allergens list online. All items reportedly have No Wheat/Gluten.
RELATED: Smoothie King's Gluten-Free Options
Seasonal Items
Sweet & Spicy Bacon Appetizer
Strawberry Topping
Bread and Desert
Whipped Topping, Chocolate
Breakfast Entrees
Banana Berry Oatmeal
Southwest Avocado Omelet
Western Omelet
Pot Roast Hash
Grits
Oatmeal (Brown sugar, milk, dried cranberries, or honey roasted pecans)
Condiments, Dressings, Gravy, and Sauce
Bacon Bites
Blueberries
Brown Sugar
Butter
Cheese (America, Bleu, Cheddar, Provolone, Swiss)
Chocolate Chips
Dried Cranberries
Cranberry Relish
Cream Cheese Icing
Dressing (Colonial, Honey Mustard, French, Italian, Buttermilk Ranch, Wildfire Ranch)
Margarine
Mayonnaise
Honey-Roasted Pecans
Pickle
Powdered Sugar
Caramel Sauce
Sauce (Chocolate, Hollandaise, Tartar, Lime Cream, Wildfire)
Sour Cream
Vanilla Syrup
Topping (Blueberry, Whipped, Whipped Chocolate)
Tortilla Strips
ALSO READ: Is anything gluten-free at Zaxby's?
Salads
(Ask for no croutons)
Chicken Cobb
Cranberry Pecan Chicken
Wildfire Chicken – Grilled Chicken
Protein
Burger Patty
Pot Roast
Sirloin USDA Choice
Double Meat Bowl
Avocado Bowl
Bacon
Bacon Bits
Ham
Sausage Links Pork
Sausage Patties Pork
Sausage Link Turkey
Grilled Chicken
Slow Roasted Chicken
Southwest Chicken Avocado
Lemon Pepper Seafood
Sliced Turkey
Sides
Buttered Broccoli
Glazed Carrots
Buttered Corn
French Fries
Hash Browns
Home Fries
Mashed Potatoes
Soup
Beverages
All beverages are gluten-free (yay!)
Tips For a Gluten-Free Meal at Bob Evans
Don't Get Anything Fried
Yup. We know how terrible it feels to resist that crunchy craving. But Bob Evans isn't a dedicated gluten-free facility. With the nature of its food, there's always a high risk of cross-contamination in the kitchen.
In fact, Bob Evans is pretty straightforward with this. "Fried Items use a common fryer. Thus cross-contamination amongst allergens may occur during preparation."
Well, that should sum it up. One celiac even left a review saying they "got sick" after eating the hash browns, probably due to the multi-use frier.
Communicate Your Needs
Most satisfied customers seem to have communicated their needs politely with the staff before ordering. So, you should do the same!
Ask the staff nicely to change their gloves and clean the workplace before prepping your food. Anything to ease your worries. Talk to them about your condition to trigger appropriate measures for gluten allergies. 
FIND MORE: Gluten-Free Options at Bar Louie
Call Your Location Before Visiting
Unfortunately, not all locations have the same accommodation.
For instance, one gluten-intolerant visitor recently mentioned that the Home Fries aren't gluten-free. Visitors from other locations said otherwise.
One celiac visitor found out that the location she was supposed to visit didn't have a dedicated workplace for gluten-free meal prep after calling ahead.
Hence, to make sure that you're safe after the last bite, call the location you'll be visiting if you can.
Or talk to the manager about their gluten-free meal preparation before ordering. Remember that it's your right to know how your meal is prepared and if it's safe for consumption.
Cross-Contamination Risk
Family-style restaurants like Bob Evans indeed remind you of nice homestyle meals. Salads, Omelets, Potatoes, and all those. Yum.
But, it can be quite a problem if one family member has strict dietary restrictions… like being on a gluten-free diet. You can't blame them, though. Even meals labeled "gluten-free" can be contaminated with gluten.
Cross-contamination happens once your gluten-free meal becomes contaminated with a gluten-containing item. The risk lurks in every corner, so it's almost hard for food servers to avoid it entirely in the workplace.
For example, not cleaning the workplace before prepping a gluten-free meal can cause gluten contamination. Or when the same fryer is used for all fried stuff at a restaurant, like Bob Evans.
Most servers are, unfortunately, unaware of celiac disease or gluten sensitivity. That's why finding a restaurant that specifically caters to their needs without any hassle feels like finding a gem for gluten sensitive diners.
Although it sounds trivial for some, cross-contamination is a bigger problem that both servers and gluten sensitive diners should be careful of at any restaurant.
As we mentioned, Bob Evans has already stated the possibility of cross-contamination in their restaurant. So, it's up to you to decide whether it's worth a shot.
It can be hard to resist the temptation of eating a meal at Bob Evans with your family. We know. But remember that your health is at stake for every decision you make.
Try to follow the tips we prepared for you or go to one of the alternatives we'll share at the end of this article. (Stick around!)
What People Are Saying
To help you make an informed choice as you decide, here are some of the insights about Bob Evans' gluten-free accommodation that we gathered online.
Most satisfied visitors mentioned good things about Bob Evans' staff. Some said that the staff is friendly, nice, and knowledgeable. Managers from other locations even talked to the visitors personally to make them feel comfortable. Overall, the staff at most locations seems commendable.
One celiac visitor said they had no issues with their breakfast. They also mentioned about the gluten-free menu. Another celiac user had a great experience after talking with the manager, making them feel safe.
Lots of customers were satisfied with the separate gluten-free menu.
Sadly, the lack of a dedicated fryer was a common issue. This prohibited the visitors from enjoying anything fried like Hash Browns or Fries. Some customers were also disappointed with the lack of a gluten-free bun.
Staff from other locations also seem to be unaware of gluten allergies. One celiac visitor had to return her burger several times because the fries kept touching her burger. The server wasn't also sure about the burger's cheese being gluten-free.
One customer got sick after eating a Hash Brown. Other customers also feared for their safety due to certain instances, such as bread touching their meal or the staff being indifferent to their concerns.
Gluten-Free Alternatives to Bob Evans
It's okay to think of going for something else after reaching this part. Well, didn't we promise alternatives after all?
Jokes aside. It's totally normal for this thought to cross your mind. Since we're here to help you in every step of the way, we thoroughly researched the best gluten-free alternatives to Bob Evans to save you some time.
Denny's
Like Bob Evans, Denny's has loads of gluten-free options on the menu, which are all clearly labeled. You won't have to worry about what to eat anymore for each meal of the day.
For starters, get the Zesty Nachos. There's a selection of omelets you can choose from for breakfast: Philly Cheesesteak, Ham & Cheese, Loaded Veggie, and Ultimate.
Pair this with a gluten-free English Muffin. If you're thinking of a skillet, choose from Santa Fe, Fit Fare, Supreme, Hearty Breakfast, or Wild Alaska Salmon.
You can get a T-Bone or Sirloin Steak with two sides of your choice. Customers 55 years and older can also enjoy the 55+ gluten-free meals like Grilled Tilapia, Grilled Chicken, and Omelet.
Perkins
Perkins is very loved for its signature dishes, from breakfast to dinner. The menu indeed has something for all diners.
Order omelets without pancakes, Mammoth Muffin, biscuits, toast, or homestyle potatoes. Choose from Everything Omelet, Granny's Omelet, and Hearty Harvest Omelet with sides of fresh fruit and hash browns.
You can also get a Garden Side or Chopped Cobb Salad without the croutons. Ask for gluten-free dressings.
Gluten-free Comfort Classics include Grilled Salmon, Tilapia, or Pork Chop without the sauce. Order these without rice, French fries, tots, or homestyle potatoes. You can also get something light like the Tomato Basil soup without crackers.
Qdoba
Qdoba should be on your list of spots to try if you love Tex-Mex food. It's a known fast-casual restaurant offering burritos, fajitas, tacos, and more.
Gluten-free bowl options include the Chicken Protein Bowl, Impossible Fajita Bowl, and Chicken Queso Bowl. Get the Street Style Chicken Taco with a corn tortilla.
As always, be wary of cross-contamination as you order.
Rubio's
Rubio's is another great place to get coastal-inspired, fresh Mexican food. Order Seafood Tacos, Enchiladas, salads, sides, and other proteins to fill your tummy.
The general rule for tacos is to always get the corn tortilla. Try their creative seafood tacos such as Grilled Wild Alaska Coho Salmon, Grilled Wild Ono, or Blackened Wild Ono.
You can also have a bowl of salad for a more convenient meal. Choose from Chipotle Orange, Mango Avocado, and Balsamic & Roasted Veggies.
Dressings for the salads include Chipotle Ranch, Lemon Agave Balsamic, and Chipotle Vinaigrette.
Like Bob Evans, you'll surely have something for every hour.