Checkers is a popular American fast-food chain serving up some of America's favorite burgers. The restaurant is famous for its hamburgers, hotdogs, and milkshakes.
Founded in 1986, Checkers has expanded to over 560 locations nationwide.
So what's Gluten-Free at Checkers?
The limited gluten-free options at Checkers include their scrumptious bone-in chicken wings that come in various flavors for you to savor. These wings are the perfect meal to appease your hunger without triggering any allergies.
Other options free of gluten at Checkers include some of their famous sides, milkshakes, and slushies.
Although the options are limited, they are enough to provide a complete meal that will not leave you disappointed. With some creativity, you can conjure up a combo that will satiate your appetite without triggering any allergies.
Note that all of these options are only safe for consumption if proper cross-contamination protocols are followed while preparing your meal.
Checkers doesn't have stringent cross-contamination protocols since it is a fast-food joint with a predominantly gluten-containing menu. Hence, if you have Celiac disease or severe gluten allergy, it is best to steer clear of Checkers.
This article is going to be an in-depth scrutinization of the Checkers menu. After thoroughly going through the nutritional guide, we've compiled a list of items that should be safe for the casual gluten-free eater.
Furthermore, we'll be discussing some fantastic tips to prevent contamination and successfully order a gluten-free meal every time you go out.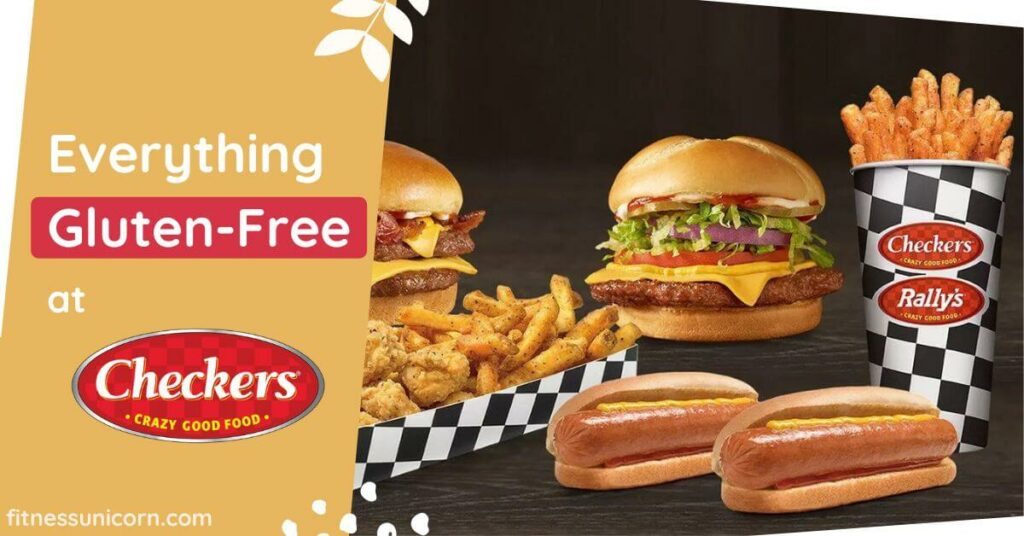 This post may contain affiliate links, which help keep this content free. (Full disclosure)
Gluten-Free Options at Checkers
Checkers has a limited menu serving some of the classic fast-food dishes we know and love. Their compact menu includes their famous hamburgers, hotdogs, chicken sandwiches, a selection of delicious sides, and thick milkshakes.
This is a double drive-thru restaurant that enables customers to have a quick and hearty meal on the go. The hamburgers and hotdogs account for most of the menu, making gluten-free options at Checkers limited.
Hence, if you have Celiac disease or severe gluten sensitivity, Checkers might not be the place for you.
Like most fast-food chains, Checkers, too, doesn't have adequate contamination protocols and checks in place. This makes ordering gluten-free extremely challenging for most consumers with dietary restrictions.
After going through the allergen menu available on the official Checkers website, we have narrowed down a list of items that would be safe for consumption if proper cross-contamination protocols are followed.
Also, note that Checkers doesn't have a gluten-free menu; hence the items we'll be discussing are only free of wheat gluten. There can always be gluten from another source.
If you have Celiac disease or severe gluten sensitivity, we suggest you stay clear of Checkers. No food is worth risking your health and well-being over.
If you follow the gluten-free diet casually and have no possible health risks, you can always try Checkers.
Disclaimer: All of the following food items are gluten-free on the condition that proper cross-contamination protocols have been followed.
RECOMMENDED: Does Bob Evans have anything gluten-free?
Bone-In Wings
The bone-in traditional wings at Checkers are probably your safest bet if you're on a gluten-free diet. These scrumptious gluten-free wings are perfect for sharing and come in servings of 5, 10, and 20.
These wings are non-breaded and make for a satisfying meal if you couple them with your favorite sauce and a side of veggies.
Wing Sauces & Dressings
You can enjoy the delicious wings at Checkers with a variety of gluten-free sauces and dressings that will elevate your gastronomic experience.
Angry Buffalo (10 kcal)
Sweet & Smoky BBQ Sauce (80 kcal)
Medium Buffalo Sauce (5 kcal)
Parmesan Garlic (160 kcal)
Lemon Pepper Seasoning (0 kcal)
Ranch Dressing (150 kcal)
Honey Mustard (160 kcal)
Blue Cheese (10 kcal)
Frank's Buffalo Sauce (230 kcal)
Sides
There are a few gluten-free sides at Checkers that you can enjoy with your meal. You can enjoy their Chili on its own, whereas the other sides serve the purpose of complimenting your main meal.
Checker's Chili (30 kcal – 1fl oz)
Cheese Sauce (35 kcal)
Bacon (70 kcal – 2 slices)
Grilled Onions (10 kcal)
RELATED: Smoothie King's Gluten-Free Options
Shakes
Checkers is known for its thick ice cream shakes that will cool you down on a hot summer's day. These amazing decadent shakes are made with gluten-free ingredients and come in four classic flavors.
The shakes are available in small (16 fl oz), medium (22 fl oz), and large (32 fl oz) servings.
Vanilla (290 kcal)
Strawberry (350 kcal)
Banana (350 kcal)
Chocolate (380 kcal)
Smoothies & Slushies
The smoothies and slushies at Checkers are perfect if you need to cool down. The best part is that they're gluten-free so they won't trigger any allergies. You can order the slushies in a variety of flavors.
Fanta Slushie – Fruit Punch, Watermelon, Blue Raspberry
Big Surf Slushie
Vanilla Soft Serve
If you're not up for the shakes or smoothies, you can always get the classic vanilla soft serve at Checkers. You can top your soft serve with three gluten-free sundae toppings.
Burgers & Sandwiches (no buns)
You can always go for Checkers hamburgers and hotdogs if you have no severe gluten-related allergies. The hamburgers are what Checkers is really known for.
Just be sure to ask the waiter to replace the buns with lettuce wraps to make your meal gluten-free.
If you have Celiac disease or severe gluten allergies, I would highly advise against getting the burgers and hotdogs.
Tips for a Gluten-Free Meal at Checkers
Like many fast-food joints, Checkers doesn't have a gluten-free menu or ingredient list. They only offer an allergen list which you can't use to certify gluten-free items. This makes ordering a meal free of gluten a stressful experience.
If you're a Celiac, we advise you to avoid such places.
If you're a casual eater who follows a gluten-free diet just for the health benefits, then be sure to follow these tips to help you stay clear of contamination and gluten-free items when you visit Checkers.
Type of Restaurant
Knowing a few crucial aspects of a restaurant before going out to eat is essential.
You should be aware of the kind of food they serve, whether they have a gluten-free menu, whether they're open to modifications, and whether they have adequate cross-contamination protocols or not.
This will help you get a sense of how allergy-friendly a particular restaurant is.
Checkers is a fast-food restaurant with little to no cross-contamination protocols. They only provide an allergy guide which cannot be relied on if you have Celiac disease or severe gluten sensitivity.
Furthermore, the menu is packed with gluten-containing items, making contamination inevitable without stringent protocols. So it's better if you skip that trip to Checkers altogether.
Communication
Informing the kitchen staff and manager about your allergy prior to ordering is crucial. This will allow the kitchen staff to make necessary arrangements to prepare your order.
If the restaurant cannot make these arrangements, the manager will inform you in time, saving your precious time and health.
Checkers will never guarantee a 100% gluten-free meal, so it is best to find a more suitable place to eat if you suffer from Celiac disease.
Keeping it Simple
Whenever you're not sure about what to order – stick with the simple dishes that you know are prepared with gluten-free ingredients and have the lowest risk of contamination.
Stay away from complex dishes that might contain hidden gluten that might trigger your allergies. Remember, the more components that go into a dish, the higher the risk of contamination.
Precautions
Whenever you're visiting a restaurant, be sure to ask the manager to follow these precautions;
Ask for a single server to prep your order from start to finish to limit confusion and contamination.
Ask to have all the prep surfaces disinfected and cleaned before prepping your order.
Request the kitchen staff wear a fresh pair of gloves before preparing your meal.
Request the kitchen staff to take your order's ingredients from a fresh batch.
If you order a burger or hotdog, remember to have your buns swapped out for a lettuce wrap.
When in Doubt, Throw it Out
If you're unsure about an ingredient in the dish or think there might have been possible contamination, then it's best to avoid the dish altogether. Only consume something when you're certain about its safety.
Nothing is worth risking your health and safety over.
Avoid Rush
If you want the staff to be vigilant and attentive in order to cater to your dietary needs, then it is best to visit a restaurant during off-peak hours. The staff is overburdened during rush hours, making room for mistakes and contamination.
Cross Contamination Risk at Checkers
Cross-contamination has proven to be a menace for people with food allergies. It is a phenomenon that occurs when gluten comes into contact with gluten-free food items either directly or indirectly.
This can occur through contact with gluten-contaminated utensils, surfaces, gloves, and foods. Therefore, stringent cross-contamination protocols are critical at any restaurant to ensure customers' safety.
Fast-food joints like Checkers usually have poor cross-contamination protocols. There aren't dedicated prep surfaces, and the ingredients are handled with the same utensils used to handle gluten-containing items.
Moreover, the staff isn't appropriately trained to handle food allergies. All of these factors increase the risk of contamination manifold.
Therefore, it is paramount that you let the staff know how you want your meal prepared and brief them about the severity of your allergies.
If you suffer from Celiac disease or severe gluten sensitivity, it would be wise to stay clear of Checkers altogether.
Gluten-Free Alternative to Checkers
The gluten-free options at Checkers are limited; therefore, we've listed a few fantastic fast-food alternatives with adequate cross-contamination protocols coupled with delicious food.
Red Robin
Red Robin is a superb restaurant if you love thick juicy burgers free of gluten. Red Robin offers gluten-free buns that enable you to enjoy their amazing range of burgers and sandwiches.
Moreover, they have dedicated fryers for their fries which means you can enjoy your meal with a side of their famous fries without worrying about contamination.
Some of the gluten-free items at Red Robin include;
Fire-Grilled Burgers (gluten-free bun or lettuce wrap)
Grilled Chicken Sandwiches
Fries
In-N-Out Burger
Calfornia's favorite burger chain serves up some of the most delicious mouth-watering burgers that will get you hooked from the first bite. In-N-Out offers its burgers in a lettuce wrap, making them completely gluten-free.
Just ask the server to make your burger 'protein-style,' and they'll swap out the buns for lettuce wraps.
Protein Style Burgers
Animal Fries
Fries
Milkshakes
Shake Shack
Shake Shack offers amazing burgers and hotdogs that people with gluten allergies can enjoy because Shake Shack offers gluten-free buns.
They follow strict cross-contamination protocols and have a complete allergen list to make your dining experience pleasant.
Burgers & Hotdogs with gluten-free buns or lettuce wrap
Milkshakes