Jamba Juice is a popular American store selling healthy fresh fruit smoothies, iced beverages, fresh juices, fruit bowls, and some savory items.
Jamba Juice sources the freshest possible seasonal fruits and vegetables to conjure up some fantastic drinks and healthy snacks to eat.
If you're someone who's into vibrant, creative, and healthy snacks, then Jamba Juice is definitely the place for you.
So what's gluten-free at Jamba Juice?
Jamba Juice has an expansive menu that boasts an amazing variety of items on the menu, the majority of which are gluten-free! The only category to stay away from completely is baked goods.
Other than that, most items are safe for consumption if proper cross-contamination protocols are followed.
Jamba Juice has a detailed ingredient and allergen menu that mentions everything one needs to know to deduce whether something is gluten-free or not.
Their delicious gluten-sensitive options range from fresh smoothies, fruit bowls, and juices to snacks you can grab and go. Everything is made in-house with fresh organic ingredients sourced from the best vendors.
Even though the cross-contamination protocols at Jamba Juice are adequate, there is still a disclaimer that mentions possible contamination. Hence, you must stay vigilant and practice caution to protect yourself and your loved ones.
If you have Celiac disease or severe gluten sensitivity, we would highly advise that you stick with the most straightforward items with the least amount of ingredients to stay safe from contamination.
Also, ensure your server follows protocols by reminding them to be careful and use clean utensils, gloves, and blenders.
We've compiled a list of the various gluten-free items on the Jamba Juice menu, so you won't have to. This article will cover all the delicious items at Jamba Juice you can enjoy without the fear of getting sick.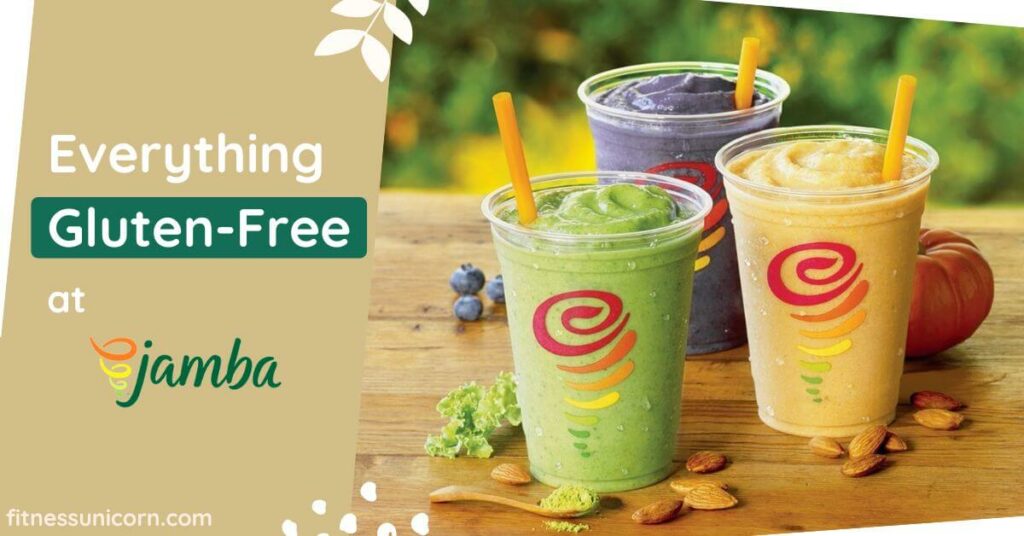 This post may contain affiliate links, which help keep this content free. (Full disclosure)
Gluten-Free Options at Jamba Juice
Jamba Juice has expanded to over 860 branches across the United States. This immense success is an homage to the dedication and consistency towards serving their customers fresh, quality products every time.
There's nothing like a fresh Jamba Juice strawberry surf rider smoothie to cool you down on a hot summer day. The best part? It's completely gluten-free.
Let us take a look at the extensive variety of gluten-free items available on the Jamba Juice menu.
Disclaimer: The restaurant mentions the possibility of contamination even after protocols are followed; therefore, caution is advised.
Smoothies
The delicious smoothies at Jamba Juice are made with the freshest fruits and prepared fresh to order. The smoothies come in three main categories.
Classic
The classic smoothies are the basic smoothies we know and love. Fresh fruits, ice, yogurt, and a whole lot of love. The classic gluten-free smoothies include;
Watermelon Breeze
Aloha Pineapple
Caribbean Passion
Mango-a-Go-Go
Orange Dream Machine
Peanut Butter Moo'd
PB Chocolate Love
Razzmatazz
Strawberry Surf Rider
Strawberries Wild
White Gummi
YOU MAY ALSO LIKE: Cici's gluten-free menu items
Plant-Based
The plant-based smoothies are much like the classic smoothies but with a kick of fresh green vegetables in the mix. The vegetables added are usually Kale or Ginger.
Watermelon Breeze (plant-based)
The Go Getter
Apple n' Green
Vanilla Blue Sky
Greens n' Ginger
Mega Mango
Peach Perfection
Pomegranate Paradise
Smooth Talking Mango
Strawberry Whirl
Super Blends
The super blends are smoothies with a scoop or two of your favorite protein powder, vitamins, or other supplements. These super blends will energize you like never before.
Acai Super Antioxidant
Matcha Green Tea Blast
Orange-C Booster
PB plus Banana Protein
Protein Berry Workout
READ MORE: Golden Chick's Gluten-free Menu Items
Iced Beverages
Jamba Juice has an exciting variety of unique iced beverages. If you're not up for smoothies, grab yourself a refreshing matcha beverage or iced coffee.
Gotcha Matcha (with or without sweet cloud whip)
Brew n' Cold Brew (with or without sweet cloud whip)
Bowls
You'll fall in love with the supremely refreshing fruit bowls at Jamba Juice. A combination of fresh fruits, greek yogurt, oatmeal, and all sorts of toppings. Here are the gluten-free bowls you can consume;
Acai Primo
Chunky Strawberry
Island Pitaya
Vanilla Blue Sky
Oatmeal
RECOMMENDED: What's Gluten-free at Bonefish Grill?
Fresh Juice n' Shots
If you're looking for the healthiest option on the menu, fresh gluten-free juice would be it—nothing like a blend of fresh fruits and vegetables to cleanse all those toxins out of your system.
Purely Carrot
Cucumber Orange Cooler
Great Greens
Orange Carrot Twist
Orange Supreme
Veggie Vitality
Purely Orange
Ginger Lemon Cayenne (shot)
Ginger Orange Cayenne (shot)
Note: Stay clear of the wheatgrass shot; it contains gluten and is not safe for consumption.
Grab n' Go
The grab n' go section is a collection of unique snacks and drinks you can grab and consume on the go. These are highly nutritious, healthy, and will detoxify your system.
Honest – Half and Half
Honest – Green Tea
Triple Berry Crumble Bar
Ginger Shot
Turmeric Shot
Chickpea Veggie Crisp
Hummus Crisp
Lemon Poppyseed Bites
Brownie Protein Bites
Dark Chocolate Sea Salt Bar
Fantastic Tips for a Gluten-Free Order at Jamba Juice
Jamba Juice provides a complete allergen and ingredient profile for its offerings. This makes filtering out gluten-free items convenient for consumers. The following tips will help ensure that your order is free of gluten and safe to consume.
Type of Eatery
It's essential to know the eatery before visiting.
You should know the kind of menu they offer, whether the staff is trained to handle allergic patients, whether there are adequate contamination measures, and whether they have a gluten-free menu.
This will indicate how allergy-friendly a particular business is.
Jamba Juice is known for its healthy drinks and fresh ingredients, the majority of which are gluten-free. The staff at Jamba Juice is courteous and well-trained, ensuring strict protocols are being followed to avoid contamination.
This makes Jamba Juice a decent place to visit for gluten-free items.
Communication
Communication is always key whenever you're out for a bite. It is essential to let the manager know of your restrictions so they may alert the team to make adequate preparations to ensure your safety.
The accommodating staff at Jamba Juice will listen to all your queries and make sure your order is prepared to your liking. They follow adequate protocols, but it's always beneficial to give a gentle reminder to reduce the risk of contamination.
Special Instructions
Let the servers know how you want your order prepared. Some handy tips to ensure your order is gluten-free is to request the servers to follow the following instructions;
Ask for a single server to prepare your order from start to finish to avoid confusion and accidental contamination.
Ask your server to wear a fresh pair of gloves before prepping your order.
Request that your ingredients be handled with washed utensils to minimize contamination.
Request that the ingredients be fetched from a new batch; this will ensure there hasn't been any previous contact with the ingredients.
Ask your server to prepare your order in a clean, washed blender to eliminate any contaminants from a previous order.
If in Doubt, Throw it Out
Avoid anything that sets off alarm bells in your head or has you feeling suspicious. There's no point in risking your health over something you're not entirely sure of. This is especially important if you have Celiac disease or severe gluten sensitivity since even a trace amount of gluten could set off an adverse reaction.
Avoid Peak Hours
Peak hours mean there's usually a heavy influx of orders. Prepping so many orders at a time can lead to a lapse in concentration and accidental contamination.
This can be easily avoided by visiting your favorite eatery during off-peak hours to ensure a gluten-free order.
Cross Contamination Risk at Jamba Juice
Cross-contamination is a huge risk to the health of Celiacs. A seemingly gluten-free drink or meal might be contaminated with gluten causing a severe allergic reaction.
This is a significant stress-inducer for Celiacs while going out to eat.
Contamination occurs when gluten comes into contact with gluten-free items through contaminated gloves, utensils, surfaces, blenders, and other food items.
This is why strict cross-contamination protocols are crucial for the well-being and safety of customers.
At Jamba Juice, the gluten-free ingredients are all stored separately, and the team takes great care to avoid cross-contamination.
Clean blenders are used to prepare every order, and the staff ensures not to use the same utensils for the ingredients.
All of this, coupled with a detailed ingredient list of every menu item on their website, makes Jamba Juice a great place to visit for some gluten-free drinks.
Even though the majority of ingredients at Jamba Juice are free of gluten, it is still vital to practice caution since some gluten-containing items on the menu may lead to accidental contamination.
What is the Public Saying?
Before visiting any restaurant, it's paramount to check its reputation among the general public. This will help you determine how allergy-friendly a particular place is and whether it's worth visiting or not.
We scoured the internet for reviews on Jamba Juice by people with Celiac disease or severe gluten sensitivity.
After conducting extensive research and analyzing various reviews, we were able to form an opinion on whether Jamba Juice is safe for people with gluten allergies or not.
Most reviews praised the excellent cross-contamination protocols and an amazing variety of gluten-free items at Jamba Juice.
The reviews also mentioned that the staff used clean blenders for each drink and kept the gluten-free items separately to prevent contamination. The best part is that even Celiacs were satisfied with Jamba Juice after visiting multiple times.
The few negative reviews didn't criticize the drinks or the cross-contamination control; they only criticized the staff's slow service and poor attitude at some locations.
Even after all the beaming reviews, you should still be careful at Jamba Juice if you have Celiac Disease or severe gluten sensitivity.
Gluten-Free Alternatives to Jamba Juice
As amazing as it is, Jamba Juice might not be for everyone. If you're looking to change things up or don't have a Jamba Juice in your vicinity, here are some great gluten-free alternatives.
Sweetgreen
Sweetgreen is a popular eatery amongst health-conscious people. It serves up some amazing gluten-free salads, warm bowls, and seasonal dishes. Sweetgreen is a fantastic option if you're looking for healthy food that is gluten-free too!
Salads – Shroomami, Veggie Caesar, Garden Cobb
Warm Bowls – Citrus Shrimp and Avocado, Chicken Tostada, Blackened Catfish Bowl
Seasonal Menu – Elote Bowl and Buffalo Cauliflower
Au Bon Pain
Au Bon Pain is a casual American restaurant focused on serving fresh, flavorful, healthy meals. They have a wide variety of gluten-free items on their menu, allowing room to experiment. Some of the gluten-free items at Au Bon Pain include;
Entrees – Mayan Chicken Harvest Bowl
Soups – Roasted Eggplant, Vegetarian Chili, 12 Veggie
Salads – Egg and Cucumber, BBQ salad, Greek salad
Dressings & Sauces
Desserts – Fresh Fruit, Muesli, Nuts
Starbucks
Starbucks is easily the world's favorite coffeehouse. What makes it even better is that most of your favorite drinks at Starbucks are gluten-free. Just remember to avoid the oat milk while ordering.
If you're looking for a quick coffee of refreshing drink on the go, Starbucks is the place for you.
Coffee – Caffe Latte, Americano, Hazelnut Machiatto, Cold Brew Latte
Tea – Chamomile Blend, Jasmine Orange, Mint Blend
Refreshers – Mango Dragon Fruit, Very Berry, Strawberry Acai
Syrups – Vanilla, Mocha, Hazelnut, White Mocha
Gluten-Free Brownies