Do you remember the last time you had a nice, delish Cajun-inspired meal? If you don't, then take this as a sign to consider dining soon at Bojangles! You've probably heard of their famous Cajun-seasoned fried chicken already.
Still, the other tasty items on their menu like the buttermilk biscuits and fries, are just as worthy of being tried!
First things first, do they have anything gluten-free out there?
You're in luck! Bojangles does have a decent selection of gluten-free options other than the usual bunless burgers gluten intolerant people are usually stuck with. Spoil yourself with the collection of their salads drenched in gluten-free dressings.
You can also have a perfect combo of the Roasted Chicken Bites paired with Bojangles Cajun Pintos! Did we mention that there are more sides you can choose from?
While you might already have a perfectly crafted meal at Bojangles in mind, don't forget about the chance of cross-contamination lurking in restaurants like this.
Remember that fried food is at a higher risk for cross-contamination since the oil used may come in contact with other gluten-rich items like breadcrumbs.
So, don't get your hopes too high yet before going there! With the specialty food being mostly gluten-rich, celiacs and gluten-sensitive visitors should think twice about their preferred meal and how they can assure its safety.
Don't prolong your curiosity any longer! Let's look into Bojangles' gluten-free options.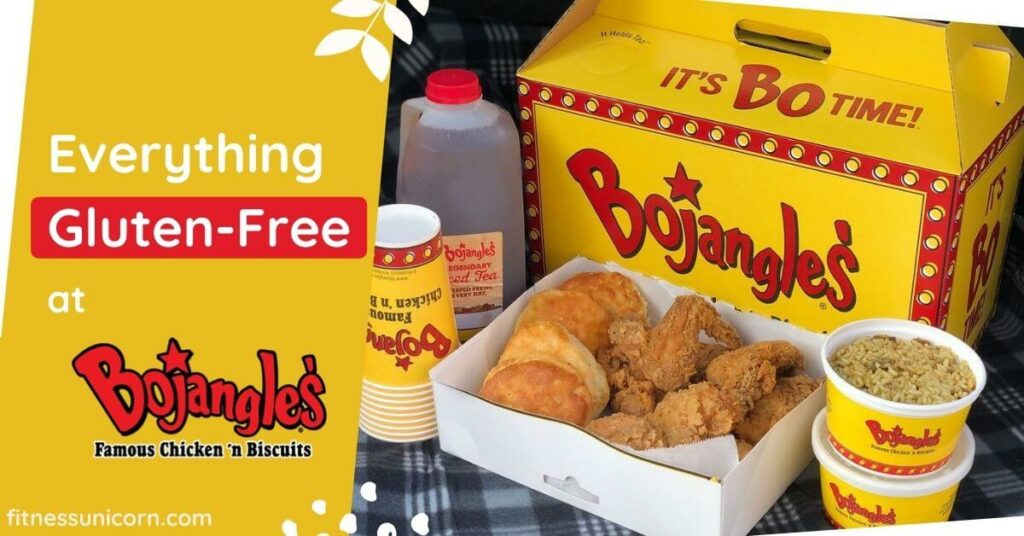 This post may contain affiliate links, which help keep this content free. (Full disclosure)
Bojangles Gluten-Free Options
Ever wondered where its name came from?
One of the founders, Jack Fulk, actually heard the song "Mr. Bojangles" on the radio one day while dreaming of his restaurant and said, "That's it!" The dream finally came to reality in 1977, with the establishment of the first Bojangles Famous Chicken n' Biscuits in North Carolina.
The well-loved fast-food chain now operates almost 750 locations across 14 states of the USA. Thanks to its successful expansion to other countries, you may also find one when you're out of the country.
Worry not if your area has no nearby Bojangles! The chain has announced planned expansions to other states like Ohio and New Jersey.
You can enjoy their full menu all day if you're lucky to have one near you! So, before prepping yourself for a Bojangles treat, read on to know the available options for a zero-gluten regime.
Keep in mind that these are based on the general nutritional information on their website.
RECOMMENDED: TGI Fridays' Gluten-Free Options
Salads
If you fancy something easy, quick, fulfilling, and perfect on the go— then salads are your ideal choice! Although Bojangles assures you that they're wheat-free, remind them not to add croutons and alert your server about your condition.
Grilled Chicken Salad – Enjoy a heavenly delight of grilled chicken slices on a fresh layer of romaine and iceberg lettuce with some red cabbage. Coupled with cucumber slices, grape tomatoes, shredded carrots, and cheddar cheese.
Garden Salad – It's like the Grilled Chicken Salad, only without the chicken!
Roasted Chicken Bites Salad
Salad Dressing
Ken's Buttermilk Ranch Dressing
Ken's Blue Cheese Dressing
Ken's Fat Free Italian Dressing
Ken's Honey Dijon Dressing
Chicken
Roasted Chicken Bites
Dipping Sauces
All dipping sauces are gluten-free!
BBQ
Bo's Special
Honey Mustard
Ranch
Fixin's (Sides)
Bo-Tato Rounds – satisfy your savory potato craving with their Bo-Tato Rounds. Potatoes fried to absolute golden crispiness.
ColeSlaw – crunchy ​​chopped cabbage and carrots drowned in Bojangles' own dressing
Seasoned Fries – fries drenched in Bo's Famous Seasoning
Bojangle Cajun Pintos – a serving of your slow-cooked Pinto beans swamped in a harmonious mix of seasonings.
Grits
Drinks – finish your meal with any of their unique beverage. The best part is that they're all gluten-free!
ALSO READ: Classic breakfast at Denny's
Tips For a Gluten-Free Meal at Bojangles
Did the previous section leave you craving? Before you try out our suggestions, it's best to do your part in ensuring a completely gluten-free experience at any restaurant!
Here's some important tips you'll need when dining at Bojangles.
Avoid Anything Fried
They're known for their Cajun-seasoned fried dishes and dodging them would be a bummer. We totally get it.
However, fried food is extremely risky for gluten sensitive people. Reviews online also say that Bojangles chains vary with how they manage gluten-free items, some locations have a dedicated fryer while others don't.
Considering how the menu is very gluten-rich, from the biscuits to chicken, heaps of gluten particles can be floating around the kitchen.
So, even if you're eyeing their fries since they're gluten-free— think about getting a salad and some ColeSlaw instead to minimize the risk of cross-contamination that you'd get from having fries.
Watch Your Salad
Nothing could ever go wrong with a plain salad. It's one of the safest meals a gluten intolerant person could have… if you keep an eye on it.
Despite the great fact that Bojangles' salads are gluten-free, some locations may add risky items to your salad which could jeopardize your health. The Grilled Chicken Salad may also have gluten-containing breaded chicken.
If possible, try to watch the kitchen staff prepare your salad. Look out for what they add to your meal like their Homestyle Garlic Cheese Croutons which contain wheat. Doing this tip can alleviate your worries of having an unsafe meal.
Talk It Through
Properly communicating with the staff is the best thing you can do. Remember that different locations have varying management, so someone else's gluten-free experience at a Bojangles may not be the same for you.
Before getting one of their gluten-free meals like the Seasoned Fries, try talking to one of the staff first and inform them of your condition to confirm a safe meal preparation.
Double-check your order with the server before eating and verify if it's the "special" meal you wanted. 
YOU MAY ALSO LIKE: Are Nerds Ropes Gluten-Free?
Cross Contamination Risk
It's great to have a handy guide for gluten-free meals before eating out, right? While these guides are certainly helpful, we can only do so much to completely eliminate the risk of cross-contamination.
In terms of a zero-gluten regime, cross-contamination happens when gluten-free food is exposed to gluten particles either through direct or indirect contact.
For instance, you ordered Bojangles' Seasoned Fries after learning that it's gluten-free. But, it was cooked in the same fryer and oil as their fried chicken. There's a chance that the gluten particles from the chicken could go to your fries.
What's the worst thing that could happen? A gluten intolerant person might get an upset stomach, feel nauseous, or bloated.
For celiacs, the intake of even the slightest trace of gluten can induce an autoimmune response and unwanted symptoms. Thus, no amount of gluten should be worth the risk of such awful consequences.
As a restaurant specializing in fried stuff, gluten particles could be sweeping the place. So, before dining at a Bojangles near you, observe the location first and see if strict allergy protocols are in place.
You can ask if they have dedicated equipment or if the cooks are knowledgeable about gluten-free meal preparation.
You could also check out relevant reviews online from gluten-intolerant people about Bojangles' gluten-free accommodation. Read on to see some of their insights!
What People Are Saying
We collected some of the best and most honest reviews online from other gluten-sensitive visitors at Bojangles to help you decide.
The limited gluten-free options can be a common setback among visitors. Most of them think that there's a high chance of cross-contamination in the restaurant due to its nature.
Visitors seemingly have low confidence in Bojangles' fried food. One visitor thinks there are no appropriate measures in place against cross-contamination.
So, she feels that Bojangles might not be suitable for anyone with gluten sensitivity or celiac disease. She adds that the same fryers are used for breaded chickens and seasoned fries.
Another visitor saw fried breadcrumbs in his fries' carton. One customer believes that anything fried, including the fries, is indeed not gluten-free… unless the next visitor is "lucky" enough to visit a location with a dedicated fryer.
There are also varying experiences with Bojangles' Roasted Chicken Bites. Someone had this dish and felt stomach pain afterward.
He later found out that the chicken was cooked in the same oven as the biscuits. Some users also think that these bites now contain wheat, unlike the old recipe.
On a brighter note, other visitors had a splendid time. One of them says that Bojangles is superb despite not being celiac friendly. She adds that the gluten-free Bo-Rounds are the best!
Another gluten-sensitive user agrees that the Bo-Rounds are to die for along with the Roasted Chicken Bites.
Gluten-Free Alternatives To Bojangles
After seeing the menu, getting some tips, and reading the reviews– what's next? You're probably deciding by now if you should try a hearty Bojangles meal… or not.
It's totally okay if you think otherwise and get somewhat disheartened. In this case, if Bojangles really isn't for you, consider going to one of the alternatives we'll share with you below!
1. Chipotle
There's nothing a Chipotle burrito can't fix. It's almost like a staple treat everyone should have once in a while. The best thing about Chipotle is that there are tons of options fit for any diet regime.
The burrito bowl is one of the best choices you can have. It's basically the burrito ingredients minus the tortilla wrap! For an extra crunch, try their Crispy Corn Tortilla that's also gluten-free!
If you're looking for something healthier with less carbs, try their salad drenched in Chipotle's Honey Vinaigrette.
2. Which Wich
Which Wich gives sandwiches an exciting twist by allowing customers to personalize their own. Gluten-sensitive diners can enjoy the lettuce wraps and other tasty bowls dubbed as "Bowlwich"
There are loads of flavors you can choose from Turkey, Corned Beef, Ham, Roast Beef, Chicken, Avocado, and Tuna Salad. It even gets better knowing that most of their ingredients are naturally gluten-free!
3. TGI Fridays
TGI Fridays' menu can surely be very tempting. Luckily, some of the best dishes are also suited for gluten-sensitive people!
The cheeseburgers on the menu are (thankfully) gluten-free as long as you ask for the zero-gluten buns! For the entreés, choose from the Sirloin, New York Strip, Sizzling Chicken & Shrimp, Chicken & Cheese, or Grilled Salmon.
There's also a diverse selection of salads at TGI Fridays like the Million Dollar Cob, Grilled Chicken Pecan & Blue Cheese, or Caesar Salad. Some of the available dressings are gluten-free, too!
4. Burgerville
Burgerville has something for you at any hour: salads, sides, shakes, sundaes, and burgers. You name it.
Although Burgerville doesn't claim that their burgers are entirely gluten-free, you can ask for gluten-free buns instead of regular buns. You can also enjoy a neat range of salads if you're out for a nutritious option.
Did we mention that there's also something for your sweet tooth?
All of their shakes should be gluten-free, except the Mint & Oreo Cookies. Forgo the caramel sauce when going for a sundae.