Who doesn't love a nice, glazed donut at Krispy Kreme? It's one of the best places to try for anyone with a sweet tooth! You have lusciously glazed donuts with a selection of delicious, crafted coffee on the menu.
Even so, is there anything gluten-free at Krispy Kreme?
Here's the sad truth: none of the donuts are gluten-free. Their donuts are made with wheat flour which, of course, is off-limits for anyone with gluten sensitivity or celiac disease. Let's just hope Krispy Kreme tries other wheat-free flours soon.
But that doesn't mean you can't enjoy Krispy Kreme, though. There are still lots of beverages that you can have, such as Iced Coffee, Vanilla Latte, or a Chiller.
You might think that cross-contamination could less likely happen since you can only have gluten-free drinks. Sure, but Krispy Kreme's nature as a donut place doesn't entirely eliminate the risk of cross-contamination.
For instance, your server might use the same gloves when handling donuts and drinks.
To ensure your safety, alert them of your condition beforehand or try another place that can better accommodate your needs (with more gluten-free choices!)
Read on to know the best gluten-free drinks in store for you at Krispy Kreme.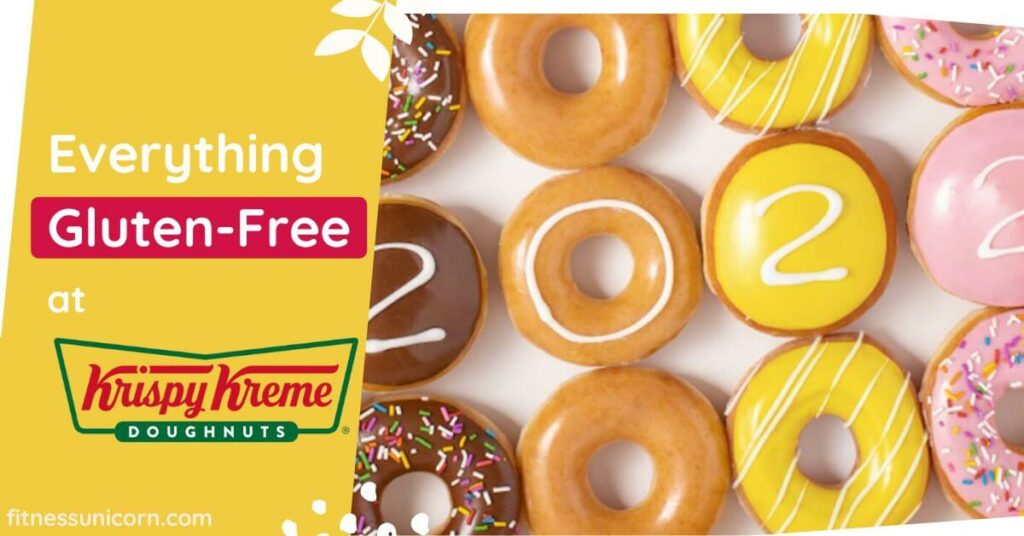 This post may contain affiliate links, which help keep this content free. (Full disclosure)
Krispy Kreme Gluten-Free Options
After buying a secret yeast-raised donut recipe from a New-Orleans French chef, founder Vernon Rudolph established the first Krispy Kreme in Winston-Salem, North Carolina.
Customers by the sidewalk couldn't resist the scent of his donuts, so Vernon cut a hole through the building's wall and sold doughnuts directly to passersby.
Rudolph soon thought of building Krispy Kreme's own donut-making machinery to automate the making process. He wanted a consistent taste of their doughnuts across different locations in the country.
Now recognized as a 20th-century American icon, Krispy Kreme continues to fulfill its legacy of serving deliciously innovative donuts to the USA… and worldwide!
Although there aren't any gluten-free donuts, there are still loads of coffee options for you.
Note: This information is from Krispy Kreme's online Nutritional and Allergen info.
Hot
Bold 1937 Brewed Coffee
Original Glazed Coffee
Classic Brewed Coffee
Classic Decaf Brewed Coffee
Cappuccino
Caramel Latte
Ghirardelli Hot Chocolate
Iced Hazelnut Latte
Iced Latte
Latte
Hazelnut
Caramel Mocha
Iced Caramel
Iced Vanilla
Frozen Vanilla
Frozen Original Glazed
Frozen Caramel
Iced
Iced Caramel Mocha
Iced Mocha
Chocolate Iced Coffee
Caramel Iced Coffee
Iced Coffe
Original Glazed Iced Coffee
Iced Hazelnut Coffee
Vanilla Iced Coffee
Frozen Mocha
Chiller
K-Cups and Ground Coffee
Krispy Kreme Classic Decaf K-Cup
Krispy Kreme Classic K-Cup
Classic Ground Coffee
Bold 1937 Ground Coffee
Classic Decaf Ground Coffee
ALSO READ: Is there anything gluten-free at In-N-Out?
Tips For A Gluten-Free Meal at Krispy Kreme
"Donut" Risk It
(Excuse the pun)
It's a pity that Krispy Kreme doesn't seem to have a plan for gluten-free donuts. For now, endure looking at the donuts on the counter while you order a coffee instead. Sigh.
…but it can be tempting. We know. Who doesn't want one of their glazed donuts, right? However, you shouldn't think of risking your health either.
Remember that their donuts are processed with wheat flour, so any trace of gluten in your system could cause an unwanted reaction.
We don't want that!
And you have to stick with coffee only… for now. That sucks.
Heads up, though. This doesn't eliminate cross-contamination from the picture. Considering Krispy Kreme's nature as a donut place where wheat-rich donuts are sold, your coffee still has the chance of getting into contact with gluten-containing items.
Communicate With The Staff
Try to talk to your server about your condition before ordering. If you can, ask the staff to change their gloves before prepping your drink to ease your worries.
Opt For Another Place
Krispy Kreme isn't the best place for gluten-intolerant diners to get a filling meal. So, if you fancy something hearty or sweet for brunch, find another place that can accommodate your needs.
The best compromise you can make with Krispy Kreme is a cup of coffee… unfortunately.
While they take necessary precautions to minimize the risk of cross-contamination, Krispy Kreme cannot ensure their products' safety for people with allergies to wheat. (Note that this information is sourced from their website) 
FIND MORE: Gluten-free menu items at Ruby Tuesday
Cross Contamination Risk
You go to a restaurant, scan the menu, and see a few gluten-free items for you. Great! Now you get to enjoy something, at least.
…then you get an unwanted reaction. Yup, you got 'glutened' But, that was a gluten-free meal, right?
In this case, your food probably got cross-contaminated with a gluten-containing product.
Cross-contamination happens when gluten-free food comes into contact with gluten grains such as wheat, barley, or rye. It occurs through direct or indirect contact.
Let's say your server handled donuts (processed with wheat) before preparing your coffee. There's a chance that even the smallest trace of gluten could get into your coffee if unsafe protocols are in place.
Why is this bad? Well, if you're a celiac, you would know that the slightest touch of gluten in your system can cause a horrible autoimmune response. Gluten intolerant diners can also get sick after eating gluten-contaminated food.
Most servers don't recognize the importance of very safe food preparation to avoid this problem. Their workplace must have zero traces of gluten before gluten-free food is prepared.
So, if you're eyeing to eat at Krispy Kreme, observe needed precautions before ordering a drink. It's better to inform your server of your condition before ordering to minimize or eliminate the risk of cross-contamination.
Or you can go somewhere else with safer, gluten-free options since Krispy Kreme doesn't guarantee the safety of its products for people with wheat allergies.
Let's look at how Krispy Kreme accommodates gluten-free visitors.
What People Are Saying
Gluten intolerant visitors are dying to see Krispy Kreme offer gluten-free donuts. If you visit some of their pages, some users even question why Krispy Kreme won't try gluten-free flour for a special selection of donuts for them.
Krispy Kreme responds that the plan's not yet in sight. But they'll continue monitoring the demand for gluten-free donuts and see "what the future may bring" for them. Ouch.
One celiac user commented that having celiac disease "isn't by choice," and it's disappointing how they couldn't taste their favorite glazed donuts. Other users seemed to agree.
Another celiac user said that if Krispy Kreme can make vegan donuts (for the UK), why couldn't they also try making gluten-free donuts?
Krispy Kreme (again) responds that they may change their range soon depending on the demand.
Other celiac users have completely crossed out Krispy Kreme from their list since almost nothing on the menu fits them. One celiac user mentions that they don't think it's worth the risk, considering the possibility of cross-contamination.
Stick with us for more deets about the best gluten-free alternative places you can go to (if you're not in the mood for a Krispy Kreme coffee).
Gluten-Free Alternatives to Krispy Kreme
We understand the heartbreak you're possibly feeling right now. It's kinda out of this world that Krispy Kreme still hasn't considered offering gluten-free options in 2022!
But hey! It's definitely not the end of the world for our gluten intolerant, donut lovers out there. We'll share some alternatives you can consider for a gluten-free treat. Let's get into it.
Dunkin Donuts
Dunkin Donuts is one of Krispy Kreme's strongest competitors in the industry. More gluten-free options are also available for you to enjoy.
You can have Snacking Bacon, Bacon & Cheddar, and Egg White & Veggie Omelet Bites for breakfast. The hash browns are also naturally gluten-free since they're made of potatoes.
You can also get the Oatmeal since they use whole grain. It's topped with raisins, making it a perfect healthy snack on the go.
All drinks are gluten-free! Coffee (hot or iced), tea, frozen drinks, latte, Dunkin' refreshers… everything has zero gluten.
Starbucks
Ordering at Starbucks can be pretty complicated. That's true. Actually, they have great options for gluten sensitive diners.
Different locations have varying gluten-free snacks. To give you an idea, some of them are the GF Chocolate Brownie, Egg Bites, GF Breakfast Sandwich, and a Marshmallow Dream Bar.
There are also lots of gluten-free drinks. Keep an eye on the caramel drizzle or syrup since it may contain wheat.
The Java Chip Frappe should be off-limits, too. Instead, you can try other drinks like Caffe Latte, Cappuccino, White Mocha, Hazelnut Macchiato, Iced Coffee, and refreshers.
Visit their website for more information about the items' allergen information or talk to the staff before ordering to know your best options.
Fonuts
Yup, it sounds like donuts. Except that it's a "faux donut," as a Fonut is defined. Always baked, never fried.
Fonuts is an outstanding choice for anyone with gluten intolerance. After all, it prides itself as the "home of the enlightened donut."
It started after the owner saw the challenge of finding gluten-free treats for gluten intolerant people like her.
The donuts are all-natural, 100% gluten-free.
Flavors include Olive Oil Raspberry, Peanut Butter Chocolate, Blueberry Earl Grey, Strawberry Shortcake, Black & White, Banana Chocolate, Churro, Vanilla Latte, Vanilla, Double Chocolate, Lemon, Chocolate Chip Cookie, and Dark Maple.
All of these contain almond flour.
Most gluten sensitive visitors were super satisfied. They were all happy to (finally) try a gluten-free donut without being too anxious since the place was a dedicated gluten-free facility.
WildFlour Bakery and Café
You're missing out a lot if you haven't tried WildFlour's gluten-free kitchen. You can also try one of their gluten-free cakes for a special occasion!
Thanks to their GF flour blends, their uniquely crafted gluten-free food made with the freshest ingredients guarantees customers to come back every time!
Some gluten-free bread options you can choose from include Sandwich Loaf, Pumpernickel, Flatbread, or Baguette. Have some Scones, Danish, Apple Turnover, Energy Bars, or Sticky Pecan Buns for pastries.
There are also GF cookies such as Biscotti, Oatmeal Raisin, Butter Pecan, Nutella Pinwheels, Russian Tea, and more.
You can also get a special-order cake for any special event. One celiac visitor had a gluten-free Oreo cake for their birthday. Visitors also love WildFlour's chocolate cake!
The Cheesecake Factory
If you're searching for something more filling, this alternative is for you. The Cheesecake Factory has an inclusive menu with various options, even for gluten-intolerant diners.
Try the California Omelet or Spinach, Mushroom, Bacon & Cheese Omelet if you're going for brunch.
The place is also ideal for a hearty meal. For starters, get appetizers like the Fire-Roasted Fresh Artichoke or Sweet Corn Tamale Cake.
You can order entrees such as Lunch Shepherd's Pie, Grilled Rib-Eye Steak, Steak Diane, Filet Mignon, or Chargrilled New York Steak. Many gluten-free sides can be paired with your lunch.
Looking for a snack? Try their Sweet Potato Fries and Beet & Avocado Salad.