I love Halal Guys for two simple reasons: their juicy marinated chicken and the secret white sauce! If you want a lip-smacking meal that is also light on your pocket, this is the ultimate stop.
The word Halal refers to a specific way of butchering meat in the Islamic religion. Thanks to Halal Guys, we now associate it with delicious street meat platters containing chicken, gyro meat, and rice.
With such a limited menu, is there anything to eat keto at Halal Guys?
The short answer is yes. You must eliminate rice and pita bread from your platters to make them keto-friendly. Just stick to meat and veggies and go easy on the dressings. Baba Ganough is also a great option that has less than 4g net carbs per serving
Craving some street meat on the low-carb diet? In this article, we'll explore all the keto-friendly options available at Halal Guys.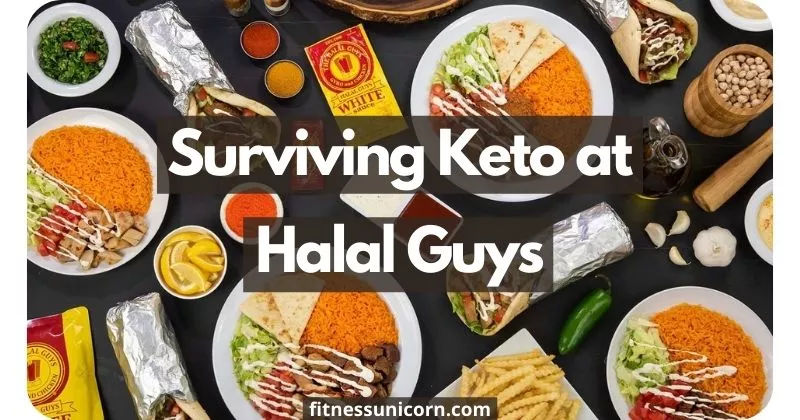 Tired of searching whether certain foods are keto? Download my keto cheat sheet with 210+ keto-friendly foods!
This post may contain affiliate links, which help keep this content free. (Full disclosure)
An OVERVIEW of the Menu
At those times of peak hunger during lunch, Halal Guys' platter is the ultimate savior! It's made with 5 key ingredients that combine into a perfect meal.
The platter starts out with golden Basmati rice at the bottom and contains your chosen topping (chicken, gyro, or falafel). Then comes in the rice and veggies (tomatoes, onions, lettuce, and peppers). Finally, the platter is topped with a few slices of pita that is infused with the meaty flavor.
Wait.. don't forget those epic dressings! The secret white sauce is what we all crave! Pairing it with the fiery red hot sauce makes it completely irresistible (I'm already drooling!)
Their red sauce has a Scoville rating of over 100,000 which means that it is 40 times hotter than Tobasco! Who's up for a spicy challenge?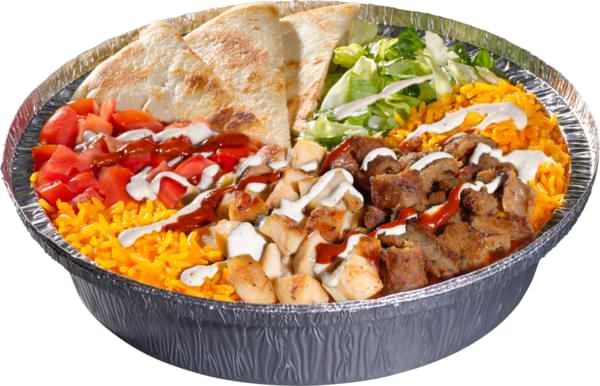 Did you know? Halal Guys cook their rice for 45 minutes to reach the ideal texture. It's prepared in batches of 40 pounds each which caters to 60-70 combo platters.
Now if you think this is too much work, hear me out about their chicken! They keep it marinated for at least 12 hours so that all the flavors soak in perfectly. The marinade contains herbs, lemon, olive oil, salt, and pepper (which is super keto-friendly!)
One can choose from their wraps or platters, both of which have almost the same ingredients. But if you are on the keto diet, wraps are completely off-limits because of their high carb count.
How to Eat Keto at Halal Guys
The best keto strategy at Halal Guys is to order your platters without rice and pita bread. Double the meat and lettuce for a more filling meal and use their white sauce in moderation.
Meat and veggies are a staple on the keto diet, and Halal Guys have plenty to offer!
We all know that chicken and beef are 100% keto-friendly meat options (zero-carbs!). But did you know that their gyro meat is also extremely low-carb? According to Nutritionix, gyro meat has 0.4g net carbs per oz (28g).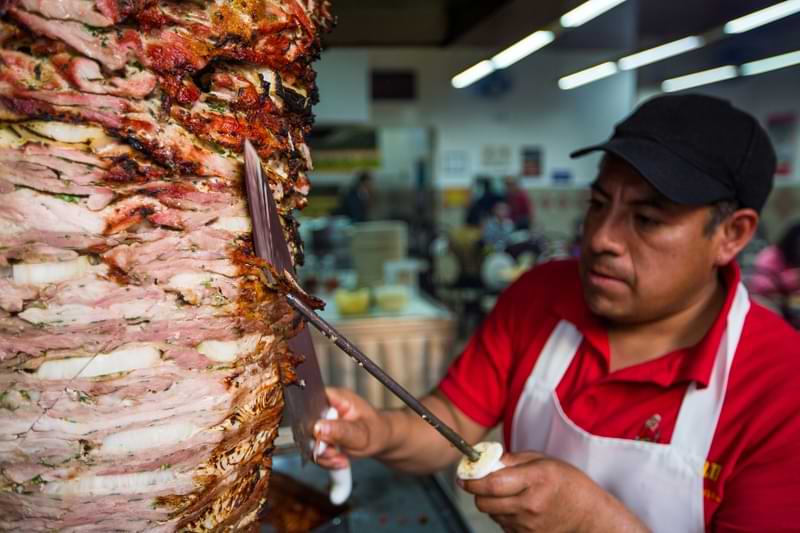 Halal Guys have not shared the exact number of carbs in their gyro. But we can safely assume that it is as per the general norms. After all, the gyro is simply made from beef, salt, herb, and spices.
Baba Ghanoush is another delicious keto savior at Halal Guys! It is essentially a keto substitute for hummus that is made using Eggplant instead of chickpeas.
Its ingredients include eggplant, tahini, olive oil, lemon juice, garlic, and salt. Each serving of 6 oz Baba Ghanoush contains just 4g net carbs. You can use it as a spread or a side dish with your keto-friendly meal at Halal Guys.
One of the reasons I love Halal Guys is their ease of customization. Even though they have a pre-set menu, they are quite open to changes and will happily comply with your requests.
For toppings, you can add green peppers, onions, olives, and jalapenos. When in doubt, simply double down on lettuce for a more filling meal without the extra carbs.
Here's what you must AVOID when ordering Keto at Halal Guys:
Rice
Hummus (primarily made with chickpeas, which are insanely high in carbs)
Pita (soft warm bread made using flour)
Desserts
Cookies
Fries
Related: Pita Pit Keto-Friendly Options
Is Halal Guys White Sauce Keto-Friendly?
Let's address the elephant in the room: The secret white sauce without which every meal at Halal Guys feels incomplete!
Chefs across the country have tried recreating this recipe using the ingredients mentioned on the to-go packets. And guess what? The dip came out nothing like the original version.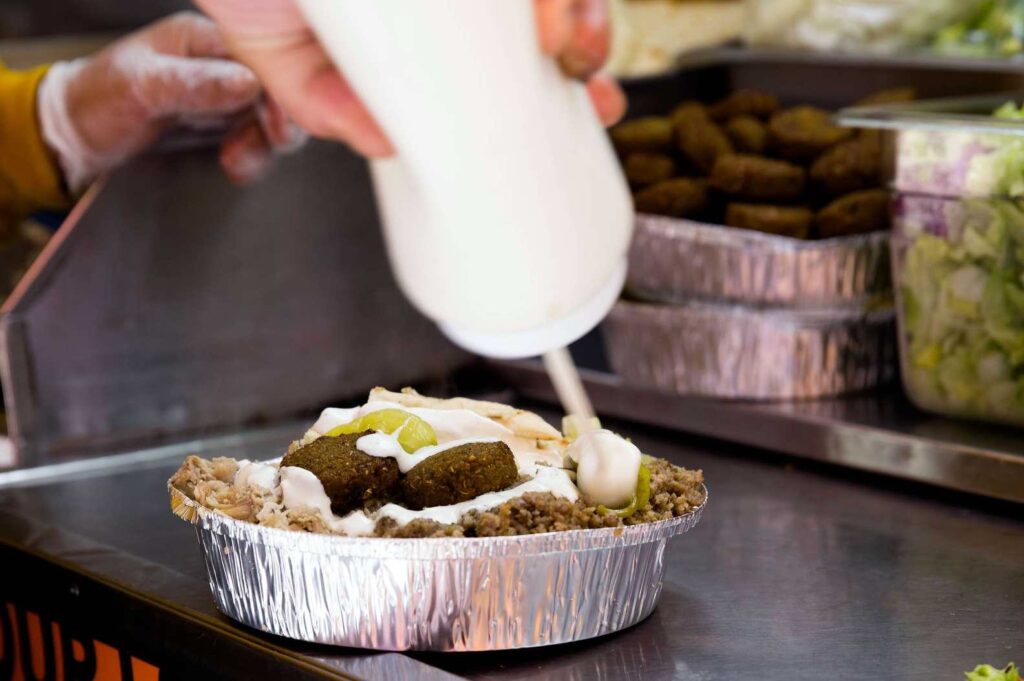 But can you have the white sauce on keto?
Halal Guys' white sauce is keto-friendly only in moderation. Each 1 oz serving contains 1g of net carbs.
It means you can enjoy the sauce as a topping as long as your dish isn't drowned in it (which is hard to resist, right?)
The three founders – Mohamed Abouelenein, Ahmed Elsaka, and Abdelbaset Elsayed invented this creamy white sauce in 1990 when they started out with Halal Guys. It wasn't long after the launch when tons of Muslim cab drivers started relying on these carts for their mid-day cravings.
While most of their recipes have been inspired by Egyptian and Mediterranian cuisine, there is still no explanation for the famous white sauce.
You'll be amazed to know that they have kept the recipe unchanged for the last 28 years! In fact, a spokesperson from Halal Guys said that they are in the business only because of the secret white sauce.
And I wouldn't doubt them one bit!
I have tried the so-called "white sauce" from various rival carts and most of them taste like watered down mayo at best.
The guys at Thrillist came out with their copycat white sauce recipe which is the closest that I've tasted (definitely worth a try!)
Halal Guys Low-Carb Guide
Here you'll find the exact number of net carbs in each menu item at Halal Guys. This data comes really handy whether you are on keto or simply cutting down carbs for health benefits.
Platters
| | |
| --- | --- |
| Regular Chicken | 77 |
| Small Chicken | 60 |
| Regular Beef Gyro | 111 |
| Small Beef Gyro | 82 |
| Regular Combo | 94 |
| Small Combo | 72 |
| Regular Falafel | 117 |
| Small Falafel | 108 |
| Regular Chicken/Falafel | 95 |
| Small Chicken/Falafel | 75 |
| Regular Beef Gyro/Falafel | 112 |
| Small Beef Gyro/Falafel | 86 |
Sandwiches
| | |
| --- | --- |
| Chicken Sandwich | 45 |
| Beef Gyro Sandwich | 67 |
| Combo Sandwich | 56 |
| Falafel Sandwich | 68 |
| Chicken/Falafel Sandwich | 61 |
| Beef Gyro/Falafel Sandwich | 72 |
Sides
| | |
| --- | --- |
| Hummus | 87 |
| Baba Ghanoush | 4 |
| Falafel (Per 2 Pieces) | 17 |
| French Fries | 109 |
| Pita (Whole Loaf) | 40 |
Toppings
| | |
| --- | --- |
| Green Peppers | 0 |
| Onions | 1 |
| Olives | 0 |
| Jalapenos | 0 |
Sauces
| | |
| --- | --- |
| Tahini | 0 |
| White Sauce Packet | 2 |
| White Sauce Pouch | 1 |
| Hot Sauce | 0 |
| BBQ Sauce | 3 |
Desserts
| | |
| --- | --- |
| Baklava | 28 |
| Chocolate Chip Cookies | 50 |
| Chocolate Chip Brownies | 60 |
Note: The above data is based on the official nutritional guidelines released by the company.
In Summary: Keto at Halal Guys
Here's how you can survive keto at Halal Guys:
Keep your distance from rice and pita bread
Avoid the falafel and stick to gyro beef or chicken.
Add more peppers, jalapenos, and olives to increase your portion size.
Baba Ghanoush is an excellent hummus alternative.
When it comes to beverages, stick to water, unsweet tea, and diet coke.