There is always something to please the taste buds at this Japanese restaurant, no matter what your craving may be. All your favorites are on the list, from beef to seafood to chicken to delicious lunch options.
The food choices at Yoshinoya are so diverse, and it's perfect for vegans, paleo dieters, and keto fans alike.
So what's keto-friendly at Yoshinoya?
There is a fairly substantial list of low-carb options offered by Yoshinoya here, as well as options that fall under the keto diet. Among the many choices are Grilled Tilapia, Grilled Teriyaki Chicken, Clam Chowders, etc.
At this restaurant, you can almost have anything you want if you abide by the keto rules which are no rice, no bread, little sauce, and no desserts.
It is always a risk to eat out, especially when there are many choices available at restaurants such as Yoshinoya. You can lose your hard-earned ketosis if you make a simple mistake in your food combination!
Our goal is to help you in that situation. Whatever you want, we will teach you how to survive keto at Yoshinoya, whether you crave authentic fish or chicken.
As an added bonus, we'll explain some common keto mistakes you should stay away from.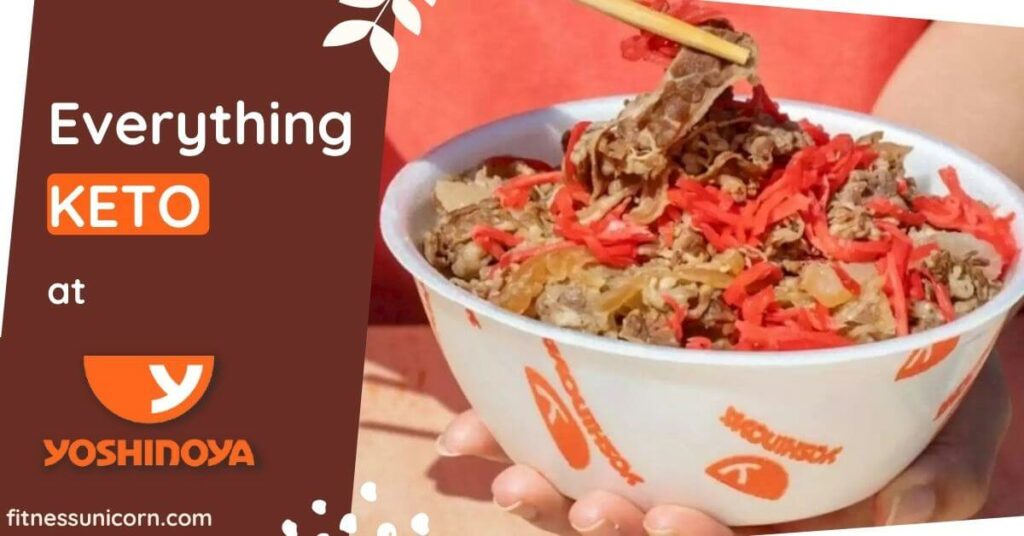 Tired of searching whether certain foods are keto? Download my keto cheat sheet with 210+ keto-friendly foods!
This post may contain affiliate links, which help keep this content free. (Full disclosure)
How to Survive Keto at Yoshinoya
Located in Asia and the US and a rapidly expanding Japanese fast-food chain, Yoshinoya serves Gyudon, a beef bowl, at more than thousands of outlets across the world.
Its motto encapsulates its value concept devoted to delivering quality food at low prices.
One of its most famous products is Yoshinoya's seasoned sliced beef cooked in Yoshinoya's salted, special broth and served along with fragrant rice.
Today, Yoshinoya serves approximately 500,000 delicious bowls each day in over 100 branches located throughout the world. Is this place keto-friendly despite this impressive number?
On the official nutrition menu, Yoshinoya offers a handful of keto options to choose from, depending on how much carbohydrate allowance a person has left.
Our recommendation for appetizers is a familiar Asian dish called "clam chowder," which has 5g of total carbohydrates. Yoshinoya serves the entree beef bowl with fluffy rice as part of the meal.
Rice is a high carbohydrate food, so if you are a keto eater, it is advisable to avoid it as much as possible.
There are a variety of other options, including Grilled Tilapia, Original Beef, and Grilled Habenero Chicken, containing 1g, 8g, and 11g of carbohydrates respectively.
So you don't have to worry about knocking yourself out of ketosis when eating these dishes because they are low in carbs.
You can opt to get the Teriyaki Chicken, which has 11g of carbohydrate total, These dishes are suitable for the keto lifestyle because they are not only low in carbs but high in protein and fat.
When it comes to veggies, Mixed veggies are the best choice. It has only 7g, making it the least carbohydrate-dense of all the veggie options.
With that being said, let's take a look at all the keto-friendly options we have at Yoshinoya.
Keto and Low-Carb Options at Yoshinoya
1. Clam Chowders
Calories: 180kcal
Total Fats: 12g
Net Carbs: 5g
Protein: 3g
Cholesterol: 0mg
Sodium: 440mg
READ MORE: Perkins Low Carb Options
2. Original Beef
Calories: 310kcal
Total Fats: 10g
Net Carbs: 8g
Protein: 21g
Cholesterol: 80mg
Sodium: 1000mg
3. Grilled Habenero Chicken
Calories: 290kcal
Total Fats: 11g
Net Carbs: 18g
Protein: 28g
Cholesterol: 145mg
Sodium: 820mg
4. Grilled Teriyaki Chicken
Calories: 250kcal
Total Fats: 9g
Net Carbs: 11g
Protein: 30g
Cholesterol: 0mg
Sodium: 50mg
5. Grilled Tilapia
Calories: 310kcal
Total Fats: 27g
Net Carbs: 1g
Protein: 18g
Cholesterol: 61mg
Sodium: 573mg
FIND MORE: Everything Keto at Chuy's
Keto-Friendly Veggies at Yoshinoya
1. Coleslaw
Calories: 70kcal
Total Fats: 3g
Net Carbs: 11g
Protein: 2g
Cholesterol: 0mg
Sodium: 170mg
2. Mixed Veggies
Calories: 40kcal
Total Fats: 0g
Net Carbs: 7g
Protein: 2g
Cholesterol: 0mg
Sodium: 260mg
Keto-Friendly Drinks at Yoshinoyas
Aquafina Bottled Water
Diet Pepsi (Bottle)
Diet Pepsi Regular
Diet Pepsi Large
Unfortunately, Yoshinoyas does not provide a wide selection of low-carb drinks for keto dieters.
ALSO READ: Low-Carb options at Taco Buena
Keto Tips for Yoshinoya
Avoid eating rice, spring rolls, and gravy. These dishes tend to contain a lot of carbohydrates. They can easily cause your carb count to increase, as well as kick you out of ketosis quickly.
Prefer the meat section of the menu. Of all the dinner options, this one has the least amount of carbs in it. Of course, if you consume them with high-carb side dishes, it will raise your total carbs.
Load your glass with water and add more greens to your plate. That way, you'll feel fuller without consuming any additional carbohydrates.
On their website, you can find nutritional information. A chart is provided with information regarding nutrition facts as well as possible food allergens in each dish. By reading through the chart, those who suffer from allergies will be able to avoid dishes containing allergenic ingredients in their food.
There are a lot of sugar-laden desserts, along with drinks and tea, on the menu, as well as the side add-on section of the menu. You should either avoid them or don't consume any carbs for the remainder of the day after that.
Control your portion size. We recommend either ordering fewer high-carb foods or distributing them over several meals throughout the day. This way, you are not going to eat as much and will consume fewer carbohydrates around the clock.
Can you have drinks on keto?
The answer is a resounding "no." There is often a considerable amount of sugar in drinks, and just a sip may contain more sugar than a whole ketogenic meal.
Nevertheless, you may enjoy drinking water, unsweetened drinks, and diet cokes as it contains no sugar. This is probably something you already knew, but we thought we would put your mind at ease.
Can you eat rice on Keto?
Rice does not fit into the keto diet, so we do not recommend it. Because of the strict reduction in the ketogenic diet's net carb intake to 20 grams on average per day, rice contains too many carbs for it to qualify as keto-friendly.
How do you succeed at Keto?
There are some people who can't maintain a ketogenic diet for the long run. Nonetheless, it'll take a few weeks for you to see the results, which can sometimes be an unpleasant experience for your taste buds.
Unless you are capable of controlling your tongue, you may end up binging on carb-rich food and knock yourself out of ketosis!
Conclusion
There are not that many options for keto-friendly foods at Yoshinoya although the food is tasty. We have shared a decent amount of keto-friendly dishes and drinks found appropriate for you while on a ketogenic diet.
If you cannot cook your meals from scratch at home, make sure they are prepared in advance.
Get a head start on the week by making a few meals in advance and storing them in the fridge. Having your meals prepared helps you save time and avoid eating bad stuff.
Occasionally it is okay if one indulges in a bit of a splurge, so long as one does not exhaust their daily carb limit. It's important to give yourself some grace while getting back on track as soon as possible.
You can order low-carb easily at this restaurant if you follow the tips shared in this article!