A hot summer day calls for a cup of refreshing yogurt! And Yogurtland offers a wide range of exotic options. But what's keto-friendly at Yogurtland?
We love Yogurtland for its famous self-serve format. You can choose from over 46 different flavors and pick your own toppings. The best part is that you only pay for what you want!
So if you are on a specific diet like keto, you get the most bang for your buck!
Surviving keto at Yogurtland is all about portion control. A 2-oz serving contains 14g carbs on average, which is pretty manageable on a 20g daily budget. But anything over and above this would be overkill.
Read on for the best keto strategies to follow at Yogurtland. You'll also find a detailed list of flavors along with their carb count.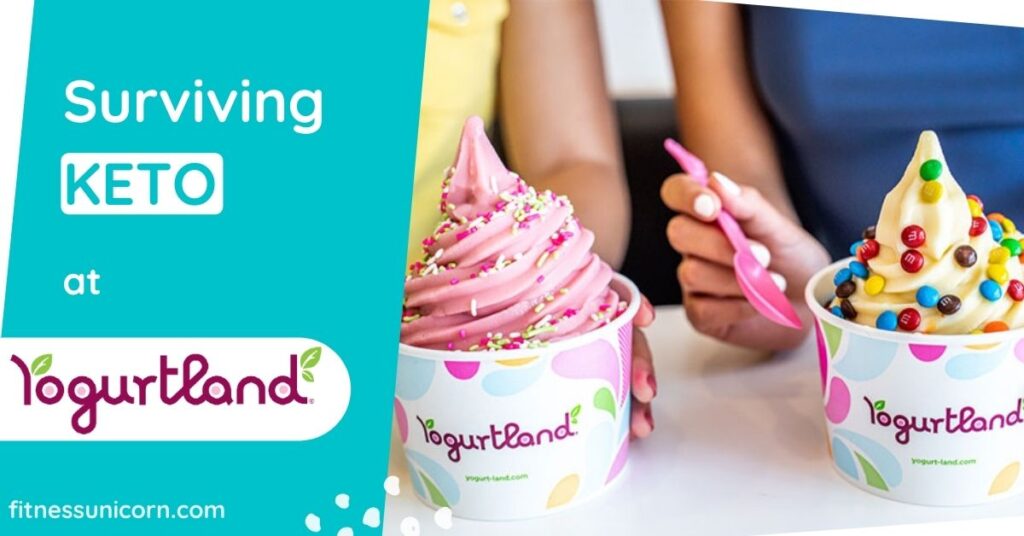 Tired of searching whether certain foods are keto? Download my keto cheat sheet with 210+ keto-friendly foods!
This post may contain affiliate links, which help keep this content free. (Full disclosure)
Can You Have Frozen Yogurt on Keto?
Frozen yogurt is a healthier alternative to ice cream because it's lower in fat and calories. So those on a low-calorie diet can really benefit from this swap.
But from a keto point of view, frozen yogurt is the same as Icecream – made with milk and a lot of sugar.
Yogurt making requires milk, sugar, and yogurt cultures that give birth to sweet and tangy ice cream. But its benefits go far beyond the taste as it also supports your gut health.
Most types of frozen yogurt contain live bacteria cultures (probiotics) that boost your digestion and overall well-being. According to Ayurveda, the majority of diseases stem from your gut. And hence, regular consumption of probiotics will ultimately boost your health.
But since keto thrives on fat, low-fat yogurt isn't ideal. Instead, you should look for sugar-free yogurt that has a decent amount of fat.
Here are some nutrition stats for a 100g serving of Frozen Yogurt:
Calories: 160
Fat: 6 grams
Carbs: 24 grams
Fiber: 0
Sugar: 24 grams
Protein: 4 grams
As you can see, even a 100g serving can throw you out of ketosis with 24g of sugar. So your best weapon is "portion control". Think of Yogurt as a small dessert candy, instead of a whole tub of ice cream.
Toppings are another big thing with frozen yogurt. Every store has a huge range of these mix-ins that act as a "cherry on the cake". But a smart keto-er would stick to low-carb options like nuts, peanut butter, or dark chocolate shavings.
Now let's talk about ordering keto at Yogurtland. It's one of the largest frozen yogurt chains in America serving over 46 different flavors!
RECOMMENDED: Dickey's Barbecue Pit Keto-friendly options
How to Survive Keto at Yogurtland?
If you are on the keto diet, your daily carb limit revolves around 20g of carbs. Compare it to an average American who consumes a whopping 250g of carbs on average.
But you can still accommodate a 1-2 oz serving of Yogurtland even on a tiny carb allowance (7-14g carbs).
It all comes down to managing your macros – fats, carbs, and protein. These are the three pillars that describe any diet.
Here's how the keto pyramid looks like: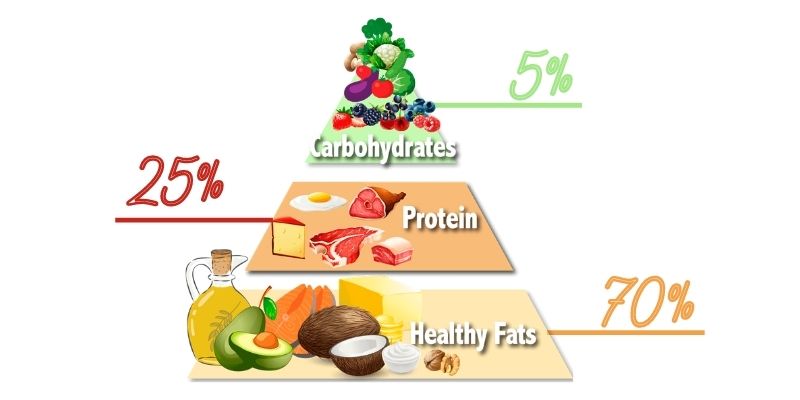 For an average 2,000 calorie keto diet, this amounts to 150g of fats, 25g carbs, and 125g of protein.
If you can have an oz of yogurt and still reach your macro goals by the day's end, you're good!
However, since yogurt is all carbs and no fats, you'll have to compensate with some fat bombs during the day. A fat bomb is a very high-fat and extremely low-carb meal that helps reach your fat goals for the day!
A simple Google search for "keto fat bombs" will give you thousands of easy ideas.
The most common fat-bomb ingredients include:
Butter
Coconut oil
Cream cheese
Swerve sweetener
Lily's chocolate chips
Almond flour
Cocoa powder
The idea is to cushion your Yogurtland treat with some really high-fat meals so that your overall macros remain the same.
In the next section, you'll find a detailed carb count for each flavor at Yogurtland.
But first, let's talk about those tempting toppings & mix-ins!
After you've poured your favorite yogurt into the cup, you may want to proceed towards the toppings bar. But sadly, they add a lot more carbs than you can afford on keto.
And unlike their frozen yogurt, there's no nutritional data available for the toppings. If you are really craving something, the most logical options are peanut butter, dark chocolate, or nuts (like almonds).
Note: Some branches have their own unique toppings and you might be lucky to grab a sugar-free one!
RELATED: Sweet Frog's Keto-Friendly Options
Yogurtland Keto & Carb Guide
Here's the carb count for each flavor available at Yogurtland (per 1 wt. oz.) (Source):
Alphonso Mango Tart: 7
Banana Toffee Pie: 7
Birthday Cupcake Batter: 7
Blueberry Tart: 6
Caramel Almond Bar: 7
Cheesecake: 7
Chili Mango Sorbet: 7
Chocolate Covered Blueberry Sorbet: 7
Chocolate Malt Ball Ice Cream Made With Whoppers ®: 8
Chocolate Twilight NSA: 6
Churro: 7
Classic Cookies and Cream: 7
Cranberry Raspberry Tart: 6
Creamy Vanilla Ice Cream: 7
Dulce De Leche: 7
Dutch Chocolate: 8
Eggnog: 7
French Vanilla NSA: 6
Fresh Strawberry: 7
Frosted Cookie: 7
Cold Brrrrew Coffee Frappe: 5
Iced Coffee NSA: 6
Juicy Peach Tart: 6
Madagascar Vanilla Bean: 7
Oreo® Cookies and Crème Ice Cream: 8
Peanut Butter: 7
Peanut Butter Marshmallow Squares NSA: 6
Peanut Butter Parfait NSA: 6
Pecans & Pralines NSA: 6
Pineapple Sorbet: 7
Pistachio: 7
Pistachio Almond NSA: 6
Plain Tart: 6
Pumpkin Pie: 7
Red Velvet Cupcake Batter: 8
Rich Chocolate Ice Cream: 7
Rocket Pop Sorbet: 7
Root Beer Float: 7
Salted Caramel Pecan: 7
Strawberry Lemonade Sorbet: 7
Sumatra Coffee Blend: 7
Toasted Coconut: 7
Classic Vanilla Milkshake: 7
Watermelon Sorbet: 7
White Chocolate Raspberry: 8
Yo Frappe NSA: 6
FAQs
Does Yogurtland Have Sugarfree?
Yogurtland has plenty of sugar-free options named NSA (No sugar added).
Does Yogurtland Yogurt have Sugar?
Yogurtland uses Allulose in the majority of its flavors. It's a natural alternative to sugar with fewer calories.
Is Yogurtland Sugarfree Keto?
No, even though Yogurtland has sugar-free options, they are not very keto-friendly because they still have a lot of carbs from dairy.
READ NEXT: