Mellow Mushroom started over four decades ago with only one mission – to serve flavorsome food in a fun, creative, and relaxing environment.
Their goal is to elevate your dining experience with high-quality, fresh ingredients that go into making their famous pies.
They pride themselves on their locally sourced sustainable ingredients and recycled packaging to help create a better, greener Earth.
Today, Mellow Mushroom has over 200 locations across the USA serving the original hand-tossed classic southern pizza. It was established in 1974 by two college students who were heavily inspired by the hippie era of the 70s.
You can feel every bit of that influence in their excellent ambiance, interior, and music. Today, Mellow Mushroom has over 200 locations across the USA serving the original hand-tossed classic southern pizza.
Mellow Mushroom has an expansive menu comprising their famous pizza, wings, salads, hoagies, calzones, and a selection of beverages. If you follow a gluten-free diet, we've got amazing news for you!
Their menu boasts a variety of gluten-free options that will satisfy your pizza cravings without putting your health on the line.
So what's Gluten-Free at Mellow Mushroom?
If your gluten allergies are stopping you from satisfying your pizza cravings, then Mellow Mushroom is the place for you. You can enjoy all of their amazing stone-baked pizzas because of the signature gluten-free crust they offer.
Mellow Mushroom has a separate where gluten-free station where all the gluten-free items are prepared. You can build your own pizza with all of your favorite toppings, cheese, and sauce, all certified free of gluten!
Other gluten-free options at Mellow Mushroom include indulgent appetizers, fresh salads, sides, and decadent desserts! This fantastic variety, coupled with the gluten-free pizza, makes for a spread that will satisfy all your cravings.
Mellow Mushroom has a dedicated gluten-free facility where all of their gluten-free crust is prepared; this significantly reduces the risk of cross-contamination.
They also have stringent protocols combined with a highly knowledgeable and hospitable staff to ensure all your needs are dealt with accordingly.
If you suffer from Celiac disease or extreme gluten sensitivity, know that you should always be careful even though Mellow Mushroom is doing everything it can to provide an amazing gluten-free experience!
This article is an in-depth analysis of Mellow Mushroom's extensive menu.
We're going to be filtering the best gluten-free options available and discuss some handy tips to enjoy a fulfilling gluten-free meal next time you visit Mellow Mushroom!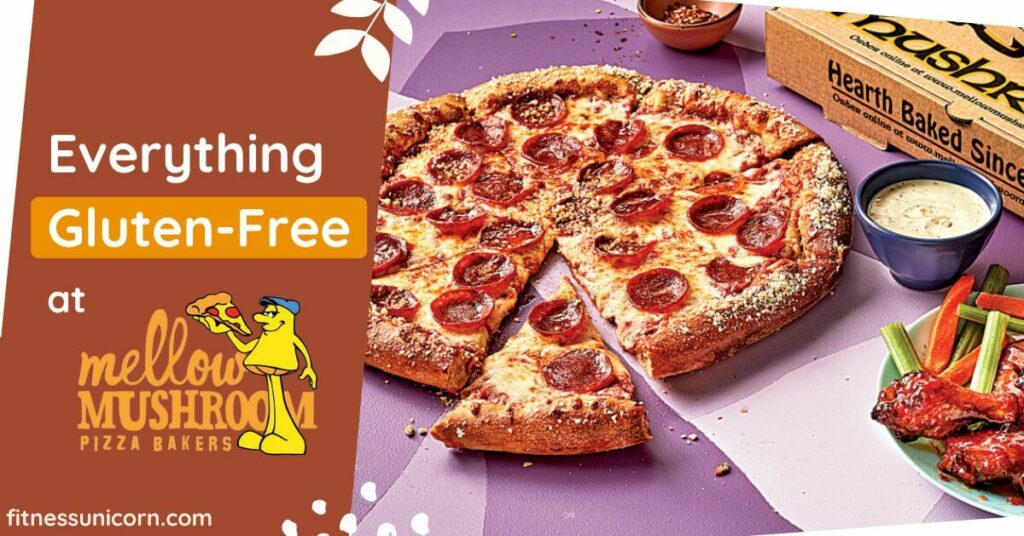 This post may contain affiliate links, which help keep this content free. (Full disclosure)
Gluten-Free Options at Mellow Mushroom
Mellow Mushroom takes pride in its top quality, fresh ingredients that are sourced from the best possible vendors. They have a detailed gluten-free menu and allergen menu on their website to make your life a lot easier while ordering.
We've listed down some of the amazing foods free of gluten after going through the gluten-free and allergen menu at Mellow Mushroom.
Gluten-Free Pizza
If you've been craving pizza but couldn't find a safe option, then this is the place for you! Mellow Mushroom has some of the best gluten-free crust out there.
Topped with high-quality toppings, cheese, and sauce, their pizza makes for a fantastic indulgent meal.
All of the flavors at Mellow Mushroom can be ordered with their 10" signature gluten-free crust. We're going to note some of the popular ones.
1. Gluten-Free House Special
The House Special is a fully loaded powerhouse of a pizza.
It starts with the signature gluten-free crust that is topped with Mellow red sauce, mozzarella, pepperoni, Italian sausage, ground beef, honey ham, bacon, black olives, mushrooms, Roma tomatoes, green peppers, sweet onions, and more cheese!
This mouth-watering masterpiece will hit all the right spots.
2. BYO Gluten-Free
BYO stands for Build Your Own. You can choose your favorite toppings from a wide selection of gluten-free items that will go on top of the signature gluten-free crust. Let your imagination run free!
3. Gluten-Free Mighty Meaty
The signature gluten-free crust is topped with Mellow red sauce, mozzarella, pepperoni, Italian sausage, honey ham, and apple-wood smoked bacon. This is perfect for all you meat-lovers out there.
4. Gluten-Free Kosmic Karma
If you're looking for a boujie pizza, the Kosmic Karma is for you. The signature gluten-free crust is topped with Mellow red sauce, spinach, roasted tomatoes, mozzarella, Roma tomatoes, and sheep's milk Feta cheese.
The pizza is drizzled with a pesto swirl before being served.
5. Gluten-Free Veg Out
This one is for all the vegetarians out there! The signature gluten-free crust is topped with Mellow red sauce, mozzarella, spinach, green peppers, mushrooms, sweet onions, black olives, and Roma tomatoes. 
RECOMMENDED: What's Gluten-free at Long John Silver's?
Munchies
Mellow Mushroom has some fantastic appetizers. These are not on their gluten-free menu, but they can be prepared with gluten-free protocols upon requesting the staff. Some of the most popular gluten-free munchies include;
Hummus with Veggies
Roasted Red Potatoes
Cloud 9 Wings
Oven Roasted Wings – Hot, Mild, BBQ, Jerk, or Sweet Thai Chilli
Greens
Mellow Mushroom has some delicious salads that you can pair with your decadent pizza. Make sure to ask the waiter to exclude the croutons from your salad to make it gluten-free.
The Elevated Cobb
Enlightened Sheep Salad
Greek Salad
House Salad
Caesar Salad (no croutons)
Chef's Salad
Sweets
You won't believe it but Mellow Mushroom has gluten-free brownies! Be sure to satisfy your sweet tooth after your scrumptious meal with these decadent brownies.
Magic Mocktails & Enchanted Teas
Mellow Mushroom has some unique gluten-free drinks that will quench your thirst without triggering any allergies.
Peach Ice Tea
Lemonteazer
Strawberry Lemon-Limeade
Mello Yellow
Fountain Drinks
ALSO READ: Is there anything gluten-free at Black Bear Dining?
Tips for a Gluten-Free Meals at Mellow Mushroom
Mellow Mushroom has a completely gluten-free and allergen menu that will help you order a meal that you can enjoy without risking your health. Here are a few tips that will further elevate your experience at Mellow Mushroom.
Know The Restaurant
Having some background knowledge about the restaurant you're about to visit is always paramount.
Knowing what kind of food they serve, whether they have an allergen menu or not, do they have strict cross-contamination protocols or not is extremely important when deciding where to dine.
Thankfully, Mellow Mushroom has a fantastic gluten-free menu and strict cross-contamination protocols to satisfy its customers.
Communicate your Concerns
You should always inform the wait staff and manager about your gluten sensitivity. This allows the manager to alert the kitchen staff and take necessary precautions for your safety.
The staff at Mellow Mushroom is extremely knowledgeable about gluten allergies. They will make sure all protocols are followed as per your need.
The waiters are attentive and friendly, and they will go out of their way to make you comfortable. You can also modify your orders according to your preference, just ask the wait staff for anything you need.
Personalize your Order
Even though Mellow Mushroom has outstanding cross-contamination protocols, you should always convey how you like your food prepared. This will reiterate the need for proper protocols, and the staff will practice extra vigilance.
Request the staff to prepare your meal following these steps;
Ask for a single cook to prepare your meal from start to finish to avoid any confusion or contamination
Ask for your meal to be prepared on a separate clean prep surface
Ask the kitchen staff to wear fresh gloves and use clean utensils while preparing your meal
Ask for ingredients to be used from a fresh batch to limit the risk of contamination
When In Doubt, Throw It Out
You have to be sure about the items you consume. Nothing is worth risking your health over. Hence, if you're doubtful about any ingredient or dish on the menu, it's better to avoid it altogether.
Avoid Rush
Restaurant staff can't give you the same attention during rush hours as during off-peak hours. Hence it is advised to visit during off-peak hours so the team can listen to you properly and pay full attention to your meal.
Cross Contamination Risk at Mellow Mushroom
Cross-contamination is always a risk when dining out. This phenomenon occurs when gluten-free food items come into direct or indirect contact with gluten.
Contamination can occur through gloves, utensils, prep surfaces, and food that has been in contact with gluten. This is a severe risk to people with Celiac disease or extreme gluten allergy.
Therefore, stringent cross-contamination protocols are necessary to avoid any health-related mishaps.
The good news is that Mellow Mushroom is dedicated to the gluten-free cause. It holds its customers with special dietary needs in high regard and ensures all measures are taken for their safety and satisfaction.
It has a unique gluten-free facility where its gluten-free crust is made. Moreover, the restaurant has a designated station to prepare all the food items that are free of gluten.
This ensures the safety of their customers and builds trust amongst the Celiac community. Their strict protocols also include the kitchen staff putting on fresh gloves for every new order to reduce contamination risk further.
Know that Mellow Mushroom has strict cross-contamination protocols in place that will allow you to enjoy your satisfy your cravings stress-free!
What The Public is Saying
The internet is flooded with raving Mellow Mushroom reviews by Celiacs. And, if most Celiacs are happy with Mellow Mushroom, that means it's definitely doing something right.
The majority of the reviews talked about the fantastic, knowledgeable staff at Mellow Mushroom. The staff was courteous and made adequate arrangements to ensure gluten-free meals.
The reviews also mentioned the amazing gluten-free crust at Mellow Mushroom that makes for a scrumptious cheesy pizza. People also noted the amazing cross-contamination protocols in place that were followed correctly.
Many Celiacs reported not getting sick after visiting Mellow Mushroom and had a pleasant experience overall. But, it is still important to practice caution if you have Celiac disease or severe gluten sensitivity, as mistakes can always be made.
Take-Home Message
In conclusion, Mellow Mushroom is an ideal place for people with gluten sensitivity to eat out and enjoy the fantastic ambiance.
The people at Mellow Mushroom have worked hard to limit the risk of cross-contamination, and their efforts are commendable.
You should always practice caution if you have Celiac disease or severe gluten allergies, regardless of the location.
Mellow Mushroom checks all the boxes for us. It has incredible food, a chill atmosphere, excellent staff, and great music. It makes for the perfect place to hang out with a group of friends.
They have an amazing menu that will satisfy everyone, regardless of their preferences. If you're on a gluten-free diet and want some delectable pizza, then be sure to visit Mellow Mushroom.
Not many places serve gluten-free pizza, so next time you visit, be sure to try the signature gluten-free pizza and give this article a read before heading out!