Chuy's is a Tex-Mex restaurant chain known for its colorful decorations and fresh food. They make each dish from scratch, in small batches, throughout the day.
So much so that their tortillas aren't even rolled when you first walk into their restaurants. But does Chuy's make anything gluten-free?
Most of the dishes on Chuy's menu aren't gluten-free. However, they do provide a gluten-free menu upon request. Unlike their main menu, their gluten-free menu doesn't come with that many options.
If you have celiac disease or non-celiac gluten sensitivity, you should avoid eating at Chuy's. But if you avoid gluten for some other reasons, here are some tips and low gluten options you can try at Chuy's.
This post may contain affiliate links, which help keep this content free. (Full disclosure)
Gluten-free items on the menu of Chuy's
Chuy's menu is filled with lots and lots of Mexican-style dishes. These dishes are made with recipes and ingredients gathered from around Mexico and Texas.
Their menu may vary based on location. You can see what options Chuy's has near you on their website.
On Chuy's menu, they've appetizers, soups & salads, enchiladas, tacos, combination items, specialties, and more. They also have some signature dishes like Bang-Bang Burritos, Stuffed Avocado, Enchiladas Ricas, etc.
On different days of the week, they serve a different signature dish. They also have a few vegetarian options, and they've marked dishes that don't contain meat.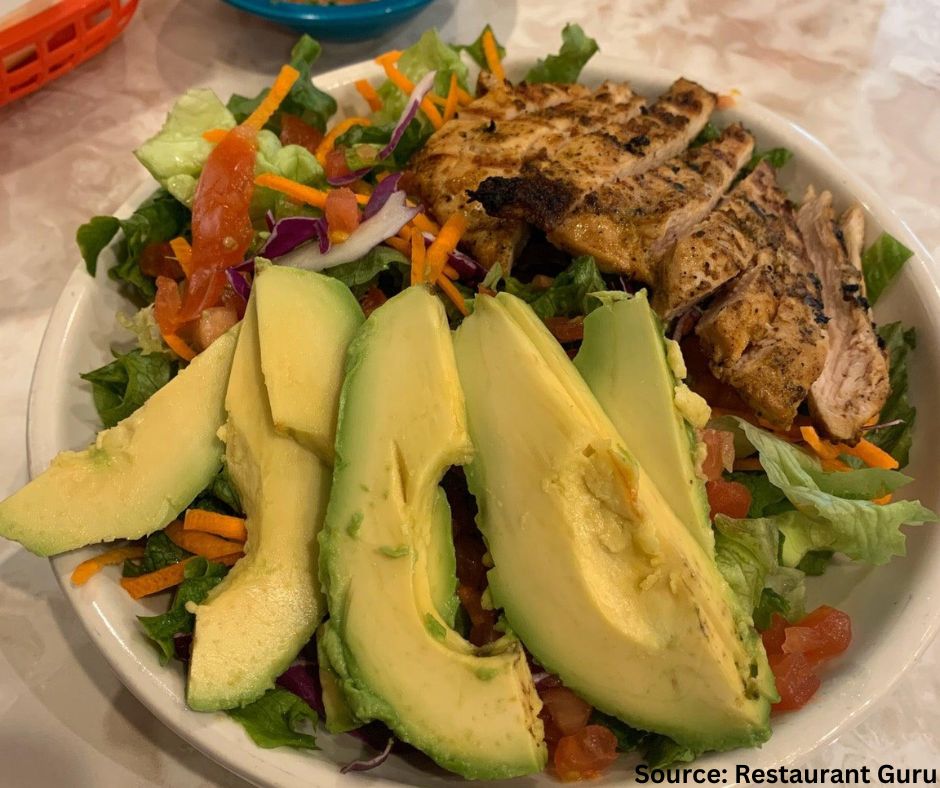 They've tortillas made of corn as well as flour, and they are made in-house every day.
Chuy's signature sauces are arguably the backbone of all of their dishes. The Boom-Boom, Ranchero, and Tex-Mex sauce, along with the creamy jalapeno dip is a crowd favorite.
The sauces are coded as a hot, medium, and mild which gives you an idea of whether a sauce has bearable heat or will it burn your face off.
In terms of gluten-free options at Chuy's, even items you'd normally eat on a gluten-free diet elsewhere aren't gluten-free here.
For instance, their meats such as chicken, beef, and steak aren't gluten-free because they are marinated in beer. Their fried and battered items are also unsafe because they're fried in the same pan as non-gluten-free items.
Furthermore, they don't even have an allergen chart that you could use to identify gluten-free items. Neither is a nutrition chart to tell the nutritional value of a dish.
Here are the gluten-free options available on Chuy's gluten-free menu.
RECOMMENDED: Saltgrass Steakhouse Gluten-Free Options
Appetizers
#1. Guacamole
Their guacamole is made of mashed avocado and salsa Fresca.
#2. Cheese quesadillas
The Quesadillas are made with flour tortillas stuffed with cheese, green chiles & onion. And its served with guacamole, sour cream & tomatoes. Replace the flour tortilla with a corn tortilla to make it gluten-free.
Salads
#3. Mexi-cobb salad
This bowl of fresh salad is mixed with fajita chicken, green chiles, cheese, avocados & tomatoes. Remove the fajita chicken to make it gluten-free.
Taco
#4. Soft tacos
The soft tacos are made with flour tortillas, your choice of fajita chicken, or Seasoned Ground Beef. And it's served with lettuce, cheese, tomatoes & guacamole. Order your tacos with corn tortillas and avoid the meat.
Enchiladas
#5. Veggie Enchiladas
The veggie Enchiladas contain spinach, onions, zucchini, red bell peppers, serranos, roasted green chiles, corn & cheese. And they are served with Ranchero Sauce.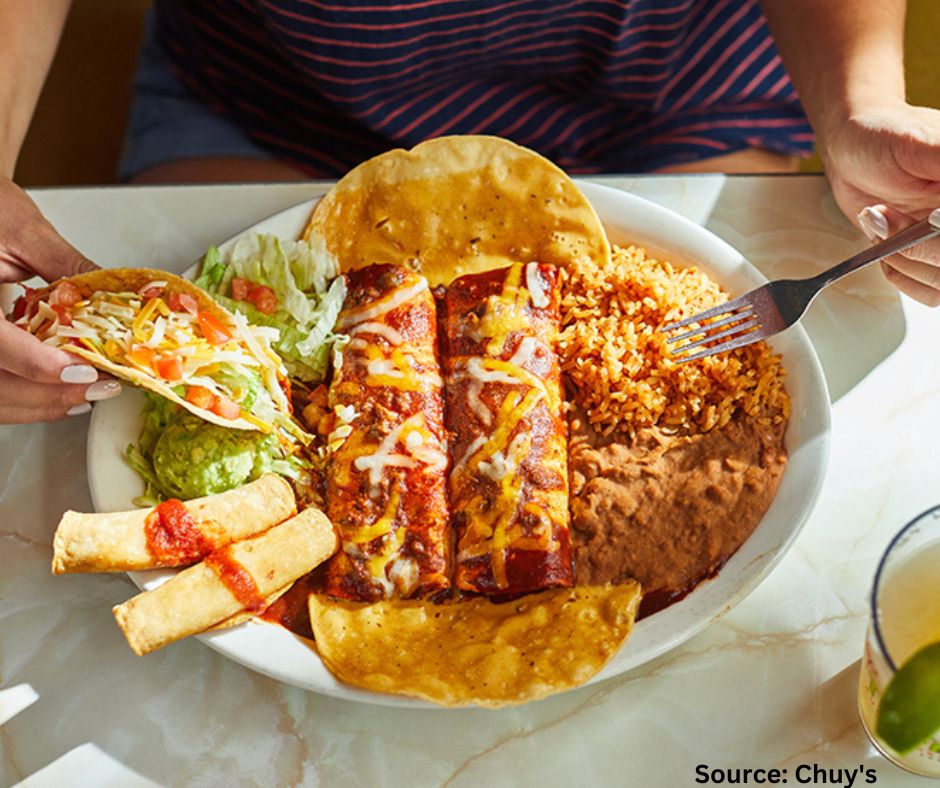 Specialties
#6. Taco and Enchiladas
You are served with a plate of crispy tacos & cheese enchilada with Tex-Mex Sauce.
Tips for ordering gluten-free at Chuy's
Replace flour tortillas with corn tortillas
A lot of Chuy's dishes such as tacos, enchiladas, quesadillas, etc are made of flour tortillas. But you can replace it with their corn tortillas and make those dishes gluten-free.
Make sure to tell them to prepare your corn tortillas separately because they are cooked on the same surface as flour tortillas.
ALSO READ: What's Gluten-Free at Mellow Mushroom?
Avoid the meat
Meats at Chuy's are marinated in beer before getting grilled. And beers are not gluten-free since they contain barley. Avoid them unless they agree to make special arrangements for you.
You can try their roasted chicken if they make it on aluminum foil.
Avoid fried items
Like most restaurants, Chuy's uses the same frying oil to fry everything. This leads to cross-contamination of food. So avoid items like Nachos, instead order corn tortillas and guacamole.
Avoid the rush hours
Chuy's tends to be packed during lunchtime. At this hour, it would be hard for them to make special arrangements for you. Go there a little later, and you'll find that the staff and the manager are more accommodating to your special needs.
Inform them about your food allergies
Sometimes they may think avoiding gluten is just your dietary preference. However, remind them that gluten intake can seriously affect your health so that they take extra precautions for you.
Preferably, speak to the manager about the food suggestions. Also, politely ask them to change their gloves, and prepare your food in a separate area using separate utensils.
Call in advance
Chuy's menu may vary at different locations. Before your visit, give them a call and ask about all the gluten-free options they have.
This way, you'll know whether they've enough options to make a meal and waste less of your time at the table.
Cross-contamination risk at Chuy's
Chuy's doesn't mention on their website any potential allergic ingredients or ways they prepare their food. However, from my research, I've found that all the food items at Chuy's are stored and prepared together. They also use the same cooking utensils to prepare all their dishes.
Furthermore, Chuy's is not strictly a gluten-free restaurant. So there are no strict rules for cross-contamination in place. Therefore, Chuy's is not safe for people with celiac disease or non-celiac gluten sensitivity.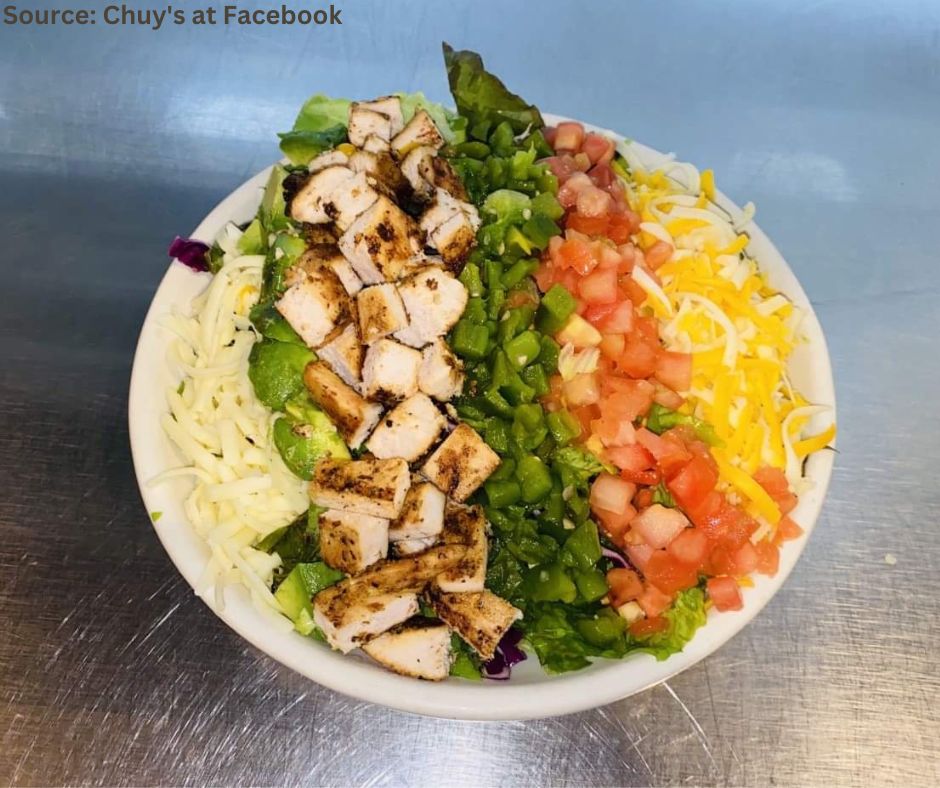 What people say about Chuy's
This is what people with celiac and non-celiac gluten sensitivity said about gluten-free options at Chuy's. This part is gathered from around the net to help you make better decisions when ordering gluten-free at Chuy's.
People's experiences varied based on the location of the franchisee.
Some people said that the staff was knowledgeable about gluten sensitivity and cross-contamination while others complained about the server and manager not being accommodating.
Some said that the manager took care of their order and ensured that it is prepared in a clean area.
The safety measure they talked about were: changing gloves, cleaning the cooking area, grilling items on top of a foil, cooking unmarinated chicken fajita on top of a pan, etc.
Almost everyone said that Chuy's has limited gluten-free options. Some were not confident about the gluten-free options Chuy's had. Some people with celiac reported getting sick after eating at a certain Chuy's.
Following are some items that people with celiac and non-celiac gluten sensitivity ate at Chuy's without getting sick.
Baked chips,
Salsa and guacamole.
Quesadillas in corn tortillas,
Roasted Chicken Enchiladas,
Unmarinated chicken or shrimp, and
Tex-Mex Enchiladas with rice and beans (however, I'll suggest avoiding rice & beans because they're not listed as gluten-free),
Following are the items that people with celiac and non-celiac gluten sensitivity suggested avoiding:
Rice,
Queso,
Fajita meat,
Fried Chips,
Jalapeno dip.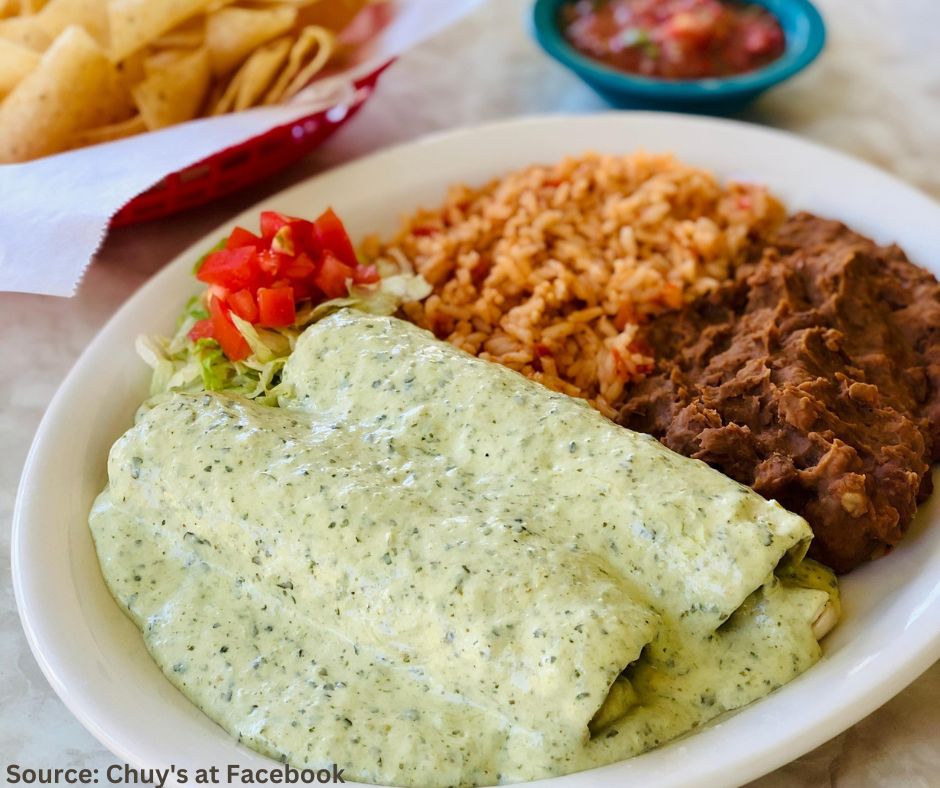 Gluten-free alternatives to Chuy's
Moe's southwest grill
Moe's is a fast-casual Mexican restaurant with more than 700 locations in and outside the U.S. When you walk into Moe's, you hear the hand-curated playlist of songs from the pioneers in the music industry.
And you get to taste the boldest flavors of the southwestern cuisine.
They have items like quesadillas, tacos, burritos, bowls, salads, etc on their menu. All of them are customizable. You get to choose what goes inside your meal from their list of 20 fresh ingredients.
And with every order at Moe's, you get free chips and salsa.
They provide a list of gluten-free ingredients on their website when you add the gluten-friendly filter to their menu. The tortillas are not gluten-free so you can't have tacos, burritos, or quesadillas in here.
However, you can create a bowl and salad with other gluten-free items.
The staff here are knowledgeable and accomodating. This place has also got many good reviews from people with celiac and non-celiac gluten sensitivity.
Chipotle Mexican grill
Chipotle is a Mexican fast-food restaurant with more than 2000 locations in and out of the U.S. Everything at Chipotle is made fresh from scratch every day. Nothing comes out of the freezer or a can.
People go to Chipotle mostly because they think it's the healthiest fast food place. And it's because Chipotle has very strict food safety measures in place. Their food items and ingredients are approved by the FDA, USDA, and HACCP.
Cross-contamination is not at all an issue here. The staff are knowledgeable and accommodating.
If you tell them that you're sensitive to gluten, they change their gloves, clean the kitchen counter, change the utensils, and use a separate container of food.
Chiptole doesn't have a dedicated gluten-free menu. However, they provide a list of gluten-free ingredients on their website after you apply the gluten filter on their menu. You can then create your bowls and salads from those items.
Chipotle is also trusted by many gluten-sensitive people due to its strict safety measure. You can safely eat there as long as you inform the cashier that you're gluten-sensitive.
Chili's Grill & Bar
Chili's is a casual-dining restaurant chain that serves American and Mexican-style dishes. You can order appetizers, bunless burgers, steak, salads, tacos, and more from its menu.
Chili's has a dedicated gluten-free menu online with a lot of options. They also clearly indicate those items that might be cross-contaminated. You can also easily modify a dish to make it completely gluten-free.
Chili's doesn't claim that gluten-free items on its menu meet the definitions of gluten-free. And warns that they might be cross-contaminated during the preparation.
So, as a safety measure, inform the manager of your food allergy so that they take extra precautions.